SAFETY INFORMATION & GUIDELINES
Our number one priority is safety for the children who depend on our products every day. And, nowhere is safety more important than in the car. While specific and rigid government safety requirements guide the design and production of every car seat we make, we, at Graco, take extra steps to meet or exceed those standards to help protect your little one.
Above And Beyond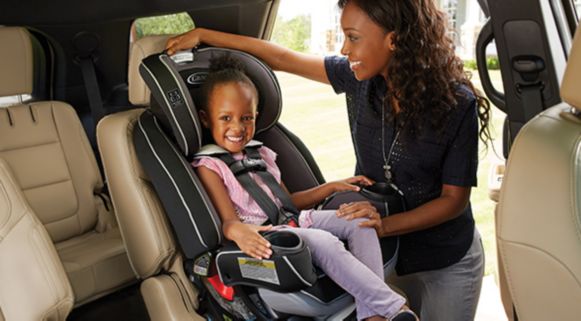 GRACO'S CRASH TEST FACILITY
We own and operate our very own crash test facility in Atlanta, Georgia. This allows us the flexibility to run tests throughout car seat product development that meet or exceed the US Safety standard guidelines for car seat safety (FMVSS 213).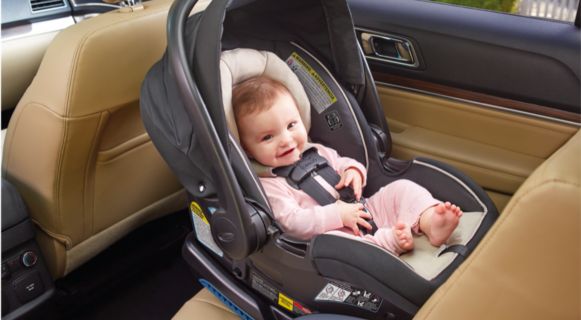 A DEDICATED TEAM
Across the country, we have a team of over 90+ certified passenger safety technicians specifically dedicated educating communities on the correct selection, installation, and use of car seats, booster seats, and vehicle seat belts, ensuring that caregivers are up to date on car seat education. Every one of our technicians is trained in child passenger safety by Safe Kids Worldwide—an international organization dedicated to preventing child injury.
Car Seat Safety Standards
KEEPING CHILDREN SAFER
All car seats must meet the Federal Motor Vehicle Safety Standard (FMVSS) 213 set by the National Highway Traffic Safety Administration (NHTSA). But at Graco, we've set our own protocols that meet or exceed these standards.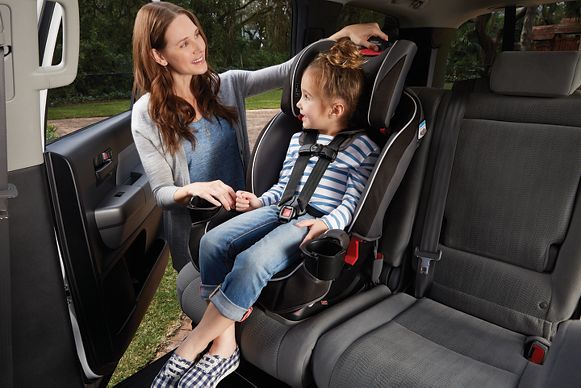 SafeSeat Engineering
All Graco car seats must meet our own SafeSeat Engineering testing standards that meet or exceed government testing requirements. These additional safety standards focus on three areas: catastrophic crashes, extreme environments, and side impacts.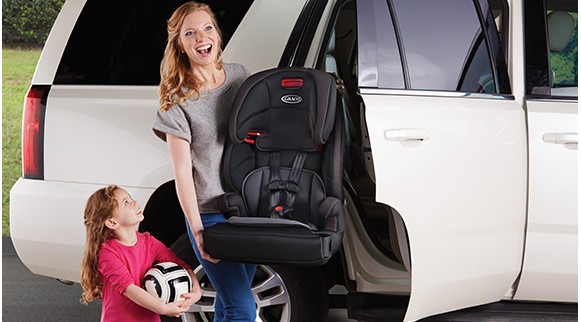 2X CAR SEAT STANDARDS
We ensure that our seats are structurally sound to protect children in high severity crashes, meaning that our seats can withstand double the impact force that is tested on the standard FMVSS 213 crash test.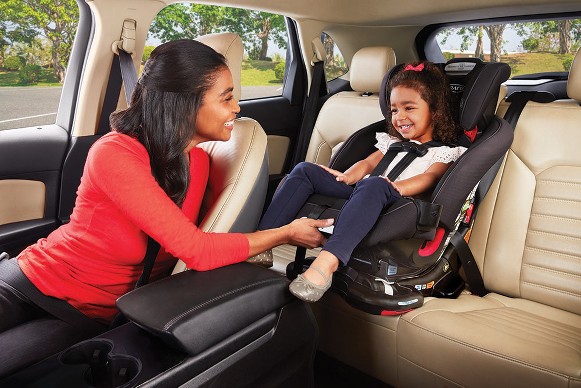 Extreme Car Interior Temperatures
Car seats are made from materials that can behave differently under changing temperatures. Typical safety tests for car seats are performed at standard room temperatures, but we test our products at both 0° and 140° F to ensure structural integrity in extreme situations.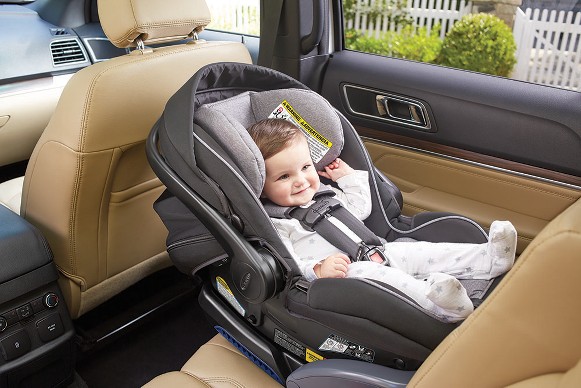 Side Impact Testing
According to the Insurance Institute for Highway Safety, side collisions represent the second most common type of fatal car accident, but there are currently no side impact safety standards in the US. At Graco, we subject all our car seats to a series of side impact tests for structural integrity and occupant retention.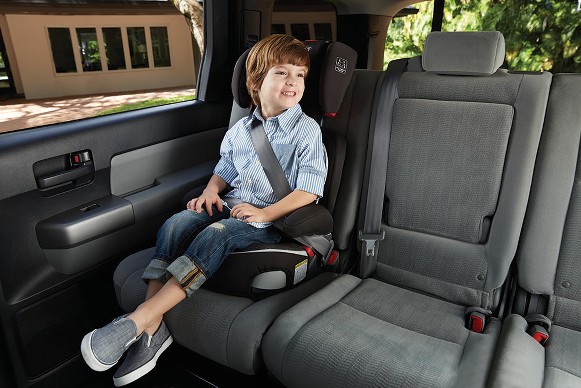 TrueShield Technology
Car seats equipped with TrueShield technology offer advanced side impact protection from your child's head to hips. The protective shields help keep kids safe in the event of an impact from the side of your vehicle. How is this above current side impact testing? Because there is currently no current Side Impact standard in the US, Graco tests to the current European Standard.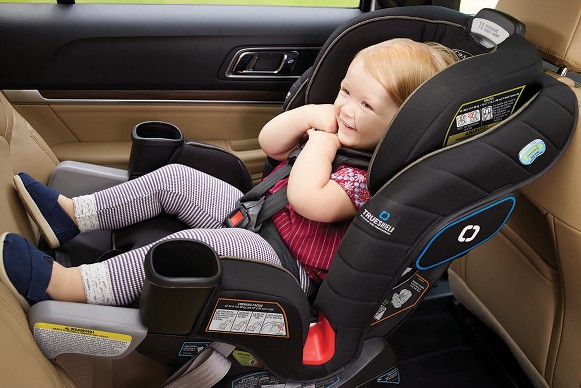 Safety Surround Technology
Safety Surround Technology is the only side impact protection properly positioned to help your growing child. What makes Safety Surround so great? Because there is currently no current Side Impact standard in the US, Graco tests to the current European Standard. Safety Surround offers the best head protection from side impacts at every stage.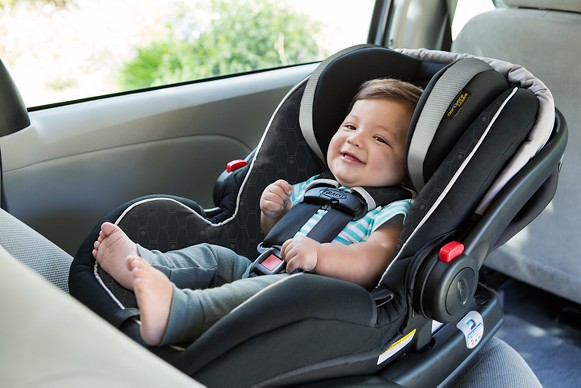 Made to Fit
Graco Car Seats are designed to fit your child. Graco has an internal team dedicated to ensuring our car seats fit a wide range of occupant sizes from 4 -120 lbs, depending on each seat's specific rating. Not only do they fit your child, but they are designed to fit a wide range of vehicles. Graco does internal testing to optimize fit to vehicle and your experience with car to car seat interaction.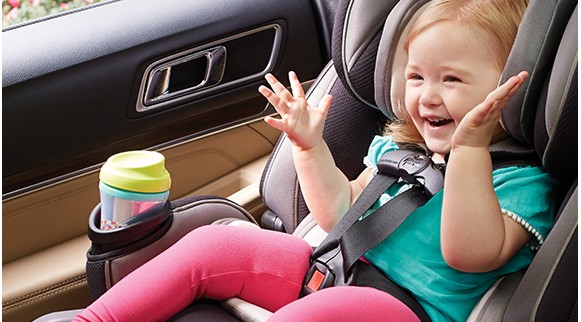 Car Seat Expiration
Did you know your car seat expires?
Graco puts an expiration date statement into the bottom or back of each car seat so you know when it is time to replace it. Expiration dates can range anywhere from six to ten years or more depending on the car seat – so it's important to check your particular car seat. Used or expired car seats can be dangerous, especially if you don't know the car seat's history. For more information on how to find the age of your car seat, keep reading.
Q) How many years can I use my car seat?
A) For car seats in general, Six (6) years is the general recommendation, however some car seats, like car seats with steel reinforced frames, have useful lives up to ten (10). years. Each manufacturer determines the specific useful life for its seats. Most Graco car seats have either seven (7) or ten (10) year expiration dates. The reason for these limits involve possible degradation of the plastic shell or other parts, the possible loss/breakage of parts, and the fact that older seats sometimes do not meet current government safety standards (http://www.car-safety.org/) .
Q) How do I find out when my car seat expires?
A) There are multiple ways to find out the useful life of your car seat. Remember, each specific car seat you own will have its own expiration date so be sure to check every car seat you own.

Most car seats will have an expiration date imprinted somewhere on the seat. Graco has an expiration statement located on the bottom or back of every car seat we make, with the statement "DO NOT use this car seat after 'Month, Year'". An example of the Graco expiration statement is shown below.
Check the owner's manual. This will provide you the useful life of your seat. You will then need to check your seat's Date of Manufacturer to determine the Month and Year you should stop use.
When in doubt, the easiest thing to do is to call the manufacturer and ask them. Be sure to have you model number and date of manufacturer on hand, both can be found on the seat bottom or seat back.
Register Your Product. You should do this even if you choose 1-3 above. Each manufacturer places a sticker with the model # and date of manufacture OR serial # on every car seat. This information can then be used to register your car seat. Once your product is registered, your manufacturer can notify you in the event of a recall.
Graco offers three ways to register:
Mail-in card that comes on the front of the car seat
Call Graco's consumer service center 1-800-345-4109
Q) Where do I find the expiration date, model # and serial #/manufacture date on my Graco car seat?
A) Look for this sticker on the back or bottom of your seat.
Q) What do I do with an expired car seat?
A) First, if your child is still of height and weight to be in a car seat, you need to replace the seat and discontinue use of the expired car seat immediately. An expired seat should be disposed of in a way that it won't be re-used by anyone. To help ensure a car seat won't be used after expiration, it is a good idea to remove the cover, cut or remove the harness straps, write on it with a sharpie, and place it into a black garbage bag before taking it to be recycled or disposed of.You should then purchase a replacement car seat based on your child's height and weight. Another option for finding a replacement seat is to find a Trade-In event at a local baby retailer. Your local Babies R Us hosts the Great Trade-In Event where you can bring in your expired car seat or trade in other baby gear products and receive coupons to use on your next car seat and/or other baby products.
CAR SEAT USAGE
AGE, HEIGHT AND WEIGHT
Use this table to quickly find out which of Graco's car seat categories is right for your child based on their age, height, and weight.
| | Age | Height | Weight |
| --- | --- | --- | --- |
| Rear-Facing Infant Car Seats | Up to at least 1 Yr | Up to 35"* | 4 - 40 lb* |
| Convertible Car Seat | Up to 4 Yrs | Up to 49" | 4-65lb |
| All-in-One Car Seat | Up to 12 Yrs | Up to 57" | 4 - 120 lb*** |
| Forward-Facing Harness Booster | At least 1 Yr to 12 Yrs** | Up to 57" | 40 - 120 lb*** |
| Forward-Facing Belt Positioning Booster | 4 - 12 Yrs | 43 - 57" | 40 - 120 lb*** |
Be sure to check your local/state laws in addition to the AAP & NHTSA regarding car seat usage.
*Chart is based on the max Graco market available height/weight, not recommendations. Some models only go to 30" and 22 or 30lb
**Children are safer riding rear-facing and should ride rear-facing as long as possible, until they reach the maximum rear-facing height or weight rating for their car seat.
***Chart is based on the max Graco market available height/weight, not recommendations. Some models only go to 100lb
INSTALLATION
To make installing your car seat as easy as possible, Graco has created step-by-step instructions and how-to videos to walk you through the installation process. Lightweight and easy to use, Graco infant car seats and in-car bases allow for convenient use of the carrier interchangeably between multiple cars. We also offer intuitive features across all car seat categories like seat belt lock offs, one-second latch, level indicators, and recline adjustability to help make car seat installation easier. LEARN MORE
CAR SEAT EXPIRATION
Did you know your car seat expires? Graco stamps an expiration date into the bottom of each car seat so you know when it is time to replace it. Expiration dates can range anywhere from six to ten years or more depending on the car seat, so it's important to check yours. Used or expired car seats can be dangerous, especially if you don't know the car seat's history. click here
SAFETY RESOURCES
Car Seat Safety Recommendations
RECALLED PRODUCTS
CAR SEAT SELECTION AND SAFETY INFORMATION