Modes™ Nest Travel System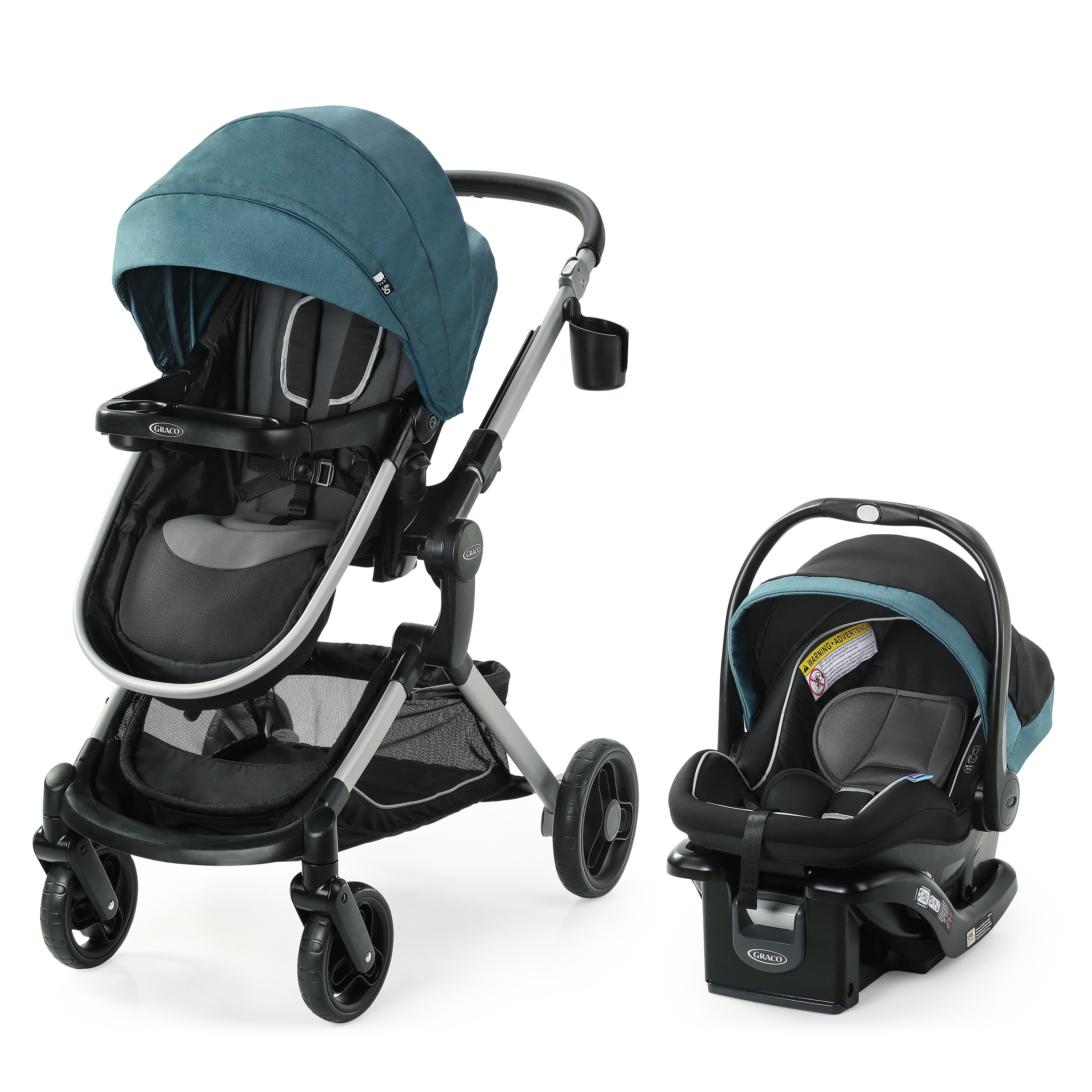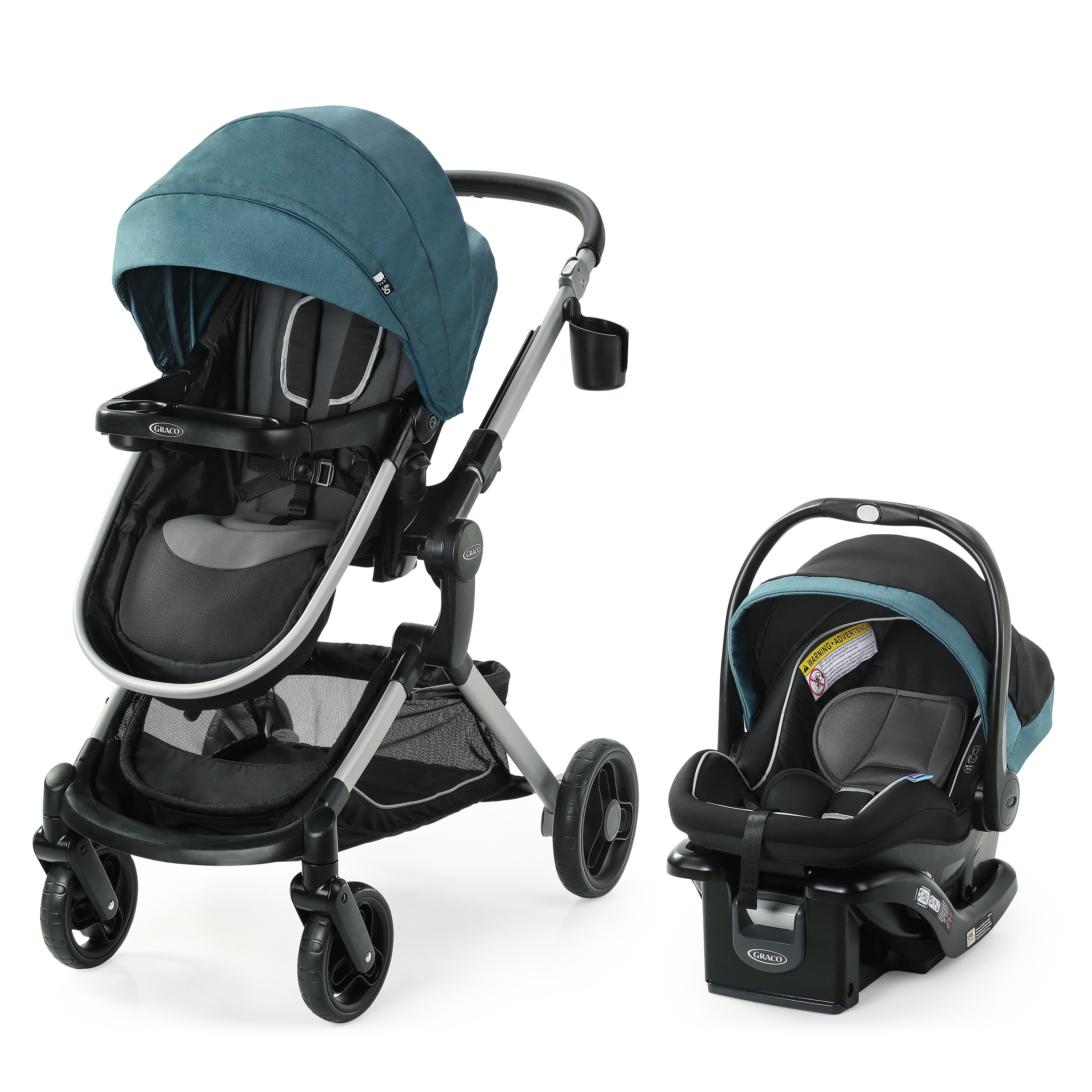 Modes™ Nest Travel System
Product Details
Description
The Graco® Modes™ Nest Travel System makes it easy to stay connected with your little one by bringing baby closer than ever. Raise the Slide2Me™ height-adjustable seat or infant car seat to bring your baby closer for face-to-face smiles and precious interactions on everyday strolls. This 3-in-1 stroller can be used as an Infant Car Seat Carrier, Infant Bassinet, and Toddler Stroller. Adjust the stroller seat or your infant car seat to any of three height positions and choose parent-facing or forward-facing mode to find just the right ride for your little one. Modes™ Nest Travel System includes the Graco® SnugRide® 35 Lite Elite Infant Car Seat, rear-facing from 4-35 lb, and the stroller seat converts to bassinet mode for comfortable strolls with baby from day one. An expandable storage basket creates even more space for parent and baby essentials. Every ride is smooth and convenient with the lightweight aluminum frame and one-step, self-standing fold. Extra touches such as a leatherette handle, removable cup holders, and a large canopy with peekaboo window ensure comfort every day. With Modes™ Nest Travel System, you'll be strolling together, closer than ever.
Toddler seat converts to bassinet mode, for comfortable strolls with baby
Lightweight travel system with aluminum frame
One-step self-standing fold for easy storage
Stylish leatherette stroller handle ensures a smooth grip
Child's tray with cup holder to store baby's essentials removes easily to help your child climb in and out of the stroller
Removable parent cup holder attaches to the stroller frame, for refreshments on the go
Full-sized canopy with peekaboo window keeps your child shaded and lets you check in on him or her with ease
Multi-position reclining seat ensures baby's comfort
Stroller holds child up to 50 lb for years of strolling together
Convertible 3- or 5-point harness grows with your child, with harness covers for added comfort
Care & Maintenance
CLEANING SEAT PAD: To clean seat pad, spot clean using mild soap and warm water
CLEANING HARNESS: Surface wash only with mild soap and damp cloth. Do not immerse harness straps or latch strap in water.
CLEANING HARDGOODS: Metal and plastic parts may be cleaned with mild soap & cool water CLEANING BODY SUPPORT *on select models: Wash removable body support in cold water on delicate cycle and line dry
WHEEL MAINTENANCE: Use light oil if wheels squeak
Product Instructions
Recommended Use
Rear-Facing Only: 4-35 lb, Up to 32", head must be at least 1" below top of car seat;
Stroller holds child up to 50 lb for years of comfortable strolling
The display of photographs does not reflect Graco Children's Products Inc.'s ("Graco") specific approval or endorsement of the use of the products as portrayed in those photographs. Graco always recommends that the consumer consult the product's manuals, and abide by the instructions contained within those manuals.
Replacement Parts Graco
We at Graco care about safety and the only way we can make sure that the parts of your order are a perfect fit for your Graco product is to ask for the model number and manufacture date of the product you own.
Search by Model Number
All fields required unless marked optional.
Date formats may vary by model.
Manufacturing Date Formats
MMDDYY-011305
Y Y Y Y M M D D - 2 0 1 6 0 2 0 5
D D M M Y Y Y Y - 1 3 0 1 0 5
Replacement Parts Are Not Available.
Locating Your Product Information
Model Number
Most Model numbers can be found on the back of your Graco® product. In some Graco products, model numbers can be found on the top of a base unit.
Manufacturing Date
This date refers to the day, month, and year in which a Graco product was made, and can be found on the sticker along with the model number. Here are three examples manufactured date formats:
Model: 7777DEV
Manufactured in 011305
GRACO CHILDREN'S PRODUCTS INC. EXTON PA 1931 1-888-224-5649 Made in U.S.A.
M M D D Y Y
Model: 7777DEV
Manufactured in 20160205
EXTON PA 1931 1-888-224-5649 Made in U.S.A.
Y Y Y Y M M D D
Model: 7777DEV
Manufactured in 130105
GRACO CHILDREN'S PRODUCTS INC. EXTON PA 1931 1-888-224-5649 Made in U.S.A.
D D M M Y Y
Rated

5

out of

5
by
Bekahrose
from
So much storage- great product.
What a great product! A car seat, bassinet, and toddler stroller all in one. We are loving the flexibility of this stroller for our now 5 month old. It's easy to use and I use the infant car seat and take the collapsable stroller with me in the go. The storage underneath is amazing- this is a game changer for us now that we have 2 kids. Also I love that you can adjust the height of the stroller so my son can be closer to me when we go for walks. I haven't used the bassinet function but was chatting with another mother who uses it all the time with her 10 week old. Overall really impressed with this system. Thanks to stellar review panel for sending it to me- we are loving it!
Date published: 2020-02-10
Rated

3

out of

5
by
MamaO3
from
Great for first time parents or urban dwellers
So I was given the Graco Modes Nest stroller from Stellar Product Reviews to try out. It came with a stroller seat that can be converted into a bassinet. Everything came in one gigantic box and assemble was pretty easy even with a preschooler and a first grader trying their best to distract me. Upon completion, I let our 11 month old test it out. Here are our thoughts: -Nice option for completely flat naps when on the go, however in order to convert from sitting to laying, someone needs to hold the baby. -Stroller glides across various surfaces smoothly and is easy to maneuver. -I loved that we could place the seat facing us or street facing. -I am a petite person so it was nice to be able to adjust the seat at various heights. -The basket underneath is gigantic and perfect when running errands. -Although it is always nice to have a cupholder, having it on the side of the stroller (as pictured) isn't convenient as it easily falls off if bumped...maybe place it at the handle as with previous models. -We love the faux leather handle when pushing the stroller, however I am a petite person so it was at an awkward height for me to push whereas it was perfect for my 5'10 tall husband...I felt like my 6 year old pushing a stroller. -If you are familiar with Graco strollers, then you can probably find the latch to unfold the stroller without any hesitation. Sadly we struggled with finding the latch and unlatching it all the time, guess we will have to continue to use it until we get the hang of it. -If you have a smallish trunk, removing the seat/bassinet allows you to place the frame in easily and then tuck the seat/bassinet next to it. -If you do not remove the seat/bassinet and you fold it, the inside part of the seat where baby sits/sleeps is completely exposed so probably not a good stroller for checking in at an airport gate without a bag. -We have a three kiddo household so being able to fold up a stroller quickly and corral the older kids into the van is crucial; with the difficulty of finding the latch and using both hands it is a bit cumbersome. Overall although I wanted to love love this stroller, it just isn't the right fit for our family. However, I do think it would be perfect for first time parents, parents/caregivers taking baby out into the neighborhood strolls to nap in bassinet mode, or running errands in the city without having to fold/unfold it multiple times.
Date published: 2020-02-12
Rated

5

out of

5
by
Anonymous
from
Love love love it!
I just had my first and got this new stroller per a friends recommendation. (she had the original Modes stroller and loved it.) To me it has all the features and nice fabric like the really expensive strollers but is a good price for what you get. I love the bassinet mode. Usually you have to buy a separate bassinet for that but this literally turns into it- no extra pieces. And you can slide the seat up closer to you. I didn't know any strollers did that. My friends are jealous. This was the perfect stroller choice for me! Love love love it.
Date published: 2020-02-10
Rated

3

out of

5
by
brajb08
from
Missed the mark on a few basic features
We've had this stroller for a few months now. I love the bassinette feature and the ability to lower or raise the seat position. My biggest complaints are that the canopy is attached to the back of the seat and the stroller is not easy to fold. We like to take walks and the sun is constantly in my son's face. We're still using the stroller in bassinette mode and the canopy does not come down far enough to block his face from the sun. The stroller is also difficult to fold. You have to completely take the bassinette off of the frame and then use both hands to fold... not an easy task for a mom with her hands full.
Date published: 2021-09-17
Rated

4

out of

5
by
Anonymous
from
Great travel system
Thanks to the stellar product testing panel I was able to test the Modes(TM) Nest DLX Travel System! This was a great stroller with some pretty neat options. Not only could you click in the infant car seat to the stroller but when not using the infant car seat, you and either sit the baby/kid in a sitting position, or move the seat into a bassinet position. It was easy to adjust and go from seat to bassinet and fold up. The whole all around look was nice and sleek. All around it was a nice easy to use stroller/travel system. The only reason I give it 4 out of 5 stars is because I prefer a jogging type stroller.
Date published: 2020-02-07
Rated

4

out of

5
by
Carolniss
from
Love the adjustable options
My husband and I just brought home our first child and were set on having a travel system, but also wanted a set that would grow with our little one. I love that the SnugRide goes up to 35 pounds, and that with both the car seat or the regular seat, there is a ton of room underneath. We like to walk to the park in our neighborhood, and we can bring everything we need just with this stroller. The infant bassinet option was the real seller for me though- having a place to let him safely sleep, comfortable, since they aren't supposed to sleep in the car seat for extended periods of time was something I loved.
Date published: 2020-02-05
Rated

4

out of

5
by
le0sm0m
from
Nice looking stroller but very bulky
I bought this for my newborn and I have used it a lot. Mainly because I spent the 450$ on it and forced myself to use it. I like it, it looks really nice. The wheels are very good. The baby seems comfortable when in it. The car seat is easy to install and baby is comfortable in it as well. My baby loves when I put him in the bassinet stroller. The only thing that I really hate is that you have to detach the bassinet from the other part. So in my Chevrolet Blazer's trunk it takes up all the space. I have to make up room to put groceries in or anything else. It is not lightweight that is for sure. It is heavy and it does take up a lot of space since it is 2 parts and not just one whole.
Date published: 2021-05-18
Rated

1

out of

5
by
Frustrated new mom
from
Do not recommend
Our daughter just turned 4 months old and the seat has been getting stuck in the base so tight that we can't get it out of the car. I tried another bar since I though that was the problem and it's not! It's getting stuck in the stroller too! Very disappointed. I really wanted to love this product especially due to the versatility of the seat but at this point I can't use it and we don't have money to buy a new carseat or a new stroller.
Date published: 2021-02-28
Rated

5

out of

5
by
Happy Pappy
from
Love the flexibility
I bought this stroller for when our grandson visits from out of state. Afterall, who wants to haul a stroller on a plane. We love the flexibility which allows him to face towards us or face out to the world. Facing out can become somewhat over stimulating after a while, but with a quick change he can look at Mommy or Daddy (his whole world). Being able to lay him completely flat when he falls asleep helps him sleep longer and keep him on schedule. The three height positions leaves plenty of storage space in the under basket for new toys, books and clothes, when Pappy just can't resist. The ride is smooth, turns on a dime and love how easy it is to operate. Best decision we made, now we just have to stop the parents sneaking it away with them when they leave!!!
Date published: 2021-05-12
Rated

5

out of

5
by
MommiOf3
from
Great Travel System
We absolutely love this travel system! Being able to adjust the seat and turn it to face either way is awesome! This system is super easy to use and we love that it has a bassinet option, which is very easy to go from seat to bassinet. My 4 month absolutely loves sitting in the stroller and seems pretty comfy when in it. The car seat is also very easy to install and makes being on the go and using a stroller incredibly easy and convenient! The stroller is also on the light side which is also nice. Thanks to the Stellar Product Testing Panel for providing me with this travel system.
Date published: 2020-02-14
Rated

5

out of

5
by
Pokabelly
from
Brilliant stroller!
Love the slide to me feature and the expandable part on the basket. With the slide to me feature baby is up nice and high and close to me. Made it so much easier after having c-section to not have to bend. Also love that the bassinet or car seat if using those can face forward or backward. Most strollers it can only gave backward. Now that baby is a bit older she loves that she sits up high and can see lots of things. The expandable part on the basket is great for helping to hold things in. Another great feature is it stands when folded. I hate when strollers fold and the frame hits the ground and gets scraped up. Would def recommend this stroller. It rides nice over nearly all terrains. Can't fault it.
Date published: 2020-04-28
Rated

5

out of

5
by
SusanV
from
Light weight, easy to use!
I brought the Graco modes nest about 3 months ago so you can be sure I am giving a thorough review! This is my second stroller with car seat I have purchased for my very first baby! I tried to go cheap on buyin the stroller n instantly regretted it. My baby would hate sitting on the first stroller I bought. It was flimsy, hard to use, and extremely low quality. After a good amount of research, trying to correct my mistake I bought Graco modes nest and I am never going back. This stroller is so light weight. Easy to maneuver on even on grass. It seats my baby comfortably. The bassinet mode is the best to put ya LO in if he/she falls asleep. I would definitely give more than 5 stars for this product if I could.
Date published: 2021-04-17
Rated

5

out of

5
by
Kayyy1798
from
Very easy to assemble!
I bought this a couple months ago to make sure we'd have it before our daughter arrives. I love how easy it is the take attachments on and off. Very nice look to it.. looks expensive! A ton of storage room on the bottom which I love! I think it's worth the price cause there are so many ways to use/set this stroller up.. very cool! Nice job graco.
Date published: 2021-01-07
Rated

5

out of

5
by
Abow
from
Nice Ride!
I'm very satisfied with this stroller. With so many choices out there I felt confident about making this purchase. The assembly was easy with clear instructions. My son is a big boy and growing fast. He has room to grow with this stroller and he seems to enjoy the comfortable ride. Thank you Graco once again for a great product.
Date published: 2021-05-08
Rated

5

out of

5
by
Anonymous
from
Best stroller!!
My family loves the Modes Next Stroller! It is such a smooth ride. I love that I can push it with ease and it collapses quickly. It's perfect for my 18 month old and wish I had owned it sooner, because the bassinet feature is awesome. The adjustable height makes baby and mama closer to each other. My favorite part is the huge storage area. It is great especially when you have multiple kids stuff to tote around. Would recommend this stroller to everyone! Even my 3 year old always want to ride in it. I was given this awesome stroller by the Stellar Product Testing Panel.
Date published: 2020-02-07
Rated

5

out of

5
by
Anonymous
from
Best stroller I could ever find
I received this stroller two weeks ago and it's one of the best purchases that I've made for my baby. It has a complete system and it was so easy to assemble that my husband only took 15 mins to do so. The high quality can be verified in tires, strong parts and fabric. It's not as heavy as it looks and we wanted to have a stroller that could be used as a bassinet for travel purposes and this one offers much more than that. I would like to buy it in a different color, but I do understand that as it is a recent model it's still hard to find it in many colors.
Date published: 2020-04-21
Rated

4

out of

5
by
Lucy831
from
Great quality
I just brought the stroller easy to install good quality and easy to move around i bought it for my new baby but tryed it out with my 4 yr old boy and still easy to move around.
Date published: 2020-01-10
Rated

3

out of

5
by
DanaT0221
from
Functional but needs improvement
I received the Modes(TM) Nest Travel System as part of the Stellar Product Testing Panel and was excited to give it a spin with my nearly one year old son. The best part of the system was the car seat. The material is soft, the colors dark and neutral (just my style), the overall weight of the seat is not too heavy and it was very easy to install in the car. Moving the car seat to the stroller to use the travel system together was easy, but the actual stroller left much to be desired. I loved the leather-esque handle which gave it an upscale feel, but the wheels seem small and cheaply made. This made steering and going over bumps somewhat difficult even on flat terrain. The seat (when used without the carseat) was comfortable but a little difficult to figure out how to incline/decline. While the footrest was plenty large, it would have been great it was adjustable for my little guy's legs. The plastic frame of the stroller was heavy, but the plastic didn't feel like the highest quality that could have been used. One thing I did love, and find very easy to use, was adjusting the height of the seat up and down, giving my son a different perspective on our walks. While the basket on the bottom gave me plenty of room for my "stuff", I think a larger cup holder or container for mom's items would be great (keys, phone, etc). If I were to make some improvements on this product, I would make the wheels larger to improve the steering and control, provide a cup holder that fits a phone easily for mom and make the footrest adjustable so that when the stroller is folded it can be more compact.
Date published: 2020-02-10
Rated

1

out of

5
by
socalga42
from
Defective
Was very excited about this stroller system but the car seat does not attach securely to the stroller base when rear facing. Something is off and it is wobbly. After research, other people have this issue as well so I know it's not just me. Very disappointed in this product and in Graco.
Date published: 2020-09-25
Rated

5

out of

5
by
IevaV
from
Great system for a good price!
I ordered the system plus another base just to have one in each of my own and my husband's cars. I had written support just to make sure I buy the right extra base and they were really helpful! I got the right one! Even though that stroller was a little tricky to put together. It looks amazing and I can steer it with one hand! Some reviews would mention that you need to use both hands. The wheels are really nice! And I love the bassinet option which is the main feature why I ordered this specific system! Overall I love it! Definitely recommend!
Date published: 2020-05-11
Rated

1

out of

5
by
Anonymous
from
Cheap and frustrating to use
I would highly not recommend this item. The car seat handle constantly gets stuck, and the stroller is so cheap and difficult to manage/ move. The social media influencers make it look easy to use, but it's just a pain all around.
Date published: 2020-10-24
Rated

1

out of

5
by
The bump
from
Cheaply made and unnecessarily big
I thought this was cool at first then I saw it at the store and was very disappointed. This thing is obnoxiously large and wide. The quality is very poor too. I don't think parents would Use this past 18 months old due to the inconvenience. For almost the same price I will opt for a lightweight travel system. The concept is cool but needs a ton of improvements.
Date published: 2020-09-28
Rated

5

out of

5
by
JTLovesDoodles
from
Great Stroller- Review after 3 months of use
So far great travel system. I'm a taller mom at 5ft 9 inch and the handle height on this stroller is fantastic as most strollers feel to low for me to push comfortably. Easy to use with car seat when out and about or with seat. Great in bassinet mode since we walk almost daily around our neighborhood and it's nice to not have to keep her in the car seat all the time like most travel systems are made to do. I love the huge basket underneath! I've clipped the car seat into the frame and have taken the stroller into to the grocery store, target and Costco and it fits everything in the basket. I also find it pushes smoothly due to slightly larger tires than most other travel systems. The only con I have is the two handed open and close.
Date published: 2021-07-14
Rated

4

out of

5
by
Raag
from
Complete Travel System under 450$
So there are many luxury travel systems in market like Uppababy and Bugaboo. But there price range is between 1000-1500$ which is not affordable by everyone. I researched and found Graco Modes Nest Travel system, amazing and lite aluminum frame as well as very comfy and safe car seat. In 450$ range this travel system has very good quality wheels and foldable easy to carry system with convertible baby bassinet. So in and under this price range I would definitely recommend this travel system, as it has everything one needs and nevertheless best quality everything. I would recommend buying this stroller and travel system over any other travel system. My rating is as follows: Number 1: Uppababy Vista V2 (with car seat this is around 1700$) Number 2: Bugaboo Fox 2 (with car seat this comes for 1500$) Number 3: Graco Modes Nest (for me under 450$ Range, this is best) All others don't bother to check...
Date published: 2021-03-18
Rated

4

out of

5
by
Heartmama5
from
Gorgeous stroller!
I love this stroller! I love that I can use babes car seat in it OR use it as a bassinet! The storage basket it huge no matter which seat you're using with it. It's a smooth ride and my son loves it! I love how I can pull him closer to me, especially since I have a herniated disc in my back. Only things I didn't give it 5 stars for is that I wish it would have a bar recline as opposed to the button and strap system. And I wish it was an easier 1 hand fold but for a full size stroller that's to be expected. Definitely recommend! ❤️
Date published: 2020-02-05
Rated

5

out of

5
by
MommyN
from
Many options to ride, very convenient.
I love how many options this system offers for riding with baby first and then with a toddler. Putting car seat in and out is a breeze without disturbing baby's sleep. I like very much the option to move the seat up and down, not for the distance to me, but for putting the seat higher and leaving more space in the basket when needed. I love this system overall. My only wish is that Graco starts putting rubber wheels and not plastic wheels on the Modes strollers (smaller wheels than in their jogging strollers, but not plastic).
Date published: 2020-02-07
Rated

3

out of

5
by
JacklynAnn
from
Great features, not quite there
My husband and I decided on the Graco Nest Stroller because of its versatility, lightweight frame and Slide 2 Me feature. It was the only stroller in all of BuyBuy Baby to have the different height options. We both have poor backs and the rest of the strollers were far too low and heavy. It was also a great value travel system compared to other more expensive systems. There are a few aspects which we find disappointing now that we're using it. The lightweight frame is great, however, it dents and scratches easily. The second time we used it, the frame got scratched when we folded it and placed in the car. It was awful!! Also, it does not fold up as easily with the bassinet/toddler insert. It would have been nice if it folded up all in one. Also, the cup holder bends and folds way to easily as though the material is a lower grade plastic. Lastly, I wish the straps on the bassinet/toddler insert weren't such a poor quality. Compared to other strollers, the straps look cheap. I understand it was a great price for a travel system, but I guess with this you get what you pay for. As a parent who did not want to resort to purchasing an Uppababy Stroller travel system, I'm happy, but disappointed that Graco did not make the most of it. They could have competed with Uppababy. I LOVE the Slide 2 Me feature. It's honestly the best part of the stroller!!
Date published: 2020-09-09
Rated

1

out of

5
by
Anonymous
from
Received 2 defective strollers
Ordered this travel system and received a defective stroller. We returned the stroller and ordered a second and we received a second defective stroller. The infant seat did not attach to the stroller. The second stroller also had a defective slide to me feature. Very upset. I was looking forward to this stroller but can't trust that it will work.
Date published: 2020-09-09
Rated

5

out of

5
by
Erised06
from
Awesome travel system
This Draco travel system is really great. I like the different options is has of use, like the seat height being able to be adjusted. Me and my husband were able to figure out how to interchange between the bassinet and the car seat pretty easily. At first I thought it was gonna be a heavy stroller but it's actually lighter than it looks, while still being sturdy. Great quality with a sleek look. Also the side cup holder and the big storage area underneath are a major plus for me. I also love it because when my baby gets fussy at home I will put the bassinet on and walk around the house with her on it and she would immediately calm down, it's very comfortable for her. So thank you to The Stellar Product Testing Panel for providing me with this travel system to try out.
Date published: 2020-02-13
Rated

5

out of

5
by
sammibg237
from
Packed with features and convenience
We purchased this travel system as our primary system. The travel system has a ton of features which are very similar to the ones on the high priced brands. I have used it around the house only (baby won't be here until April) but it moves well and is very functional, stylish, convenient, and was easy to learn how to use. Looking forward to getting great use out of this travel system for many years to come. I feel good that it is a Graco product, as I know the stroller and car seat will keep my baby safe and sound.
Date published: 2020-02-06
bvseo_sdk, dw_cartridge, 18.2.0, p_sdk_3.2.0
CLOUD, getReviews, 0ms
reviews, product
product-detail-view
oos-pdp