Modes™ Nest Travel System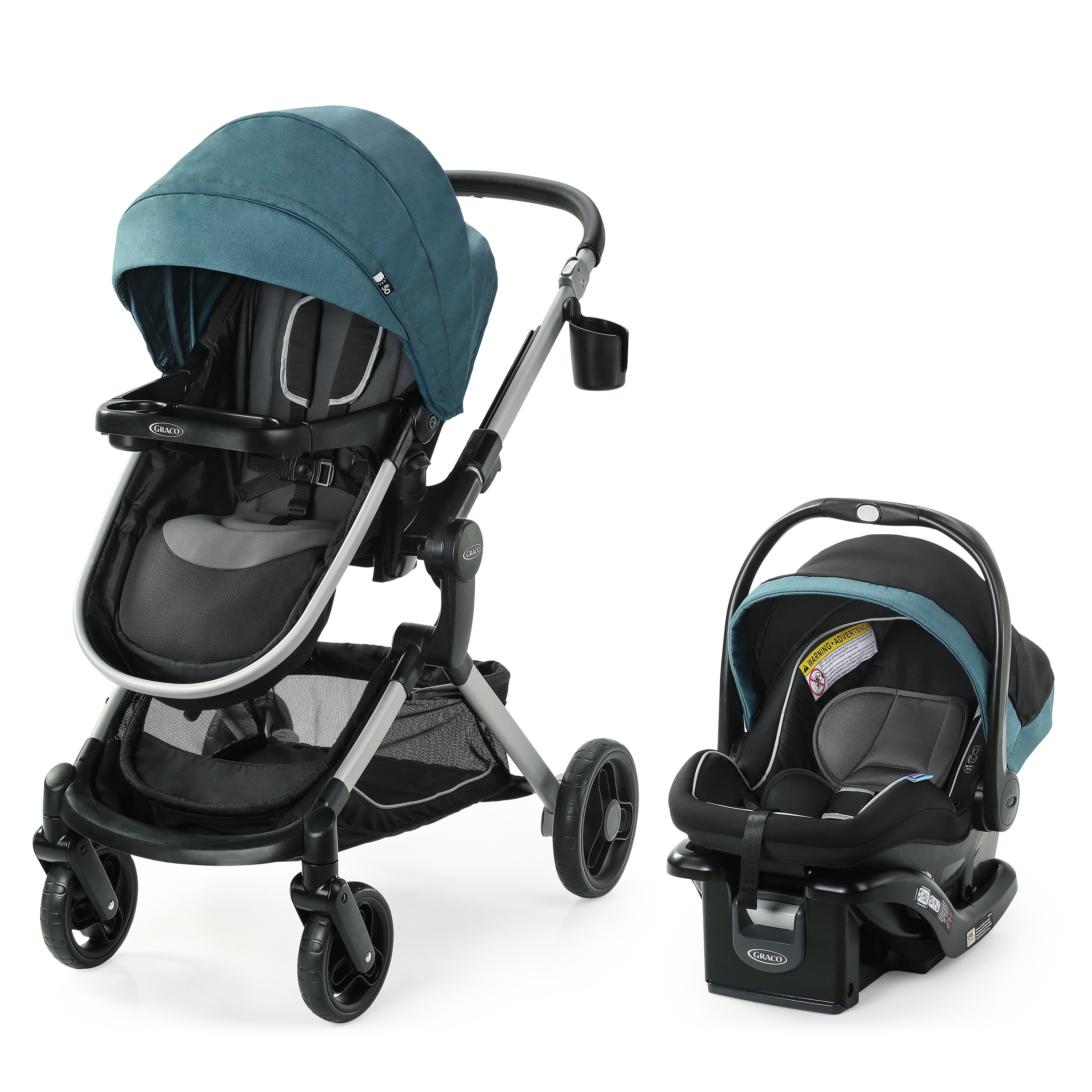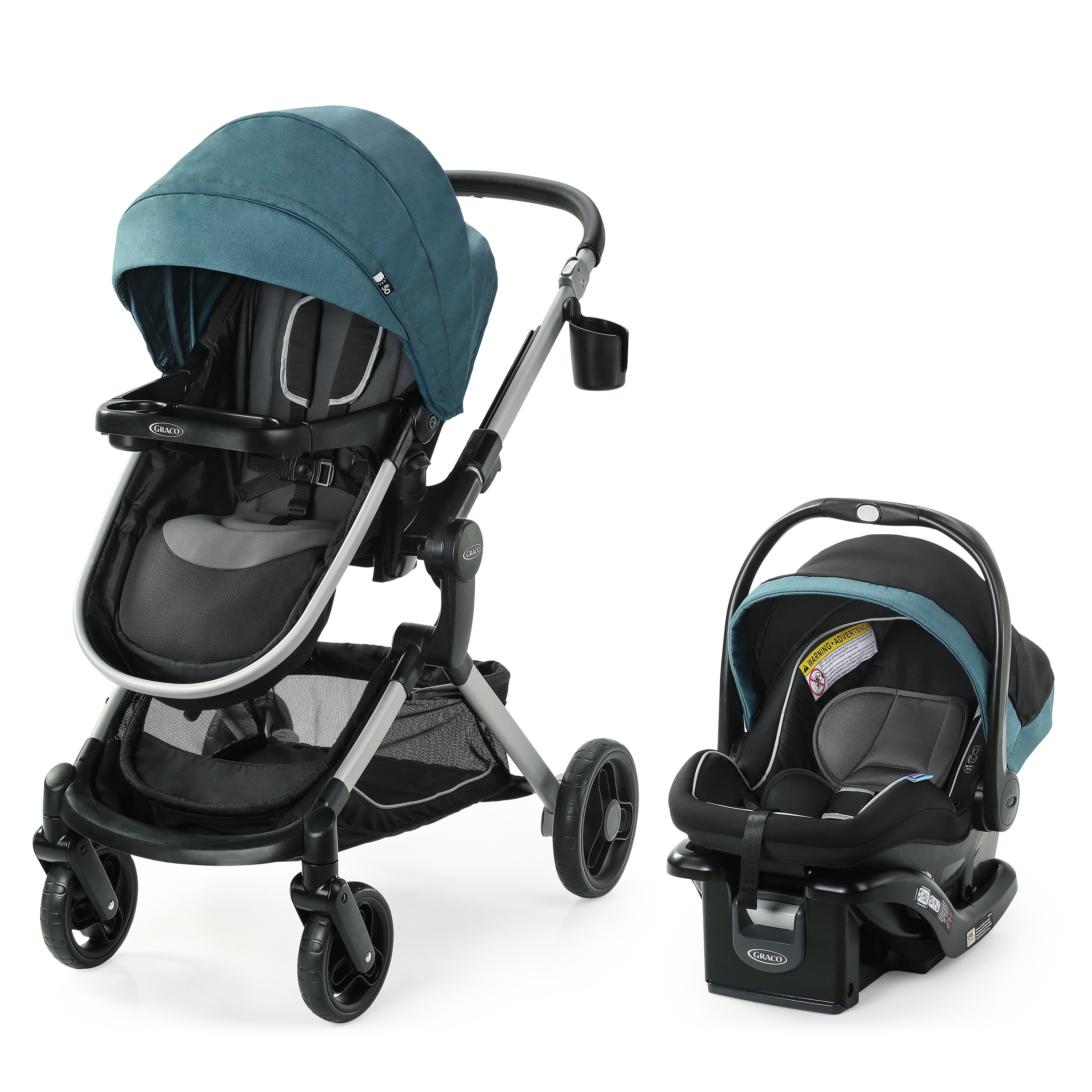 Modes™ Nest Travel System
Product Details
Description
The Graco® Modes™ Nest Travel System makes it easy to stay connected with your little one by bringing baby closer than ever. Raise the Slide2Me™ height-adjustable seat or infant car seat to bring your baby closer for face-to-face smiles and precious interactions on everyday strolls. This 3-in-1 stroller can be used as an Infant Car Seat Carrier, Infant Bassinet, and Toddler Stroller. Adjust the stroller seat or your infant car seat to any of three height positions and choose parent-facing or forward-facing mode to find just the right ride for your little one. Modes™ Nest Travel System includes the Graco® SnugRide® 35 Lite Elite Infant Car Seat, rear-facing from 4-35 lb, and the stroller seat converts to bassinet mode for comfortable strolls with baby from day one. An expandable storage basket creates even more space for parent and baby essentials. Every ride is smooth and convenient with the lightweight aluminum frame and one-step, self-standing fold. Extra touches such as a leatherette handle, removable cup holders, and a large canopy with peekaboo window ensure comfort every day. With Modes™ Nest Travel System, you'll be strolling together, closer than ever.
Toddler seat converts to bassinet mode, for comfortable strolls with baby
Lightweight travel system with aluminum frame
One-step self-standing fold for easy storage
Stylish leatherette stroller handle ensures a smooth grip
Child's tray with cup holder to store baby's essentials removes easily to help your child climb in and out of the stroller
Removable parent cup holder attaches to the stroller frame, for refreshments on the go
Full-sized canopy with peekaboo window keeps your child shaded and lets you check in on him or her with ease
Multi-position reclining seat ensures baby's comfort
Stroller holds child up to 50 lb for years of strolling together
Convertible 3- or 5-point harness grows with your child, with harness covers for added comfort
Care & Maintenance
CLEANING SEAT PAD: To clean seat pad, spot clean using mild soap and warm water
CLEANING HARNESS: Surface wash only with mild soap and damp cloth. Do not immerse harness straps or latch strap in water.
CLEANING HARDGOODS: Metal and plastic parts may be cleaned with mild soap & cool water CLEANING BODY SUPPORT *on select models: Wash removable body support in cold water on delicate cycle and line dry
WHEEL MAINTENANCE: Use light oil if wheels squeak
Product Instructions
Recommended Use
Rear-Facing Only: 4-35 lb, Up to 32", head must be at least 1" below top of car seat;
Stroller holds child up to 50 lb for years of comfortable strolling
The display of photographs does not reflect Graco Children's Products Inc.'s ("Graco") specific approval or endorsement of the use of the products as portrayed in those photographs. Graco always recommends that the consumer consult the product's manuals, and abide by the instructions contained within those manuals.
Replacement Parts Graco
We at Graco care about safety and the only way we can make sure that the parts of your order are a perfect fit for your Graco product is to ask for the model number and manufacture date of the product you own.
Search by Model Number
All fields required unless marked optional.
Date formats may vary by model.
Manufacturing Date Formats
MMDDYY-011305
Y Y Y Y M M D D - 2 0 1 6 0 2 0 5
D D M M Y Y Y Y - 1 3 0 1 0 5
Replacement Parts Are Not Available.
Locating Your Product Information
Model Number
Most Model numbers can be found on the back of your Graco® product. In some Graco products, model numbers can be found on the top of a base unit.
Manufacturing Date
This date refers to the day, month, and year in which a Graco product was made, and can be found on the sticker along with the model number. Here are three examples manufactured date formats:
Model: 7777DEV
Manufactured in 011305
GRACO CHILDREN'S PRODUCTS INC. EXTON PA 1931 1-888-224-5649 Made in U.S.A.
M M D D Y Y
Model: 7777DEV
Manufactured in 20160205
EXTON PA 1931 1-888-224-5649 Made in U.S.A.
Y Y Y Y M M D D
Model: 7777DEV
Manufactured in 130105
GRACO CHILDREN'S PRODUCTS INC. EXTON PA 1931 1-888-224-5649 Made in U.S.A.
D D M M Y Y
Rated

4

out of

5
by
Megablonde
from
Overall nice stroller
Nice Graco stroller, always use Graco for its durability. This stroller can be top heavy and front wheels may not go over bumps which tips the stroller forward. Needs larger wheels. Otherwise love the size and ability to use whichever seat I want, forward or rear facing. Love the material of the shade on the car seat. If the seat is in the highest position it's difficult to see over for someone who is shorter. In the lowest position is when stroller can tip forward on bumps. nice storage basket on the bottom.
Date published: 2020-04-21
Rated

1

out of

5
by
Cas20
from
Sadly Disappointed
My husband and I expecting our third child thought this travel system would be great for our new edition. We don't have space to store such a big stroller so my husband bought some stroller hooks and once folded it hangs from our closets doors. I love the stroller and my daughter does too. Having a baby during a pandemic is scary so a good comfortable stroller was important. Imagine my surprise when one day only EIGHT months of having our stroller one of the brake locks just snapped when I pushed down to lock. When we got the stroller we purchased a 3 year extended warranty so I was just bothered by the damage happening so soon. Two weeks later I go to open the stroller ,when it snapped opened a piece of black plastic went flying. This time it was the stroller lock!!!!!! I was opening it to sanitize and now I can't even close it. My husband has sent emails and called about trying to fix our stroller. It's been 3 weeks and we haven't heard anything!!!! At this point I don't think I still want it.
Date published: 2021-07-19
Rated

5

out of

5
by
CT2020
from
Overall great with extra storage!
From the get-go the stroller was easy to assemble, sturdy and attractive.. The fabrics are comfortable and strong and the handle that makes it feel a little "extra". I love the ease of transitioning from infant bassinet, car seat holder to toddler seat with quick steps and no extra equipment or pieces. We live in a warm sunny state so the large canopy for our little is definitely a plus as well. I was most excited to try the new slide 2 me feature- it lived up to the promise! This was so simple to adjust. It's my favorite part because not only is my little one able to sit up closer to interact with me but also provided me more storage room underneath the seat! Perfect for busy day out! Thanks to the Stellar Product Testing Panel for providing me with this travel system!
Date published: 2020-02-12
Rated

5

out of

5
by
Latania
from
My favorite stroller
I've always been a graco mom since my oldest daughter 13 years ago. 6 months ago I welcomed my 3rd baby, and I already knew in my mind I wanted the Graco mode stroller. This Graco mode nest stroller is the latest on the mode market, and it absolutely love the sliding feature. Especially when I'm out and about shopping. The large basket underneath can hold so many bags. I love the sliding ability to bring baby closer to me for a quick feed, or when dad is pushing since he's taller. I highly recommend!
Date published: 2021-12-27
Rated

5

out of

5
by
tpet
from
Love this travel system
I purchased this system through eBay and I can say this is the best decision I've made. I love the slide to me feature. However there are just three things I am not a fan of. One the front wheels do not lock, two the leather handle in the summer gets hot and my hand slides around, three I have an issue with having to put the toddle seat all the way in recline position for the car seat and the brakes on this is not one like the modes I had. Other than that I love this stroller. It has a smooth ride
Date published: 2021-06-04
Rated

5

out of

5
by
Lauradowling725
from
The only all in one travel system you need!
This travel system has it all! The design is so sleek and modern. I love the option to have the bassinet feature on the stroller and that you can move baby up and down (closer to you) as needed when they are riding in the stroller. The car seat is light weight, easy to Install, and great looking. I'm so happy with this set and can't wait to show it off to my pregnant friends so they can get one too! Thanks to the Stellar Product Testing Panel for providing me with this travel system.
Date published: 2020-02-08
Rated

5

out of

5
by
Mcclark7
from
Great Versatility!
I bought this a few months ago and we love it! The versatility is great and the safety features of the car seat was a big seller for us. When traveling to family gatherings we use the bassinet a lot for our son's naps and happy that we don't have to rely on others for a place for him to nap. The stroller itself is easy to use and maneuver in different situations. We really like that we can just travel with the frame and the car seat and don't have to take something that is too bulky.
Date published: 2020-05-11
Rated

5

out of

5
by
ElenaW
from
The stroller Over-Achiever
I could tell this was a quality and loveable product from the moment i started assembling it. There were easy, clear instructions on how to assemble as well as how to go from one use to the next (bassinet, carseat, toddler seat modes). I have never had a product be that versatile and All-in-one before! The ease of assembly, quality materials, light weight end product all put this stroller at the top of my recommend list for friends with newborns. I found my 10 month old daughter to be too big for the car seat unfortunately. The car seat has great comfort and thought put into it's components and although too small, it was very easily adjustable when i attempted to size it for my daughter. The stroller steers easily and rides smoothly and the height adjuster is such a great feature! The faux leather handle and side cup holder are nice add ons and i find the storage basket below to be a great size for me. I see me and my two kiddos using this as our go-to out and about stroller! A huge thanks to the folks at the Stellar Product Testing Panel as i received th product to use and review by being a member.
Date published: 2020-02-13
Rated

1

out of

5
by
Leesa1108
from
I really dislike this stroller
I seriously hate this stroller. It's MASSIVE. I am a petite person and the handles are not adjustable and the stroller is very big,tall, and wide. It takes up a lot of space if not most of the space in my mid size suv trunk. This stroller is just not practical for a shorter person. I put it all back in the box and it's been sitting there unused. My baby was just born so I need to find something new ASAP. It was way to much of a hassle dealing with graco and returning. What a waste!
Date published: 2021-06-14
Rated

5

out of

5
by
AMA3064
from
Amazing features
This was given to me as a shower gift being a tall person the fact that I can adjust the height of the seat is literally amazing and a back saver!!!
Date published: 2021-01-21
Rated

4

out of

5
by
Shaniel
from
Interesting New Product
I recieved this product as part of the Stellar Product Testing Panel in exchange for my review. Right out of the box the stroller was easy to assemble, and car seat was easy to install. I really love how in the stroller baby can face you or out towards the world. It was really easy to adjust the height as well which is an unheard of but welcome feature. Changing "modes" on the stroller was easy as well. While my baby is bigger I think this feature would have been wonderful when he was smaller. As a mom who had surgery a few months back it was awesome how light and simple the stroller was to use. I didnt think the car seat was as user friendly. It was tricky to get everything situated to where it needed to be. Overall this is a great and stylish product and I cant wait to get out and about more with my little guy.
Date published: 2020-02-10
Rated

4

out of

5
by
Lele89
from
BEAUTIFUL !!
Easy to put together. I did it on my own 7 months pregnant. Lol to say I did it fast would be a lie BUT it was easy. The stroller is just BEAUTIFUL. Stroller seat to bassinet mode is as easy as one hand pull or push forward . To open it WITH seat attached is NOT easy as I thought. You need to two hand pull and push both side handles but for one set back as this I would still choose this stroller. The bottom is huge and has ALOT of space. The handle bar is nice and smooth.
Date published: 2020-03-08
Rated

5

out of

5
by
Sassy
from
Great features
My boyfriend brought this a few weeks and must admit I love everything about it
Date published: 2020-12-12
Rated

5

out of

5
by
Proudmammaof3
from
Excellent stroller system - best there is!
I've never been happier at my husband's ability to thoughtfully pick out a product than when he bought this one even though we have an earlier one. Now the older one has become a backup and will he sent to grandma's. because this one is sooooo comfortable i dont resent lugging it around. It has great features and the clever design features are befitting the modern baby gear we all need in our lives. I'd definitely buy this for my sis in law's upcoming baby shower.
Date published: 2020-02-05
Rated

4

out of

5
by
Gwama3
from
Easy to maneuver
I just bought this and so easy to maneuver, I totally recommend it.
Date published: 2020-02-05
Rated

4

out of

5
by
Firsttimemommy123
from
Functional, and easy-to-use
I bought this stroller for my first child. It is easy for me to pack it in the car and open/close it myself. It's a little bulky, but that's to be expected. I love that I can turn the seat around to face away from the sun, but this is sometimes a little difficult to do when I'm using it alone. The basket on the bottom holds everything perfectly! Overall, I am really happy with this stroller! Because of the pandemic, we didn't use the bassinet feature much.
Date published: 2021-12-27
Rated

4

out of

5
by
Aamidon
from
Nice travel system
I had the opportunity to try this travel system as a part of the stellar product testing panel. Overall, this travel system is a really system for the price point. The adjustable height feature is awesome and I love being able to keep my little babe close, but know that as she grows she will want to be able to climb in and out herself. The stroller was easy to assemble and has some great features in terms of look and design including the faux leather handle, all black frame, and quality fabrics. I was a bit disappointed with the wheels as they are plastic and I just feel that it is not of the same quality as the rest of the stroller. The car seat is excellent and the base is easy to install. Plus the one hand adjust for the handle is a lifesaver as a mom of 3. Al in all, great system with unique and original feature plus modern design.
Date published: 2020-02-09
Rated

2

out of

5
by
SusieL
from
Loved it until I used it!
I purchased this travel system in August and my baby was born in October. I just started using it and realized I could not click the car seat rear facing into the stroller. I've purchased other Graco travel systems and never had any issues so it was really disappointing. I looked at the reviews on Target (where I purchased it) and saw new reviews that had the same issue as me. Now I have to return and search for another system, very frustrating!
Date published: 2020-10-18
Rated

5

out of

5
by
Usha Q
from
Such a great idea
First of all the stroller is so sleek looking! The awning is so smooth, and just looks very nice and fancy! I love that. Second the options with this stroller really make me love it. The sliding part, so the baby can be closer to you is fantastic. and I love that you can switch the direction they are facing. We have had all grace travel systems for our kids, and they just keep improving and innovating. I would never buy a different system.
Date published: 2020-02-05
Rated

5

out of

5
by
Proudmammaof3
from
Exactly what i needed
I got this stroller recently because our old one was too rickety. At first i didnt expect anything different than the usual. But the features on this stroller ate a game changer. This is where graco's innovative design ideas come out. The ability to bring the.baby closer to me during our walks ans grocery runs keeps the baby calmer and keeps my interaction going wherever we are. Who thought stroller time.would be bonding time!! Love it.
Date published: 2020-02-05
Rated

3

out of

5
by
whatupmom
from
I want to love it but..
This has a lot of great features and I really like that it can change from a bassinet to a seat. I also really like that I can insert my Graco car seat (from a different model) right on and give it that Doona feeling. I also like how smooth it maneuvers. However, my main issue is how flimsy the seat feels in either the bassinet or seat position. The part where the seat latches on feels unstable and cheap. The entire stroller feels cheap, like a toy stroller given the overall plastic material. I don't feel comfortable having my little one in it cause it feels like she could flip herself out if she swung or kicked her legs hard enough. Lastly, to collapse it, you have to press on two buttons using both hands which is inconvenient when you need your other hand, and the latch to hold the stroller in place is tough to pick apart. Returning this for sure.
Date published: 2021-05-04
Rated

2

out of

5
by
Anonymous
from
Not too happy
The stroller is comfortable in some point but the carset doesn't bring enough support for the baby back is too deep. My baby body doesn't have enough support for the head or for his body I have to put extra things on him because he does not feel comfortable. He suffers from reflux and when I drive I have the tension that he will always vomit and I have to stop in the middle of the highway if necessary. My baby is one month old.
Date published: 2021-05-08
Rated

5

out of

5
by
MeegJinks7
from
Amazing setup!
I couldn't be happier with my purchase! Expecting my first bundle of joy & feel much more prepared now. I love everything about this travel system; from the ease of use & setup, to the durability, it's built awesomely! My favorite feature is the one handed button to adjust the handle on the car seat up & down without having to squeeze two buttons at once to do so! Love everything about this purchase & so glad I chose Graco!
Date published: 2020-04-22
Rated

5

out of

5
by
Rhatiga2
from
Love this travel system!
I received this product as a part of the Stellar Product Panel, and this travel system did not disappoint! Putting together this travel system was a breeze! The user manual was very intuitive and self explanatory. Even without the manual, I think that I would have been able to figure out how to assemble most parts, which is a great feature when you're a sleep deprived mama! Using the car seat with the stroller was a breeze to click in and out, and we especially liked the bassinet functionality. This was by far our favorite feature of the travel system, as our baby prefers laying down to being in the car seat when we are walking. Another unique feature of this stroller is the ability to adjust the height of the seat. It was so nice to be able to connect with my son on a closer level. Can't say enough positive things about the ease and functionality of this travel system!
Date published: 2020-02-11
Rated

1

out of

5
by
Stroller and car set trav
from
No
I bought a car with a graco car seat at the target store, nobody helped me and I bought the one that was not I wanted it reclining because my baby did not like it, I could not change it for the one I really needed, I cannot put my newborn baby there because it only makes people cry because they are very seated, I would never buy this car or anything graco again, much less in the "target" store My first experience
Date published: 2021-05-15
Rated

5

out of

5
by
Wimpey54
from
Such a neat stroller!
An amazing friend of ours bought us this stroller when we started fostering. This stroller is lightweight, easy to maneuver, and the option to allow the child to be front or rear facing is wonderful! We've had toddlers that struggled with abandonment issues, so being able to face the parent while being strolled makes things so much easier on both of us! We are loyal Graco buyers and won't be changing anytime soon.
Date published: 2020-02-05
Rated

5

out of

5
by
Sinatra
from
So convenient!
I bought this for my daughter and she loves it. It's lightweight and fits in the car easily. The feature she likes best though is that she can have the baby facing either way, her previous stroller didn't have that. The bottom is able to hold enough that you don't even need hooks to attach your diaper bag. I wish it came in more girly colors but perhaps in the future. Overall I would recommend this stroller.
Date published: 2020-02-05
Rated

5

out of

5
by
pittochi611
from
This travel system has it all
Bought this for my soon to arrive grandson. My daughter and I have been 'playing' with all the wonderful features. Couldn't ask for more. They thought of everything with this stroller. The height of the handle so you're not slouching, the option for baby to face you or the world, being able to raise or lower the car seat while positioned on the stroller, the cup holder and many, many more features to love!
Date published: 2020-04-30
Rated

5

out of

5
by
Lindsey22
from
Incredible!!!!
I did tons of research looking into travel systems that would support for infant car seat and frame adaptions. And also a bassinet. there were not many options and the options I did find were such a pain in the bum!!! The graco nest modes makes it so stinkin easy to convert! Makes it really really simple for a busy mom of three also on the go with her littles! Would never choose another system again!
Date published: 2020-03-23
Rated

5

out of

5
by
Sammie_Cakeys
from
The Best!
I am a first time mom and this stroller has made being a first time mom so much easier. The ease and convenience to be able to move my baby from the car seat adapter to the stroller without waking an infant has been a God send. Strollers have come a long way since my goddaughter, who is 7 now, was an infant and I remember struggling my way around her stroller. I got pregnant at the right time =)
Date published: 2021-01-06
bvseo_sdk, dw_cartridge, 18.2.0, p_sdk_3.2.0
CLOUD, getReviews, 0ms
reviews, product
product-detail-view
oos-pdp