Modes™ Adventure Stroller Wagon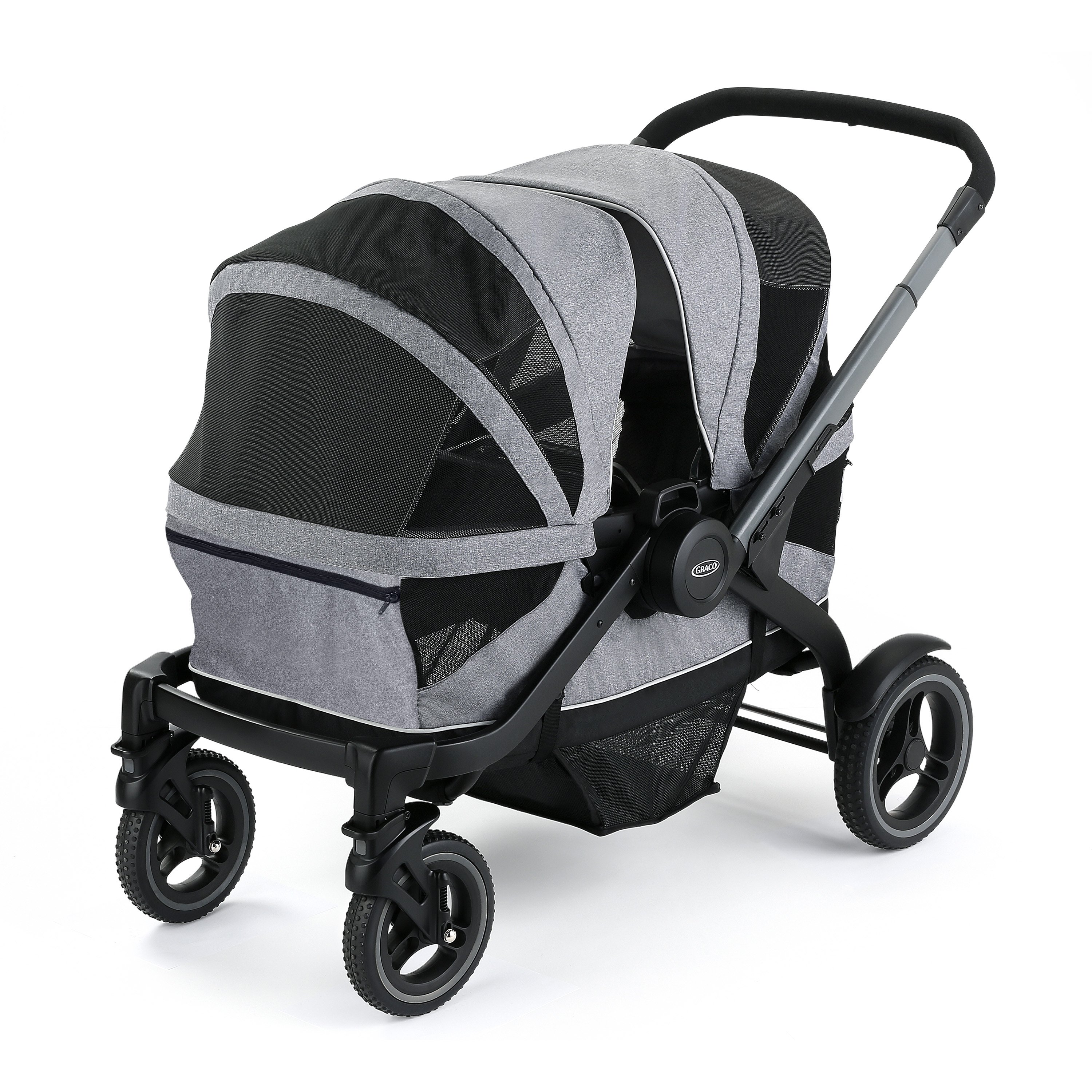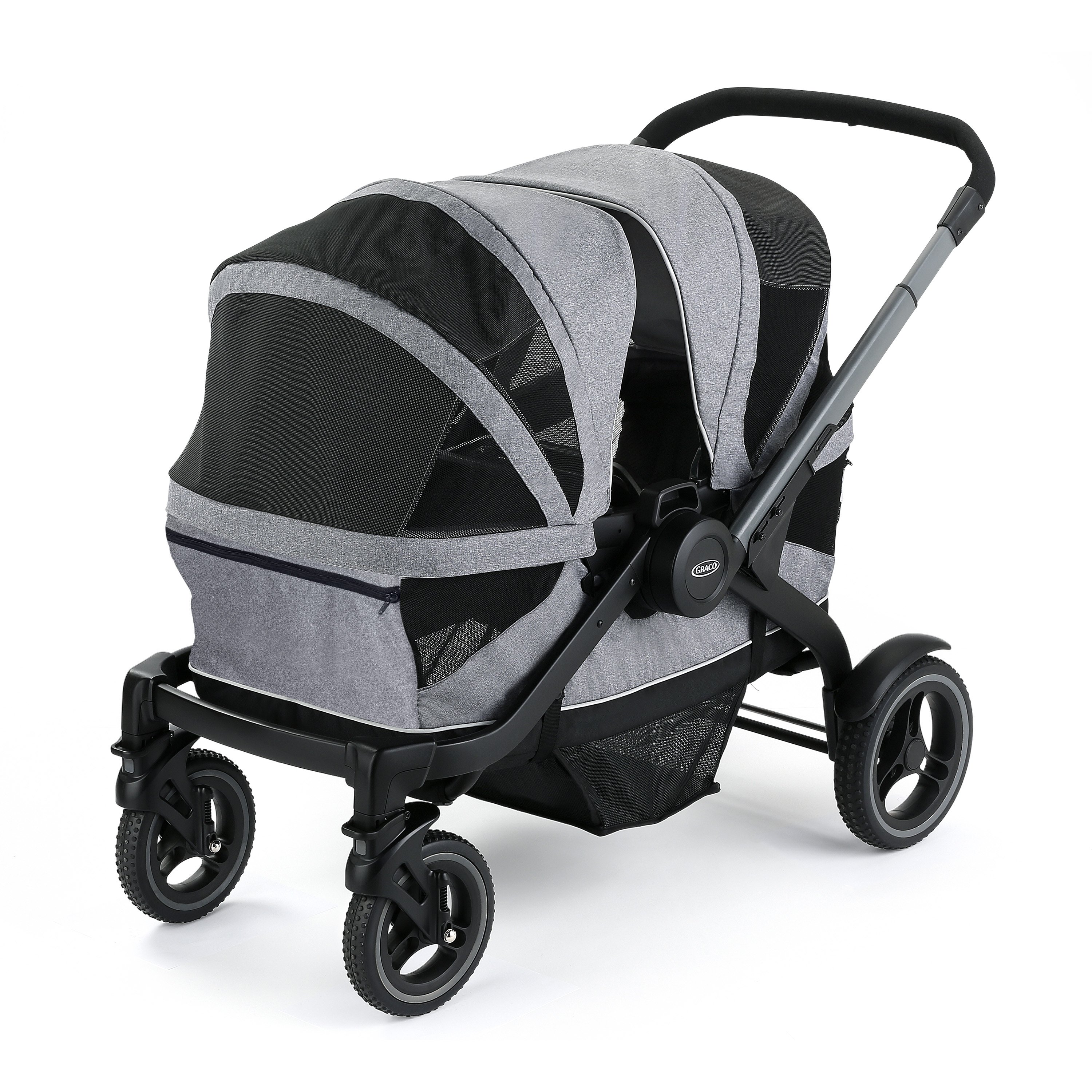 Modes™ Adventure Stroller Wagon
Final Sale: may not be returned or exchanged
Selection will refresh the page with new results.
Selection will refresh the page with new results.
Final Sale: may not be returned or exchanged
Want us to let you know when the item you wanted is back in stock?
---

Free standard shipping on orders of $40 or more! Details
---
Product Details
Description
Ready for adventures big and small, it's the comfy, cozy, versatile Graco® Modes™ Adventure Stroller Wagon. A small, compact fold—one of the smallest in the market—ensures easy storage and transportation. Because comfort is key, there are 2 plush seats and a footwell for little legs and feet to rest in this kids wagon. Pull it like a wagon or push it like a stroller; it easily converts from one to the other. All-terrain rubber tires with suspension let you go wherever the fun is. There's plenty of parent storage—cup holders, zippered pockets for tucking blankets, jackets, toys, and more—so you're ready for anything. Plus, this folding wagon stroller accepts any Graco® infant car seat with an adapter (sold separately), so even your infant can come along for the ride from day 1. More features include a child's tray with cup holders, a lightweight aluminum frame, height-adjustable handle, and 2 large canopies with breathable mesh panels and UV 50 sun protection. Our sturdy toddler wagon holds up to 50 lb per seat, or 100 lb total. Use it as a beach wagon or take it to the park, this all-terrain wagon makes it easy.
Child's tray with cup holders for snacks and drinks on the go
Height-adjustable handle for parent comfort
Accepts any Graco® infant car seat with adapters (both sold separately) for adventures from day one
Two large canopies with breathable mesh panels and UV 50 sun protection keep your children shaded
Footwell for little legs and feet to rest comfortably
Lightweight aluminum frame for easy maneuverability, transportation, and storage
Can hold two children up to 50 lb per seat (100 lb total)
3-point safety harnesses
Care & Maintenance
CLEANING SEAT PAD: Fabric cannot be removed. It should only be wiped with a mild soap, taking care not to soak material. NO BLEACH or detergent. CLEANING HARDGOODS: Metal and plastic parts may be cleaned with mild soap & cool water. WHEEL MAINTENANCE: Use light oil if wheels squeak. It is important to get the oil into the axel and wheel assembly as illustrated on the manual.
Product Instructions
Recommended Use
Wagon holds child on each side up to 50 lb (100 lbs total) for years of comfortable strolling
Replacement Parts Graco
We at Graco care about safety and the only way we can make sure that the parts of your order are a perfect fit for your Graco product is to ask for the model number and manufacture date of the product you own.
Search by Model Number
All fields required unless marked optional.
Date formats may vary by model.
Manufacturing Date Formats
MMDDYY-011305
Y Y Y Y M M D D - 2 0 1 6 0 2 0 5
D D M M Y Y Y Y - 1 3 0 1 0 5
Replacement Parts Are Not Available.
Locating Your Product Information
Model Number
Most Model numbers can be found on the back of your Graco® product. In some Graco products, model numbers can be found on the top of a base unit.
Manufacturing Date
This date refers to the day, month, and year in which a Graco product was made, and can be found on the sticker along with the model number. Here are three examples manufactured date formats:
Model: 7777DEV
Manufactured in 011305
GRACO CHILDREN'S PRODUCTS INC. EXTON PA 1931 1-888-224-5649 Made in U.S.A.
M M D D Y Y
Model: 7777DEV
Manufactured in 20160205
EXTON PA 1931 1-888-224-5649 Made in U.S.A.
Y Y Y Y M M D D
Model: 7777DEV
Manufactured in 130105
GRACO CHILDREN'S PRODUCTS INC. EXTON PA 1931 1-888-224-5649 Made in U.S.A.
D D M M Y Y
Rated

5

out of

5
by
Koyanti
from
Best thing since sliced bread
This stroller wagon is amazing! All three of my kids (1-5) love it too. My tall, nearly 6 year old fits comfortably and is able to use the bonnet while sitting up straight. I put the heavier kid near the handle while using it stroller style for best maneuverability and we are good to go, whether it be through stores, or all over our dirt/gravel roads at home. My wife was completely shocked by the size of this folded up - its about like any other full sized stroller, but way smaller than you would expect out of a wagon. While I have too many favorites features to list, some of them include: • The extendable handle - at 6 feet tall I don't have to lean down at all to push this. • The nifty spot for feet to have plenty of room and the cupholder that both kids can use. • The double bonnets to give shade, or protect from the rain. I could go on and on, but it all comes down to the fact that this is a great stroller wagon and we will be purging some of our favorite strollers in favor of this. My wife and I love it and are excited to use this everywhere we go. Thank you so much to the Stellar Product Testing Panel for providing us with this stroller wagon!
Date published: 2022-04-24
Rated

4

out of

5
by
Vmart
from
Great stroller wagon
Thanks to the Stellar Product Testing Panel for providing me with this stroller wagon. It was SUPER easy to assemble - I did it by myself in about 10 minutes! We first took it out for a spin around the neighborhood and our local park, including some pretty uneven sidewalks and I paved areas of the park. I was pushing/pulling about 75 lb worth of kiddo between by 2 and 4 year olds, and it definitely did not feel that way! The wagon was so easy to handle and maneuver. I was very impressed! It's also great how small it is compared to our other double stroller when it is folded down. Our car is always overloaded with kid gear, so taking up less trunk space is a definite plus! My kids also loved that they got to take turns facing me, which avoided some fighting. Overall, it's great so far! Definitely recommend!
Date published: 2022-04-24
Rated

5

out of

5
by
HeatherL
from
A Stroller Wagon that is truly up for Adventure
With 5 active kids, our family has to get outside often! My 3 biggest boys can hold their own easily on hikes and such, but my four year old and two year old need some help keeping up with the rest of the family. We've tried hiking backpacks (so heavy for parents) and double strollers( so wide for trails)- enter the Graco Modes Adventure Stroller Wagon. It is versatile and very functional, ready for some real adventuring! I love the comfy, facing seats- my kids like to interact while we go for a stroll. The two canopies nearly cover the two whole seating area- really nice for wet days out! We live on a farm and the stroller wagon runs pretty smoothly over the gravel so I can imagine it would go even better on trails and concrete. The Modes adventure stroller wagon really does fold down to a very minimal size, making it easy to stash in the back of the car. I really appreciate the option to push or pull the stroller wagon. The handle can easily be set to pull like a wagon or changed into a push stroller mode. All in all, this wagon is going to get a lot of use helping my littlest people keep up with the family's adventures. Thanks to the Stellar Product Testing Panel for providing me with this stroller wagon!
Date published: 2022-04-22
Rated

5

out of

5
by
Kpat
from
Versatile Stroller Wagon
This stroller/wagon has been so much fun to use! Thank you to the Stellar Product Testing Panel for providing me with this stroller wagon. It's really the best of both options between strollers and wagons. I love that you can attach a car seat for baby, and there is space for your toddler as well. We have taken the kids out to the park, on a trail hike, and around the neighborhood in the wagon and it has not let us down. I prefer to push it, but it's great that if you come across a bumpy area you can easily swing the arm over and pull it until you get through the bumpy areas. The flexibility it offers makes it a great option for daily use. I love that it comes with the kids snack tray as I know a lot of other brands make you buy that separately. My kids loved the sun hoods and were pretending that they were in their own little cave while we were out. Storing the stroller is easy as it folds up pretty compactly to fit in a garage cupboard, and is very simple to pop back open again. One of the best parts about the wagon is the footwell that they have added at the bottom because it allows the kids to sit ergonomically and therefore they love being in there. I really love this stroller wagon and can see myself using it for years to come!
Date published: 2022-04-25
Rated

5

out of

5
by
amarc8
from
Wonderful Wagon
I was so excited to be given this stroller wagon to try as part of the Stellar Product Testing Panel. I have seen them grow in popularity and I'm loving it for our growing family. We most frequently use it during my son's soccer games for my middle and little. They happily ride along and can play inside with the shades up on sunny days. They even have a spot for their snacks and drinks. We have also used it going in and out of church, neighborhood walks and other events. I love that you can push or pull the wagon but we usually choose to push. The maneuverability is great and it's been good for various terrain like the grass at the soccer fields. It is fairly easily to fold. We usually have a little bit of a challenge unfolding and getting it set up. It doesn't seem as user friendly for setup but does fold easily. The handle bar adjusts for different heights and flips directions for pushing or pulling. It is somewhat compact when folded but I consider it to be kind of like my double stroller, on the bigger side of equipment. It's big and bulky but that seems to be standard for something that carries two kids. It is very sturdy though and has a lot of features so I am okay with the size and weight. My favorite feature, that our previous basic wagon did not have, is the sun shades. It is so great for being outside with little ones and protecting them from the sun. The kids love them too because they can "hide out" inside! We have really enjoyed testing out the Graco Modes Adventure Stroller Wagon and look forward to using it a lot for all of our adventures with our kids!
Date published: 2022-04-20
Rated

5

out of

5
by
Emily
from
Awesome stroller wagon
This is my first experience with a stroller wagon. I've used plenty of strollers in my days as a mom of 4, but never a stroller wagon. It's exceeded my expectations. My current favorite use is going on walks along the trails behind my home with my kids. It's easy to steer and doesn't feel heavy (even with two kids in it), which allows my older kids to help push or tow my littler ones. I very much appreciate that it isn't gigantic when it's folded. It fits pretty well in my trunk, taking up less than half of the space, which allows me to more adequately use my trunk. My only complaint is that it doesn't stay folded well, and is slightly heavy for a smaller person to lift or carry. The latch on the side keeps it closed, but carrying it is somewhat difficult because it's not closed very tight and the sides bounce out a bit (I'm a smaller person, so that may have something to do with it). This is not a deal breaker and I absolutely love this wagon, just more of an annoyance. My two youngest kids love to ride in it, and they both love the pull up covers that really protect most of the wagon, and does a great job of blocking wind/rain/sun. There is plenty of space for 2 kiddos to sit, with enough leg room that they aren't fighting over the space. It's also nice to have a tray for their waters and snacks. I love being able to easily take my kids in and out as needed, since they're more accessible than a regular stroller. This is my new favorite tool while I'm out with my kids. Extremely versatile. Huge fan of the zippered storage pockets, and places for the grownups to put their waters. I received this product as a part of the Stellar Product Testing Panel.
Date published: 2022-04-22
Rated

5

out of

5
by
freikl
from
We love this stroller wagon
I was given this stroller wagon to try as part of the Stellar Product Testing Panel. We've only had this stroller wagon for a couple weeks and already love it and can tell that we're going to get so much use out of it! There's just so much to say about it so I've broken my thoughts up into categories down below: Packaging and Assembly - well packaged and easy to get out of the box. Nothing was damaged or missing - easy to assemble, took about ten minutes - our first impression was that the parts felt high quality and not overly plastic or cheap - kids could NOT wait to get in - we didn't get the car seat adapter but love that it has the capability to add that option if you have an infant seat Seating and Snack Tray - seats are nice and wide, my 3 year old and 1 year old can squeeze into one seat if necessary - from what I can tell it's a comfortable ride for them; the kids don't ask to get out constantly - they love the snack tray and cupholders - nice 3 point harness to keep the kids safe Zippers/Compartments - there isn't a ton of storage space and no cupholder for adult drinks because of the movable handle, but that's a trade-off that I'm okay with for the flexibility of being able to push or pull and easily switch between the two whenever we want Canopy - the canopies are amazing. The kids feel so protected from the elements and still have good vision and airflow from the side mesh areas - one potential annoyance is that if kids lean back with their heads too hard it makes the canopy pop out of fully extended position into the middle position - I love that it's so modular and allows for the canopies to be fully removed easily if that's what you want, and yet the velcro seems very strong Size and portability - it is pretty compact when folded up and is light and easy to move around as well - does require 2 hands to open and close Pulling/Pushing and Handle - love the padded handle and it's not heavy at all when pulling - with 3 different length positions it should work for a wide variety of heights for the person pushing - when pulling, the handle is nice and long so that you don't have to worry about the stroller bumping into your feet as you walk - when pulling, the handle does go all the way to the ground if you let go, so it could potentially get wet/dirty if you need to set it down - it is SO easy and smooth to push this stroller around. I was able to maneuver it through a very tight space with no issue. Turning is a breeze. - when pushing, it was a little hard to get up a big "step" (like through a doorway that's not level with the ground). It felt like I was putting a little too much stress on the handle to pop up the front to make it up, even with no kids in the stroller - switching the handle from push to pull took a bit of getting used to, but after a few times it was super easy Shocks and Uneven Ground - we haven't gone through too much rough terrain, but just going through our wet/uneven yard I can tell it would be a nice smooth ride for the kids even if we're not on pavement - the swivel lock is a nice touch for uneven ground - we didn't have a chance to try on a gravel road so I can't speak to its performance there Design - I love that there are red indicators to show if things are properly locked in place or not - the breaks are super easy to engage and disengage and hold well - the gray and black model is very modern and classy looking - the sides are high, my 3 year old couldn't climb in/out by herself Overall, we really love this product. It is somehow great at being both a stroller and a wagon, and we are really looking forward to using it all summer long. If we have another baby we will definitely be purchasing the infant seat adapter.
Date published: 2022-04-22
Rated

4

out of

5
by
KJ22
from
Easy to push but little storage
I took this stroller to the zoo, a park, and several walks so far. I have a four and two year old that enjoyed riding in it. It's easy to push and pull, but a little difficult to pull through the grass. No harder than a regular stroller though. The compact fold was nice and makes it easy to store. It is sometimes hard to get it to fold the first try. I think it has great flexibility in use and I love that it can be pulled or pushed. The handle makes it great for both. I wish it had a little more storage. We tend to pack a lot and there isn't enough storage and no options to add on for an adult cup holder or storage for our billion snacks and drinks on long zoo trips. It has storage for a couple diapers and 3 cups, plus the center piece for two more cups. My favorite feature is that the sun shades completely cover both kids when they are riding in it. It keeps them safe from the sun when it's super sunny and my youngest even napped in it. I am so fortunate that I was given this stroller wagon to try as part of the Stellar Product Testing Panel.
Date published: 2022-04-25
Rated

4

out of

5
by
MeganC
from
Overall good wagon
Overall, I would say this is a good wagon. As a mom of 4 boys (ages 18 mos-6 y/o), I am always looking for convenient ways to be out and about. As the boys tire, it is helpful to have two seats available. Some things that I liked about this wagon include the ease of putting it together, the ease of pushing it around (great wheels), and the snack tray/cup holders for the kids. The canopies are also very big and spacious which is especially nice on sunny or windy walks. However, I didn't think it was very easy to change from push to pull, It was difficult to slide the side panels and move between push/pull; also the pull function doesn't "click" in. Other things that I didn't love were the storage functions (the pockets were tight and small); size and weight (while it may be considered the "smallest" on the market, it still didn't fit in my trunk and was quite heavy trying to move around); and leg room (limited for older/taller toddlers). So, as I started my review, I would say this is a good wagon. While the wheels make it great for adventuring, the limited storage space make it hard to go too far for too long. Thanks to the Stellar Product Testing Panel for providing me with this stroller wagon.
Date published: 2022-04-21
Rated

4

out of

5
by
MinionsMama
from
Great concept
Graco did a great job executing this stroller wagon. I loved that canopies extended enough to cover each individual child, although the canopy was a little short and my 4 year old had to duck her head to open and close it while in the wagon. The cup holder/snack tray was an amazing addition and I really love that it came with the wagon and not as a separate accessory to buy. I predominately used it with my almost 2 year old and my 4 (almost 5)year old. Both seemed to enjoy it and have asked to go on a walk every day since using. I think it'll be great to take to older siblings extra curricular activities to keep them entertained but not feeling locked in like they do in the stroller. The only place I could see an issue being is the floor board did not have much space for both kids. I don't think I would take it off road as it felt a bit cumbersome navigating it through the yard to get to the garage. If I could change one thing, I would make it so the seats could go flat like a traditional wagon. (Only because little ones tend to fall asleep when we are out of the house for extended periods and I realized I didn't have anywhere to lay them) Overall it's a great alternative to the stroller for older kiddos.
Date published: 2022-04-24
Rated

4

out of

5
by
Tyler
from
A toddler must have
I am so grateful to have received this product through the Stellar Product Testing Panel! I have a 2 year old who will no longer tolerate his stroller for more than a few minutes so the wagon has been the perfect solution. It makes being out and about fun and adventurous for him! It's easy for him to get himself in and out of (with a bit of our help), comfortable for him to sit in for more than 20min at a time since he's perfectly content with his little snack tray that also doubles as a toy tray, his legs can dangle freely, and the adjustable canopy is fantastic for keeping the sun out of his eyes. We have another baby on the way and without a doubt do not see ourselves needing to buy a second stroller seat when we can combine the wagon/car seat/carrier! Theres ample space for two in the wagon. The only feature I would love to see updated is the ability to adjust the seat so the wagon could also be a more comfortable place to nap on the go. For the wagon itself, it was easy to put together and the material and wagon are well made and sturdy. While it's a bit heavy for me to manage solo, it is nice and compact for our trunk. Being taller than average parents, neither I or my 6'4 husband have found ourselves complaining about the handlebars height. Love this wagon! A must have for toddler parents.
Date published: 2022-04-25
Rated

5

out of

5
by
Kcook
from
Winner for 2 kids under 3
It took maybe 30 minutes to put together. Lay all your pieces out, then follow the directions and it's a breeze to put together. We took it out immediately that day with our 2 year old and 11 month old. Needless to say it's a winner. There's definitely a learning curve while figuring everything out and getting used to it, like the folding and unfolding it. So I highly recommend taking it out a few times somewhere that you won't feel rushed. I love that the snack bar can be removed. Our littlest kept dropping toys and would bump her head when she went to pick them up. So it was a relief that I could easily take it right out and solve that for her. It's such a smooth ride for them. We're able to maneuver around small shops and all around our local downtown area with ease. Granted the corners aren't taken as quickly, but they're not difficult by any means. There's not much space for storage, so if we're not taking this somewhere we can easily go back to the car for whatever we need then we make sure to load everything up in our diaper bag backpack. We got multiple comments by new moms and older moms that wished something like this was around for their babies. And I wish we would have joined the wagon life sooner, because I'm loving it. The kids feel less confined than they do in a stroller. They're able to see each other so they can play together and keep each other amused easier for longer stretches. While it does fold up nicely, it's still going to take up a good amount of room. I do wish the middle part could be moved up for when one of them wants to lay down and nap. My 2 year old would love to lay down and crash for a nap while being pulled around on a breezy sunny day… honestly so would I. I don't know if that's a realistic thing to ask for, but if I had to come up with one "complaint" then that's the best I can do. I'm really looking forward to this being our go to this summer instead of the stroller. We have a beach trip coming up and I think this is going to make loading up two kids back and forth so much easier. Thanks to the Stellar Product Testing Panel for providing me with this stroller wagon!
Date published: 2022-04-21
Rated

4

out of

5
by
fcastro
from
Solid Stroller Wagon
I have to say I'm very impressed with this Stroller Wagon. I have two little ones and I'd been eyeing multiple competitors. Starting with what I love about it. It was super easy to put together and it was ready to go within 5 minutes; can't beat that! It's very spacious inside and my two boys love how comfortable the seats are, how much room they have to themselves, and they have a blast facing and playing with each other. It's very easy to pull/push and felt very smooth on our walks. And lastly, this is a space saver when it's folded! I was expecting it to be quite large when folded, but was blown away at the fact that once folded it was almost exactly the same size as our regular stroller! We've taken walks around the neighborhood and have gone to the park. We are planning a couple of big trips and this will be a priority in our car when we travel! The sun shades are great as well, although we haven't had a need for them quite yet...The kids think it's a fort and love putting them up. There were a couple of things I wish the stroller had though and felt it could be a bit better. There is some small storage in zipper pockets in the front and back that can take small things like a phone or keys, even trash from snacks. But you will still need a backpack or some other form of storage for larger items, diapers, etc. There was also no place to put a water bottle for the adult(s) pushing the stroller. I'm sure I can find some accessories online, but it would be nice to have something that could attach on the handle for drinks or more snacks. The middle tray in between the seats is pretty good, but a bit on the small side. It did its job for the kids, but felt like it could be better. And one thing I really wish it had is pockets on the sides of the seats for the kids to put toys in or to quickly store something there. We brought some toys on our walks, but when the kids weren't playing with them, they would just fall near their feet. A little mesh pocket would be perfect in their seat to store little things like that. Lastly, the wheels were pretty good for the most part, but I'd definitely prefer more of an all-terrain type of wheel as it would also add some comfort. Overall, this is a great stroller-wagon though and I'm extremely happy with it, and thankful to have been able to test it as part of the Stellar Product Testing Panel. This will definitely be a must have for us going forward!
Date published: 2022-04-20
bvseo_sdk, dw_cartridge, 18.2.0, p_sdk_3.2.0
CLOUD, getReviews, 0ms
reviews, product
product-detail-view
oos-pdp