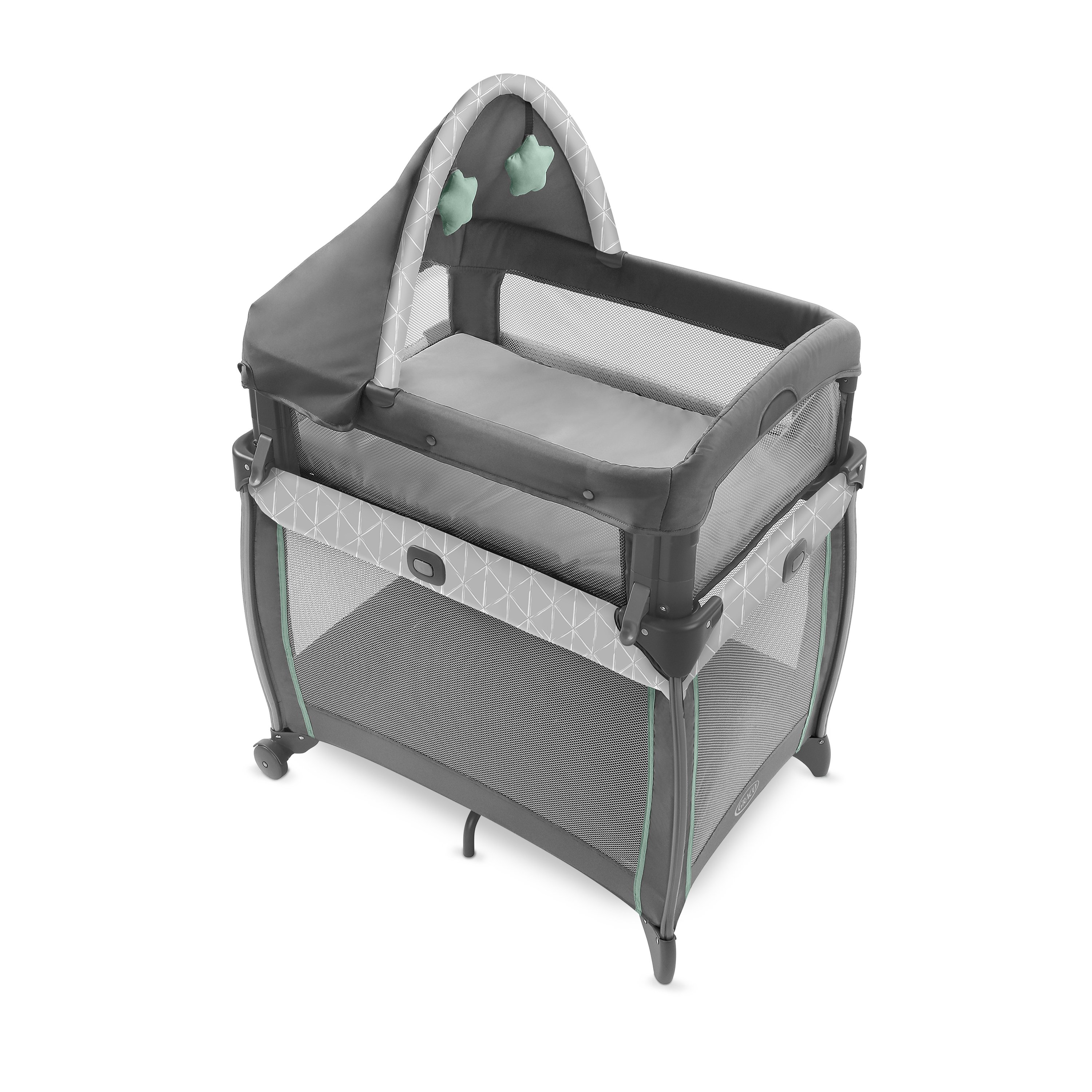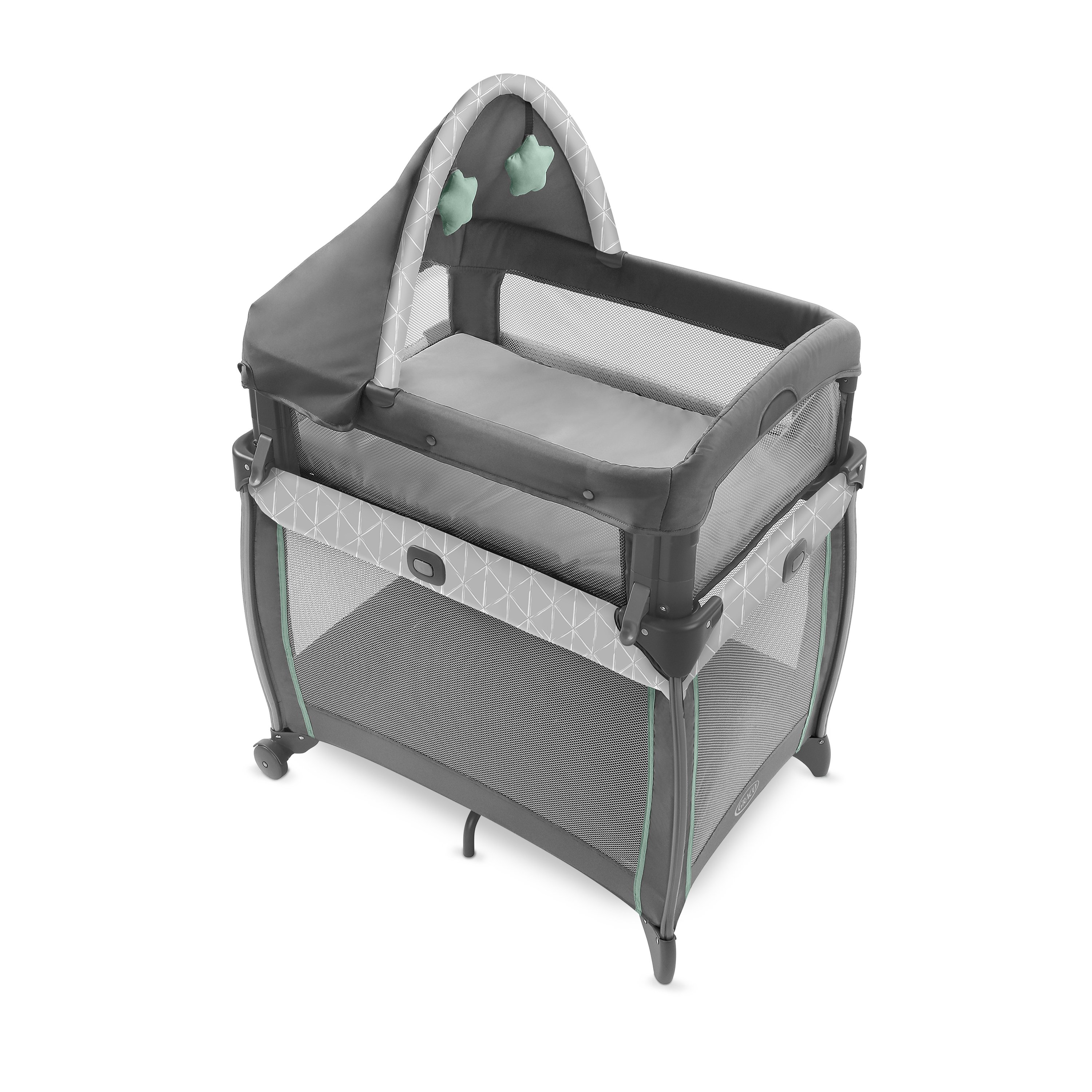 Product Details
Description
The Graco®My View™ 4-in-1 Bedside Bassinet offers four different ways to use, plus grows with baby and folds for travel! For newborns, the raised bedside bassinet perfectly positions baby at eye level. For infants, the bassinet lowers to crib-level and is removable for use anywhere! Finally, the bassinet is able to provide even more space for a growing toddler.My View™ also features a canopy to shield baby from light, keeping them cool and comfortable. Integrated wheels let you move the bassinet around your home, and the compact fold and included carry bag make travel easy. Whether at home or away, the Graco®My View™ 4-in-1 Bassinet ensures mom always has the perfect view for better sleep.
Compact fold for quick and convenient use on the go
Canopy with soft toys helps create a soothing environment by shielding baby from light
Airy mesh on all sides for maximum ventilation and easy visibility
Integrated wheels allow for easy maneuverability in the home
Convenient carry bag included for no-fuss travel and storage
Compatible sheets are available and sold separately
Care & Maintenance
Clean with household soap and warm water/drip dry
Clean playard with household soap and warm water/drip dry
Product Instructions
Recommended Use
Bassinet for use up to 20 lbs; Playard for use up to 35"
Bassinet: Infant up to 20 lbs
Playard: For use up to 35"
The display of photographs does not reflect Graco Children's Products Inc.'s ("Graco") specific approval or endorsement of the use of the products as portrayed in those photographs. Graco always recommends that the consumer consult the product's manuals, and abide by the instructions contained within those manuals.
Replacement Parts Graco
We at Graco care about safety and the only way we can make sure that the parts of your order are a perfect fit for your Graco product is to ask for the model number and manufacture date of the product you own.
Search by Model Number
All fields required unless marked optional.
Date formats may vary by model.
Manufacturing Date Formats
MMDDYY-011305
Y Y Y Y M M D D - 2 0 1 6 0 2 0 5
D D M M Y Y Y Y - 1 3 0 1 0 5
Replacement Parts Are Not Available.
Locating Your Product Information
Model Number
Most Model numbers can be found on the back of your Graco® product. In some Graco products, model numbers can be found on the top of a base unit.
Manufacturing Date
This date refers to the day, month, and year in which a Graco product was made, and can be found on the sticker along with the model number. Here are three examples manufactured date formats:
Model: 7777DEV
Manufactured in 011305
GRACO CHILDREN'S PRODUCTS INC. EXTON PA 1931 1-888-224-5649 Made in U.S.A.
M M D D Y Y
Model: 7777DEV
Manufactured in 20160205
EXTON PA 1931 1-888-224-5649 Made in U.S.A.
Y Y Y Y M M D D
Model: 7777DEV
Manufactured in 130105
GRACO CHILDREN'S PRODUCTS INC. EXTON PA 1931 1-888-224-5649 Made in U.S.A.
D D M M Y Y
Rated

4

out of

5
by
DevoMont
from
Great Bassinet
I was given this bassinet to try as part of the Stellar Product Testing Panel. I love that it can be used at different stages! We don't have a lot of storage so this is really important to us. The bassinet is sturdy and secure but also portable which was great for our many attempts to put the baby in her own room. Stage one was great to be able to see the baby especially when she was a newborn and I was constantly checking on her while she was sleeping. My favorite is stage two though so that I can roll over and give her the pacifier or pick her up to nurse without having to get out of bed. When she gets bigger we will probably transfer her to a permanent crib and use the bassinet for traveling. It folds up easily and it's compact enough to fit in our small car. Another feature that I love is the canopy. My baby is super sensitive to light so this helps her sleep without being affected by outside light.
Date published: 2020-01-29
Rated

2

out of

5
by
Katelyn99
from
Packing
so I bought this for my newborn a couple weeks ago and we put it all together it went together well it's nice and comfortable it works wonderful but when you go to pack it up the the bag has no room to put the bassinet piece in it just the pack and play what's the point of having a bassinet included if it doesn't fit in the bag that it says on the specification and description comes with a bag for easy hassle-free on the go use or something like that it's not hassle-free and now I have to find a spot to put all of these extra pipes for the bassinet when I go on travel so hopefully I don't lose any of them and they don't go missing cuz this is $180 pack and play if I still had my receipt I'd return it and get something cheaper that actually fits in the bag it comes with so not worth it
Date published: 2021-01-29
Rated

5

out of

5
by
whygeorgia
from
Great Bassinet for first 4 months
This bassinet is great - especially for weekend travel or wanting to bring your newborn with you to various locations (e.g. a friend's house, grandparents, etc). We used this bassinet a ton going to the beach, even though it was the offseason and it was easy to pack in the car, bring to the beach, etc. I was using a bedside bassinet before this and this was almost as easy to get out (a little harder) but much easier to bring and move around, which is so helpful in the first few months. It was very nice to be able to see my son elevated when he was sleeping and I hate how in a standard pack and play has the baby so close to the ground, so this was so nice. My toddler played in this a few times as well as a quick place to keep her securely. I am excited to continue to use this in the years to come as he gets bigger! I had never seen this product before so I am excited I received it as part of the Stellar Product Testing panel.
Date published: 2020-01-31
Rated

5

out of

5
by
Srmama
from
Perfect for on the go
I really am so thankful I received this as part of the Stellar Product Testing Panel. My baby didn't like the bassinet we had at home and was going through a sleep regression, plus our bassinet at home was getting snug for my child. The bassinet on the My View is roomy. Enough for my baby to sleep comfortably. I went on a trip recently with my kids, and the play yard portion on the bottom was perfect as a safe space for my baby. It is easy to pack and store in my car when we are on the go. I will be using this for the next baby, and have recommended this to my friends.
Date published: 2020-01-31
Rated

5

out of

5
by
bmckibbo
from
A bassinet and playpen that does it all!
I was very lucky to receive this bassinet from the Stellar Product Testing Panel, because I really love it! At first glance I thought it was a 'typical' playpen, but then I realized the awesome features like the removable raised bassinet for a newborn, and how convenient it is to bring with you when you're visiting friends/families homes. The raised height is perfect for bedside and taking my little one out for late night feedings and changes. My husband also commented how for some reason it seemed lighter than our first bassinet, and easier to set up / take down! Overall, we are extremely happy with this play pen, and although my toddler can crawl out of it as she is 2.5 years old, our new baby will be able to use it for a very long time! A great product, I would definitely recommend!
Date published: 2020-02-02
Rated

5

out of

5
by
Esvee
from
Best little playpen ever!
I was excited when I found this because it was exactly what I was looking for! Smaller than the average play pen, can be used as a detachable bassinet, easy to pack and travel with! Super easy to assemble, quality is great! I have the oceana color which I absolutely love! I really enjoy how compact and simple it is. I would definitely recommend this product. The only issue I am currently having is finding a fitted sheet to fit the smaller mattress it comes with. Other than that I'm excited to put it to good use! Graco is always a winner at quality and durability!
Date published: 2020-04-22
Rated

5

out of

5
by
EliseAmom5
from
Simple to set up and wheel around the house
I received this as part of the stellar product testing panel in exchange for my honest review. I love the size of this. When it is raised it sits at the same height as our king size bed that has a euro plush topper. Once baby is a few Months old and no longer a newborn you can push the side clips in and it sits almost flush to the top of the play yard. The wheels glide very smoothly and makes it very easy to move from room to room. Our current house is only 1200 sq feet so I need something that's easy to take around the entire house and can fit around/through tight spaces and door jams and this does just that without frustration. Set up was unbelievably simple. I love that it has a detachable sun shield if we want to take baby outside to nap while the big kids play but he also loves just staring at the mobile as he drifts off to sleep. The mattress on this is actually quite padded and we have taken it off and put it on the bottom so bang has a safe space to play away from our bigger kids and the dog so I can clean and not have to worry about anyone bothering him. Literally my only complaint is that I am not able to pull the top part up in me handed to convert it to a play space while holding the baby since the clips are a bit of a pain once you get one side off the other side stays clipped on and I wish there was an easier way to do it one handed but it's not a deal breaker.
Date published: 2020-01-29
Rated

5

out of

5
by
kab04
from
Great Multi Use Bassinet
Thanks to the Stellar Product Testing Panel for providing me with this bassinet, because I am kind of obsessed. I was one of those moms that didn't want a bassinet along with everything else and planned to use a playard type set up instead. This is literally the best of both worlds! Its smaller than other playards which makes it great to move around the house or even travel with. I love that you can raise the bassinet part up so its at eye level. Its perfect for being able to roll over and check on baby without getting out of bed. There is mesh all the way around so its well ventilated and the pad seems very comfortable for baby to sleep. My son slept very well in it! When you are done with the bassinet phase, you can use it as a playard or travel crib. This is a great size and has multiple uses, so it gets 2 thumbs up from me!
Date published: 2020-02-03
Rated

5

out of

5
by
Anna A
from
Light and easy transport !
Thank you we spring for sending us this awesome My View™ 4-in-1 Bassinet. I love how easy it was to put together, it was light and quick. The colors are super cute and it was easy to move around the house. My baby sleeps really well in it, and on nights when he is fussy I can keep him close to me. I'm excited that we can use it after the baby no longer needs the top part. Over all I think this is a great addition for any household with a baby!
Date published: 2020-01-31
Rated

5

out of

5
by
Derstepenwoelf
from
Great safe sleep space
We are absolutely in love with this bassinet. It's size is perfect, not being too small, but not taking up too much space. We absolutely love the fact that the bassinet portion has two levels, and can be taken off to bring baby from room to room. We also love the fact that you can use it as a normal pack n play as well. Great multi functional sleep space. We received this product through the Stellar Product Testing Panel.
Date published: 2020-02-03
Rated

5

out of

5
by
Reynolkh
from
The perfect portable bassinet!
The My View 4 in 1 bassinet is one of my most used baby products! I use it next to my bed for safe co-sleeping, quickly and easily take the top bassinet off and use it for practicing tummy time, and since it is so compact I plan on taking it to the beach with us on vacation for sleep and play time (without taking up too much room)! MOM WIN! My babe loves the adorable stars hanging from the bassinet! It is simple and quick to set up, which is so important since I move it around so much! The portability of this product is absolutely of its many perks! I am a c- section mama, and the height is perfect for accessing baby without straining. I love that the bassinet comes off and my baby can grow with this product to use as a safe sleep space and a play space. Thanks to the Stellar Product Testing Panel for providing me with this bassinet to test! We absolutely love it! I recommend it to any new mama!
Date published: 2020-01-31
Rated

5

out of

5
by
Judithh
from
Baby bassinet
I love this brand and i have some items from graco. I used this for my new born baby and it was great. The best is that it transitions as the baby grows older. I like that it is portable because i can move it to different rooms or take it on a trip. It is very well made and sturdy. Ot is soft and the colors are beautiful. I recieved this product from stellar product tester panel.
Date published: 2020-01-29
Rated

5

out of

5
by
Ker2120
from
Must have!
I was lucky enough to receive this product free from Stellar Panel and absolutely love it. Love the portability of the bassinet and that it grows with baby. It also comes with a travel case which has already come in handy for us. We've even used the crib part for one of our older children to us. I would definitely recommend this product and will be telling my friends about it
Date published: 2020-01-29
Rated

5

out of

5
by
Biehbette
from
Versatile bassinet
This is an awesome product. My favorite feature is how long lasting this product is. There are so many baby products that only last for such a short period of time, but this is useful for your newborn all the way until they are a toddler. I currently have a newborn and a toddler and love how the bassinet is portable. It's so nice that you can put your baby down while the toddler is busy doing something anywhere in the house. The breathability of the mesh sides is such a fabulous feature, but I really love that you can remove the bassinet feature and use it for a toddler. We plan on room sharing until 1, per the recommendations, and since bassinets are outgrown around 5 months, we can continue to use this product and won't have to buy a mini crib. It's also super portable, and an all around great product. I plan on traveling with it since it folds up so well! I received this bassinet from the Stellar Product Testing Panel.
Date published: 2020-01-30
Rated

5

out of

5
by
ashdenn22
from
Very happy with this product!
This bassinet is pretty genius. It is the only one I've seen that has a portable, removable top section. I've seen other bassinets on wheels, which I was attracted to, but this is much more convenient because most bassinets are too large to easily wheel around the house. I have a one story house, but I imagine this would be even more convenient for people who have stairs. I also appreciate the mesh siding around all sides. It gives me peace of mind that as she grows and moves closer to the edges she won't have any problem breathing. My baby is still a newborn so I haven't used the bottom section yet, but I am glad this product is going to last into the toddler phase. It's great value for the money in that regard. And, in the meantime it can be used for newborn storage of diapers and wipes. I do want parents to know that I would not recommend taking the bassinet off and carrying the baby around in it the way the pictures show. It's super easy to put the bassinet back on, but once your baby is in it taking it off becomes a little tricky because of the weight of your baby. I'd recommend moving the portable bassinet into place and then moving your baby to it. It's also pretty big so I wouldn't be comfortable moving between rooms/door frames with my baby inside. A huge thank you to the Stellar Product Testing Panel for providing me with this bassinet. It arrived when my baby was 6 weeks old and it was perfect timing. I was getting frustrated with my infant swing that isn't portable and with my infant resting station which is only made for the floor. It's nice not having to bend down to the floor every time I want to put my infant down for a rest or nap.
Date published: 2020-01-29
Rated

3

out of

5
by
Nakia
from
Great idea but no sheets to be found.
I purchased this for my daughter from bye bye baby. Says sheets are sold separately but I am not finding them anywhere. We have already opened up the box so they wont return any baby stuff that has been opened. Since the word its sheets fitting properly are very important I am wondering if this was a waste of money. Otherwise it seems like it would be awesome! I would gladly give it a 5 star if there were sheets. Baby has not been born yet so we have not used this. Tough to rate right now.
Date published: 2021-06-03
Rated

4

out of

5
by
Beachgram
from
Need Disassembly Instructions
I think this is me rather than the product. I can't get the curved bars on the ends of the bassinet in, and I can't get the bottom side pieces apart to disassemble. Is there an assembly/disassembly video? Otherwise, we love it!
Date published: 2021-05-20
Rated

4

out of

5
by
djb5705
from
Super - the staff was above exceptional
Perfect size with great features. Item was sold out nearly everywhere and we needed it for a new baby. With stores closed, it was necessary to order this item online. I had some trouble the first time with the payment link so the 2nd customer service rep I reached was able to process my order, apply my discount and ensure the payment was accepted. She went out of her way, staying on the phone to be sure everything went through correctly. This is exceptional customer service - thank you !
Date published: 2020-04-21
Rated

5

out of

5
by
Nickyx0
from
Greats featured
Got this item last month & I love the bassinet feature. Cushion is soft and perfect for our baby boy.
Date published: 2020-01-07
Rated

1

out of

5
by
Teisha
from
No compatible sheets to be found anywhere
Where does one find sheets for this bassinet?! Why sell an item when there are no compatible sheets?
Date published: 2021-02-22
Rated

3

out of

5
by
Stassy
from
Mattress pad is not even
I think this pack and play would have been perfect if the mattress pad was better quality! Since it is foldable by design, it does not lay straight in the bassinet, it is higher at the top and bottom and my daughter's head and feet end up elevated. Graco doesn't recommend using any other mattress but the safety of their own mattress pad is questionable. I am trying to find a different one online, which would actually fit without bunching up or getting raised up.
Date published: 2021-10-31
Rated

5

out of

5
by
Skps
from
Sturdy, functional, portable, and comfortable
We were looking for a bed side sleeper and every big name out there was too short or too heavy. Our search ended with this. The base of the bassinet will be used as the base of the play yard when the baby outgrows the bassinet level. So one can use this play yard/bassinet till the baby is a year old - that's 6 months more usage than the more expensive options out there. Note: we couldn't easily find a cover for the base/mattress of the bassinet.
Date published: 2020-09-15
Rated

5

out of

5
by
K24tur
from
The perfect fit!
I bought this because I didn't like the arms reach co sleeper. This thing has been wonderful! I think it's a must! It's a bassinet and a mini pack n play which makes it perfect for travel. Baby seems to do well in it too. It's just right for small spaces. Putting it together was kind of hard, but once it was up, it got the job done. I am so happy with my purchase, and I definitely recommend this. It's probably my most used baby item!
Date published: 2020-04-22
Rated

4

out of

5
by
AutumnRuth
from
Versatile Bassinet
The Graco My View 4-in-1 Bassinet is easy to assemble and ready to use within minutes of removing from packaging. This bassinet is well-made and sturdy. The plush mattress pad feels comfortable to the touch, and I love the oceanic color/theme. There is multiple height variations to grow with my little guy to ensure comfort and safety. The wheels on base of bassinet create an easy mobile sleep space. The portable bassinet allows use outside on the ground while I play with my four-year-old. The canopy provides protection outside and helps guard the light coming through our bedroom window. The raised position for my 2-month old currently proves to be efficient for visibility above and through the mesh siding at bedside and at foot of bed. The height allows comfort of eye level visibility from my bed into his. The raised height is my favorite feature as it also makes it easy to lift and set my infant into the bassinet without straining my back. Another great feature is the compact size for use on our anticipated travel this Summer. I have two minor complaints, the care of bassinet material can not be machine washed. Secondly, the weight of the bassinet is more then I expected for its size because of the sturdy metal frame. Overall, this is a good, safe, sturdy and convenient bassinet. The many features will allow potential for comfort and ease of use through time for my little one. Thanks to the weeSpring Parent Panel for providing me with this bassinet to test and review!
Date published: 2020-01-31
Rated

3

out of

5
by
Nana Yvonne
from
Nice Bassinet
The bassinet is a good size but the bottom area is small. The pad is so tight that you cannot use a mattress pad with a sheet. I should have purchased the smaller bassinet with larger bottom area because I will have to purchase a full size crib to fit a growing baby. He is already ten pounds and twenty-two inches long at one month so not sure this was a good choice.
Date published: 2021-06-05
Rated

3

out of

5
by
Nicolem1030
from
Good but needs improvements
Thank you so much to Stellar for allowing us to review this product. It does have a few good features associated with it, but it also had a few things I would recommend changing. First and foremost, the good qualities of the product. The Bassinets feature of being portable is great. Your able to move the sleeping baby from point a to point b without really disturbing her. So when I wanted to go inside to watch Television i could easily move her without physically having to pick her up. As they always say "Never wake a sleeping baby" and that's exactly what this allowed me to do. Secondly, it is always good to have a product you can use with your newborn. As long as the baby is swaddled you can rest easy knowing that he/she will be safe and sound in the raised bassinet. You can keep this at any level in your house and easily see where your baby is positioned. The see through netting is great especially for first time parents who get a bit nervous when baby is sleeping. Thirdly, keeping a product from the time the baby is born up until the time your able to transition your kid into a crib is great. One less product you need to buy and it also is great as the more you use it the more comfortable you are with it. Its lightweight and has the ability of staying out of the way. You can view it as a mini crib for your newborn baby. Lastly, my two favorite features of the bassinet is the fact that its lightweight and the fact that it comes with a canopy. I like the fact that I can pop it up and down and move it through my house. The canopy is especially usefull as it blocks out any type of light that may be shinning in my house when she is sleeping. Now, as for the bad associated with the product I would point to the original setup. It took me nearly 40 minutes to set it up. There are a bunch of peices and it just does not come together to easily. I had a very hard time pushing down the button in the middle to open it. Even when I did the sides collapsed. In the end I had to put the bassinet on its side in order to open it up without the sides collapsing. The top of the bassinet was pretty hard to assemble as well. The buttons barley snapped in and the bottom metal bars were not easy to attach. As of now the portable bassinet is sitting on a chair in my dinning room because I am unable to remove the metal bars on the bottom of it to collapse it. This is a product I would consider setting up at my house and that's about it. I love the portable bassinet part but, taking it on vacation would not be something I would do. It may take time away from my vacation and I would dread taking it apart at the end. I would never imagine giving this to my parents or wife's aunt either as I feel they would get totally upset with the setup. I hope my review helps and I trust you would understand that with every product their may be initiated issues associated with it. This product is a great idea, but it does need its improvements. Once again thank you for letting me review this product Stellar and I hope in the future you may reach out again for other product reviews.
Date published: 2020-02-04
Rated

5

out of

5
by
AmyGA
from
Versatile, portable bassinet
The 4-in-1 bassinet is a wonderful bedside, portable sleep option! The bassinet being removable is great to take baby with me anywhere easily, even while asleep. The infant and newborn heights are perfect for our bed. My baby is transitioning to the lower position soon, so this is a space saver, having the option to lower her without getting a different product. The bassinet comes off in seconds for that alternative. I love that the bed has 2 wheels, so I can move it around with one hand while the baby is in my other hand. The size is compact and smaller than our full size pack and play so it was even easier to travel with and fit in spaces around our house. We will likely be able to use this until our daughter is 8 months old or older, depending on how tall she gets. It's great to have the 4 products in 1 from birth! Our larger pack and play or crib can take over after that. Thanks to the Stellar Product Testing Panel for providing me with this bassinet.
Date published: 2020-02-02
Rated

4

out of

5
by
lunese
from
My little one's bassinet
As part of the Stellar Product Testing Panel, I am glad to say that I appreciate having this opportunity to try this bassinet. I love the style and color of the bassinet, having a dark color works really well and matches other items in the house... It is easy to transport and set up. the sleep space is just enough for my son to lay comfortably as well as play with a few toys. It was especially convenient when needing to bring him to work with me as I had him right near my desk in clear sight. I wish I would have had this from birth as it is an awesome furniture piece for my little one. I love the raised portable bassinet as I didn't have to strain my back picking him up or putting him down, so definitely a plus. I think my son could use it for the next year before he may be too big for it but we will see. Overall, I am pleased with the bassinet Side note, The little draping part that goes over the bassinet would not stay in tac and kept popping off the bassinet
Date published: 2020-01-30
Rated

5

out of

5
by
CourtneyB
from
Versatile, Portable, and Genius
As a mom to three all very close in age, my days are filled with chasing toddlers while caring for a baby. I received this bassinet from the Stellar Product Testing Panel, and I love the portability and the ability to have a safe sleeping space in any room of the house. Being a parent who prefers to room-share for the first few months, I love that the bassinet can be raised, making her visible from my spot in bed. My favorite part is the fact that there are multiple configurations, all safe-sleeping spaces, making this a piece of baby gear that will be useful for years instead of months. My husband's favorite part is the ease of folding and transporting for those weekend trips to see family. The only drawback is the lack of an included sheet in the box, and because of its smaller size, they are not readily available in nearby stores. However, I really appreciate all of the genius features and am happy to recommend it to all new families looking for a versatile, long-lasting bassinet.
Date published: 2020-01-31
Rated

5

out of

5
by
Crystal P
from
My View 4-1 Bassinet Ahh-mazing!
The 4-1 bassinet is absolutely amazing! The sleep space is perfect for growing baby and with it being smaller than most products it helps me keep my little one close to my bedside and small enough to take anywhere in my home without having to compromise space. The raised visibility of this bassinet puts my mind at ease because I can easily see him at a glance whereas other products do not provide this peace of mind. Once my little is out of the bassinet phase I have a smaller, portable play space that is easily collapsable and comes with a great zip up bag to store in to make it easy to travel with. The instructions were also easy to follow to set up the 4-1 bassinet which makes it much easier than most products. This is definitely my go-to when I need to have a portable bassinet for him to sleep in as I am moving around my home and is my most favorite feature of this 4-1. Easy to set up and easy to break down which as a momma makes my life so much easier! Thank you Stellar Product Testing Panel!
Date published: 2020-01-31
bvseo_sdk, dw_cartridge, 18.2.0, p_sdk_3.2.0
CLOUD, getReviews, 0ms
reviews, product
product-detail-view
oos-pdp