Modes™ 3 Lite DLX Travel System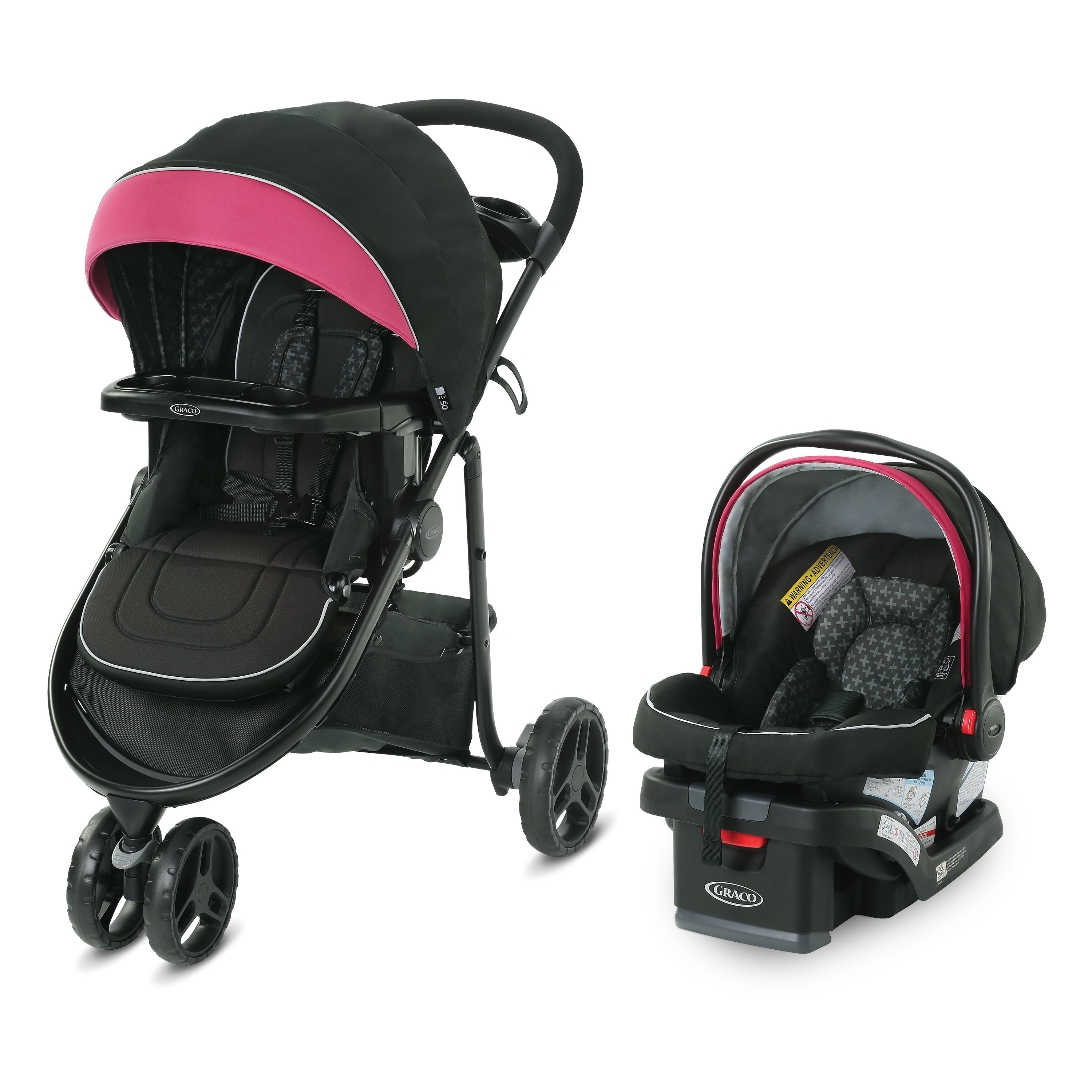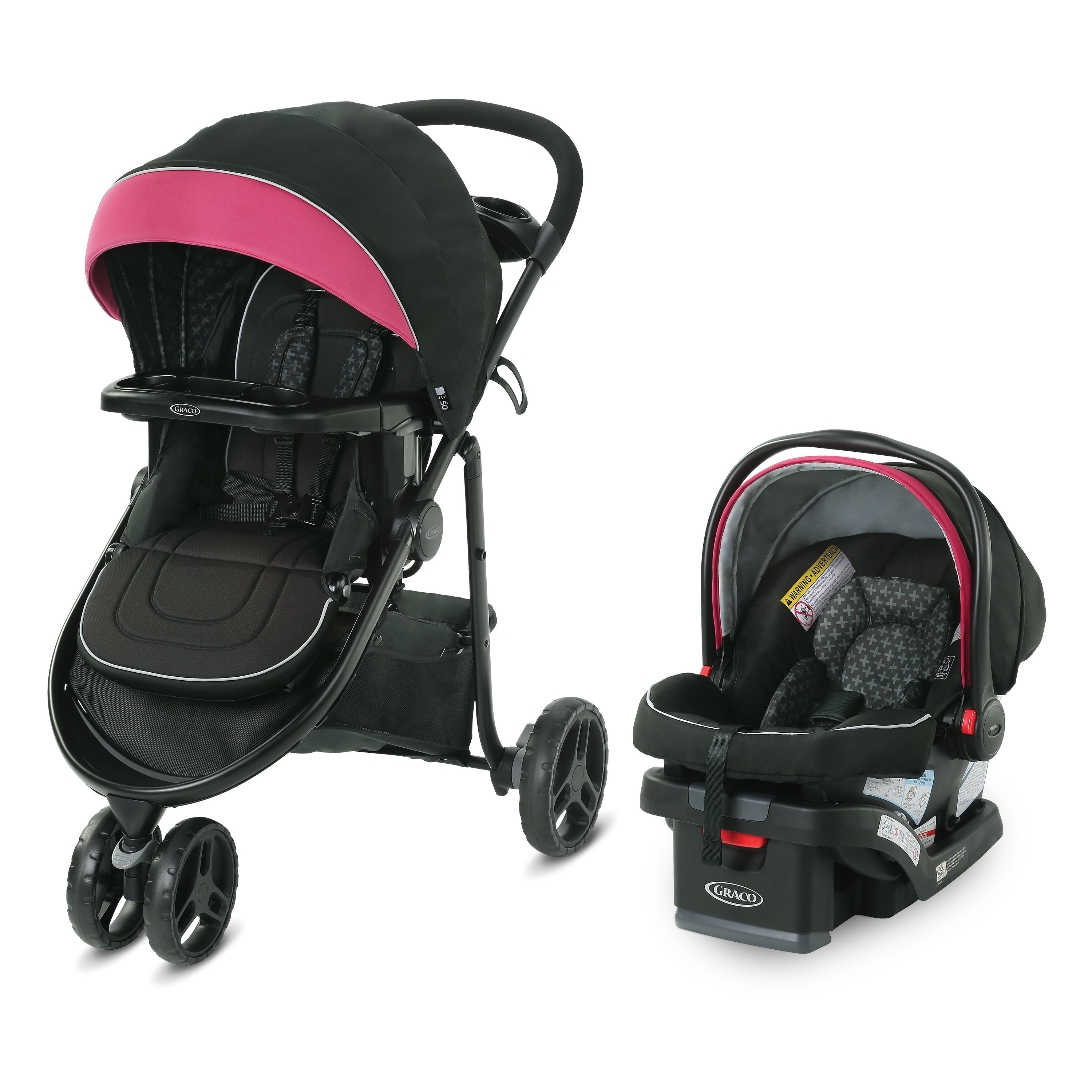 Modes™ 3 Lite DLX Travel System
Final Sale: may not be returned or exchanged
This item is currently not available
Selection will refresh the page with new results.
Selection will refresh the page with new results.
Final Sale: may not be returned or exchanged
This item is currently not available
---

Free standard shipping on orders of $40 or more! Details
---
Product Details
Description
The Graco® Modes™ 3 Lite DLX Travel System gives you 9 ways to ride on a sporty 3-wheel frame, with a one-hand fold and includes the top-rated SnugRide® SnugLock™ 30 Infant Car Seat. With so many was to ride, your child can face you, or the world, from infant to toddler. For infant carrier mode, remove the toddler seat and click any Graco® infant car seat directly to the frame. Create a cozy infant bassinet by converting the reclining seat and adjustable calf support. While riding in the toddler seat mode, adjust the seat to sit rear- or forward-facing. The lightweight, sturdy frame makes it convenient to take on the go and makes trips of any length with baby easier!
Adjustable calf support grows with your child, allowing you to find the most comfortable position
One-hand, self-standing fold for easy storage
Parent's tray with 2 cup holders and a storage compartment offers a place to store keys and drinks
Removable child's tray with cup holders to store your child's drinks and snacks as you stroll
Locking front swivel wheel for improved maneuverability
Multi-position reclining seat ensures baby's comfort
Large storage basket holds child and parent essentials
Convertible 3- or 5-point harness grows with your child
Stroller holds child up to 50 lb for years of strolling together
Meets Disney size requirements
Care & Maintenance
CLEANING SEAT PAD: To clean seat pad, spot clean using mild soap and warm water
CLEANING HARNESS: Surface wash only with mild soap and damp cloth. Do not immerse harness straps or latch strap in water.
CLEANING HARDGOODS: Metal and plastic parts may be cleaned with mild soap & cool water CLEANING BODY SUPPORT *on select models: Wash removable body support in cold water on delicate cycle and line dry
WHEEL MAINTENANCE: Use light oil if wheels squeak
Product Instructions
Recommended Use
Rear-Facing Only: 4-30 lb, Up to 30", head must be at least 1" below top of car seat;
Stroller holds child up to 50 lb for years of comfortable strolling
The display of photographs does not reflect Graco Children's Products Inc.'s ("Graco") specific approval or endorsement of the use of the products as portrayed in those photographs. Graco always recommends that the consumer consult the product's manuals, and abide by the instructions contained within those manuals.
Replacement Parts Graco
We at Graco care about safety and the only way we can make sure that the parts of your order are a perfect fit for your Graco product is to ask for the model number and manufacture date of the product you own.
Search by Model Number
All fields required unless marked optional.
Date formats may vary by model.
Manufacturing Date Formats
MMDDYY-011305
Y Y Y Y M M D D - 2 0 1 6 0 2 0 5
D D M M Y Y Y Y - 1 3 0 1 0 5
Replacement Parts Are Not Available.
Locating Your Product Information
Model Number
Most Model numbers can be found on the back of your Graco® product. In some Graco products, model numbers can be found on the top of a base unit.
Manufacturing Date
This date refers to the day, month, and year in which a Graco product was made, and can be found on the sticker along with the model number. Here are three examples manufactured date formats:
Model: 7777DEV
Manufactured in 011305
GRACO CHILDREN'S PRODUCTS INC. EXTON PA 1931 1-888-224-5649 Made in U.S.A.
M M D D Y Y
Model: 7777DEV
Manufactured in 20160205
EXTON PA 1931 1-888-224-5649 Made in U.S.A.
Y Y Y Y M M D D
Model: 7777DEV
Manufactured in 130105
GRACO CHILDREN'S PRODUCTS INC. EXTON PA 1931 1-888-224-5649 Made in U.S.A.
D D M M Y Y
Rated

5

out of

5
by
Mcastro4
from
Another graco stroller
I received this strolled and car seat as as part of the weeSping parent panel and was excited to try it since it's had the 3 sides instead of 4 wheels. After doing some research on it I was a bit nervous since it has some bad reviews out there. But I like it. It's a diver easy ride we have a couple of different strollers and this one is compact and very flexible. Your able to travel though a lot of different grounds without any issues. I would definitely buy this. It's easy to adapt the seat and my little one was comfort in the seat. I love that it's adaptable and if needed it would just hold the car seat. I enjoyed that the store compartment is tilted under the seat so you don't have to wrestle to get bags out. I would high recommend for new parents.
Date published: 2019-02-26
Rated

5

out of

5
by
KatherineE
from
Saved my granddaughter
We got this for our granddaughter and we are so lucky we did. My daughter was crossing the street in a crosswalk with her daughter in her car seat attached to her stroller. A guy didn't see them and hit them. My daughter was knocked down and the baby was dragged about 50 feet. My daughter went to the ER by ambulance but the baby had not a single scratch on her. She was perfectly fine. The only damage done was what is shown in the picture. I will be purchasing again. And mom is doing fine just a ton of bruising.
Date published: 2021-01-27
Rated

5

out of

5
by
Collstan
from
The best travel system
This travel system is amazing. It rides so smooth and is so easy to assemble. All of the different ways to use it will be extremely helpful. I love that the Graco products are so universal.. my car seat fits into just about any Graco stroller. Also, we had a problem with our initial travel system that we received at my baby shower - a piece was missing. After inquiring with Graco, we were told the piece was back ordered. Instead of making us wait, they sent us a whole new travel system Which was expedited and we received two days after our call. Excellent customer service on top of an excellent product.
Date published: 2020-01-17
Rated

4

out of

5
by
Firsttimer32
from
Love it so far!!
Baby wont be here till October, but got a really good deal on it at target. I put the stroller together by myself in about 30 min. The stroller seems to steer well, and it's a smooth ride. The car seat is light weight and is good cool material for a hot climate like Florida. I really like how the stroller canopy is bigger than most stroller canopies it'll block out all the sun. The only cons that I can tell so far is the car seat canopy is not quiet, it's hard to bring forward without making noise and the bassinet mode on the stroller strapping the foot rest up is a pain. Other than those 2 things, for it to be the lite version it seems like the best bang for your buck.
Date published: 2020-04-23
Rated

1

out of

5
by
Bmama2018
from
Hard to get car seat into stroller
We have had this car seat/stroller for about 9 months now and almost every time we try to put the car seat in the stroller we are unable to get it in. I tried for 15 minutes today and wasn't able to get the car seat in. I had the dips lined up with the handle circle knobs at the bottom and the little buttons that snap in and still couldn't get it to latch. If you plan to use it with the car seat, look elsewhere.
Date published: 2019-04-17
Rated

4

out of

5
by
Annapolitan
from
Great system, but not suited for air travel
We were super excited to receive the Graco Modes 3 Lite DLX Travel System from the weeSpring Parent Panel. We don't have a travel system currently, just a stroller and separate car seat with adapters to make it fit, so I was really pleased with how easy it is to attach the car seat to the stroller. That's something we've struggled with on our multi-brand system in the past. With the Graco, it's very clear when the car seat is locked in place and it's easy to remove too. Plus, you can change the position of the carry handle on the car seat while it's attached - maybe that doesn't seem like a big deal but when you can't move it, it can be very annoying. Other pros: - The stroller folds very easily. - It comes with the parent console as well as a tray for the toddler seat - something you have to buy separately with other strollers. - The seat is very easy to adjust - The car seat has a very smooth motion for removing from the base. I know, it seems like that wouldn't be a big deal but when you don't have something as smooth for a long time, you appreciate it more. - The stroller is very easy to maneuver with one hand. This is so important to me because I'm often holding a cup of coffee or carry-on suitcase and need to be able to push the stroller at the same time. - The canopy on the stroller is nice and big and isn't in the way of anything Now for the downsides. The stroller has a lot of steps for assembly. It's not hard to assemble, per se, but when I first opened it up I just didn't have the mental energy to figure it out so it sat for a few days until my son decided he didn't need to wake up every 2-3 hours all night. So I imagine that putting this together with a newborn would be pretty hard. While I was assembling it, I noticed how the wheels were attached. You have to slide the axle through the brake assembly then put the wheels on and secure them with pins. Then there are "hub caps" that go over those openings to protect the pins. This makes removing the wheels very difficult. When we fly with our son, we gate check our stroller so we have to bring it through security. The simplest way through security with a stroller is to fold it up and send it through the x-ray. If it's too wide at the wheels (which most non-umbrella strollers are) you have to remove the wheels. That would not be possible with this stroller so it would require a secondary inspection, which is fine, but takes a lot longer than I am willing to subject myself to, especially if I have baby food or milk that has to be screened also. The parent console is sized just right that my phone fits perfectly, but it's too small to get my fingers around the sides of the phone to pick it up, so it's very hard to get my phone out once it's in there. Not terrible, but annoying if you happen to have that particular size phone. It's also a little large and pretty heavy. But, then again, most strollers that can attach an infant car seat are, so that's not a surprise. It's bigger and heavier than the one we already have (which was more expensive), but it also feels just as smooth to push it around and folds just as easily. All in all, this is a really great stroller for a family that doesn't fly often, or perhaps just doesn't ever gate check a stroller and carseat. We fly with our son a lot - he's been to 5 states and 2 foreign countries at 12 months already - so the extra time in the airport would not be welcome for us. It should also be assembled BEFORE the baby comes when you still have some energy to read the instructions. The easy fold and seat configuration is awesome and it just feels very comfortable to push. I have a friend who is due in a few months and I'm really excited to give this travel system to her as a shower present! I think it will be perfect for them. Thanks again to the weeSpring Parent Panel for sending this to us!
Date published: 2019-02-24
Rated

5

out of

5
by
Samotos22
from
Lightweight and Easy to Use Travel System
Thanks to the weeSpring Parent Panel for providing me with this Stroller! We previously had another travel system from that we LOVE, or at least we thought we did. I didn't know that could actually like something more: The 3 Lite DLX really is just that, light, quick, no-hassle fold to load in the car when you have a million other things in your had or a crying baby waiting for you in the car. There are so many ways for the child to ride in the stroller based on your need at the time, making it super convenient and the only stroller you will need. The material and the foundation of the system is very sturdy and super cute. We will be putting our old stroller and carseat away and using these instead!
Date published: 2019-02-20
Rated

3

out of

5
by
KatieDillman
from
Graco Modes 3 Lite DLX Travel System
I was lucky enough to receive the Graco Modes 3 Lite DLX travel system as part of the WeeSpring parent panel! The stroller inclined and and down was a little weak. My toddler would sit in it when it would be inclined and the backing would slowly start going down. That was the biggest drawback from the travel system - but overall the stroller rode smoothly.The car seat in my option needs more padding. There are so many car seats out there that have a lot of padding. This one needs more. The color and look of the whole travel system is beautiful. The bucket compartment underneath is a great size! that is a huge plus! Overall I think Graco came out with a great system, but I think it needs a little more upgrades for the price you pay for this system. Graco will always be a favorite in our home.
Date published: 2019-02-20
bvseo_sdk, dw_cartridge, 18.2.0, p_sdk_3.2.0
CLOUD, getReviews, 0ms
reviews, product
product-detail-view
oos-pdp