Pack 'n Play® Snuggle Seat Playard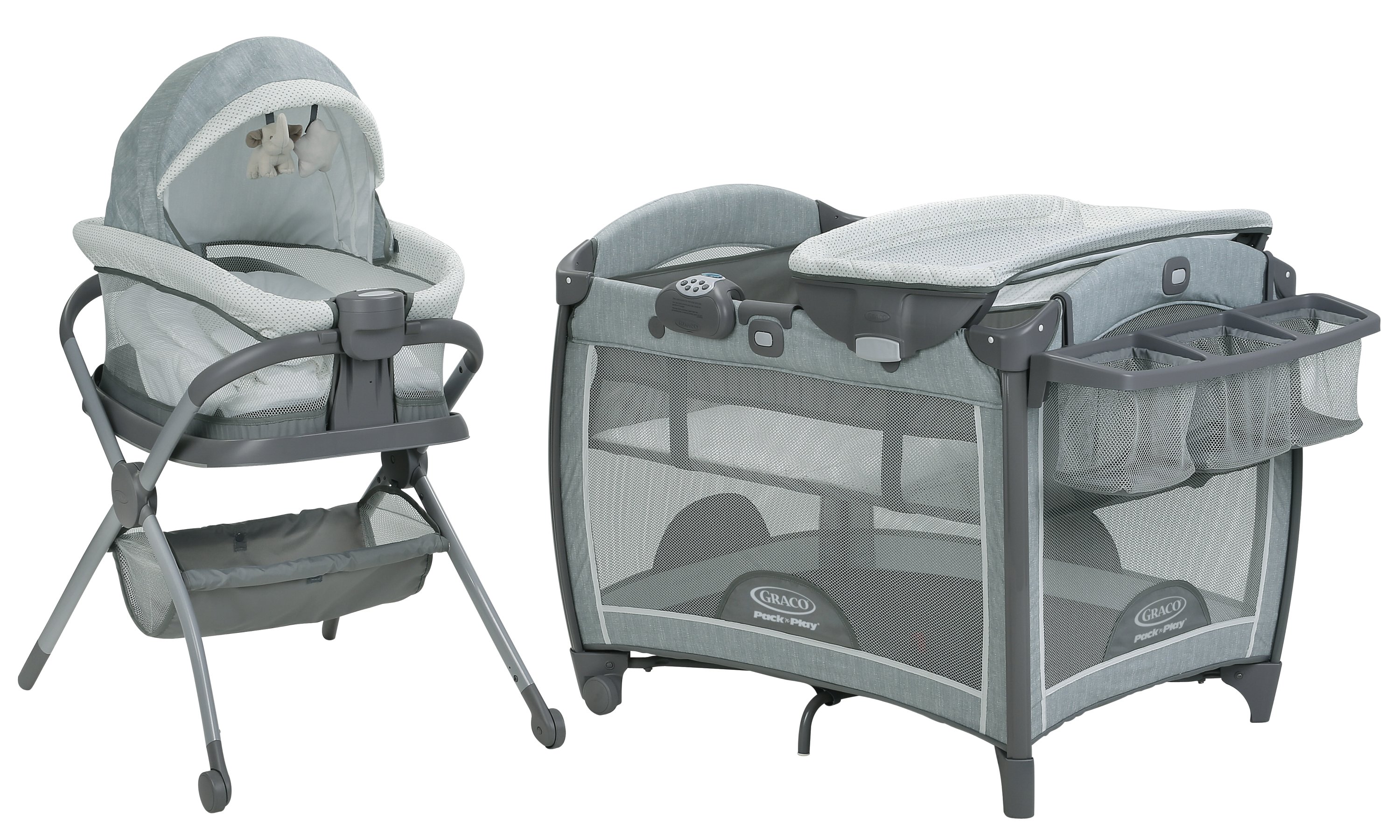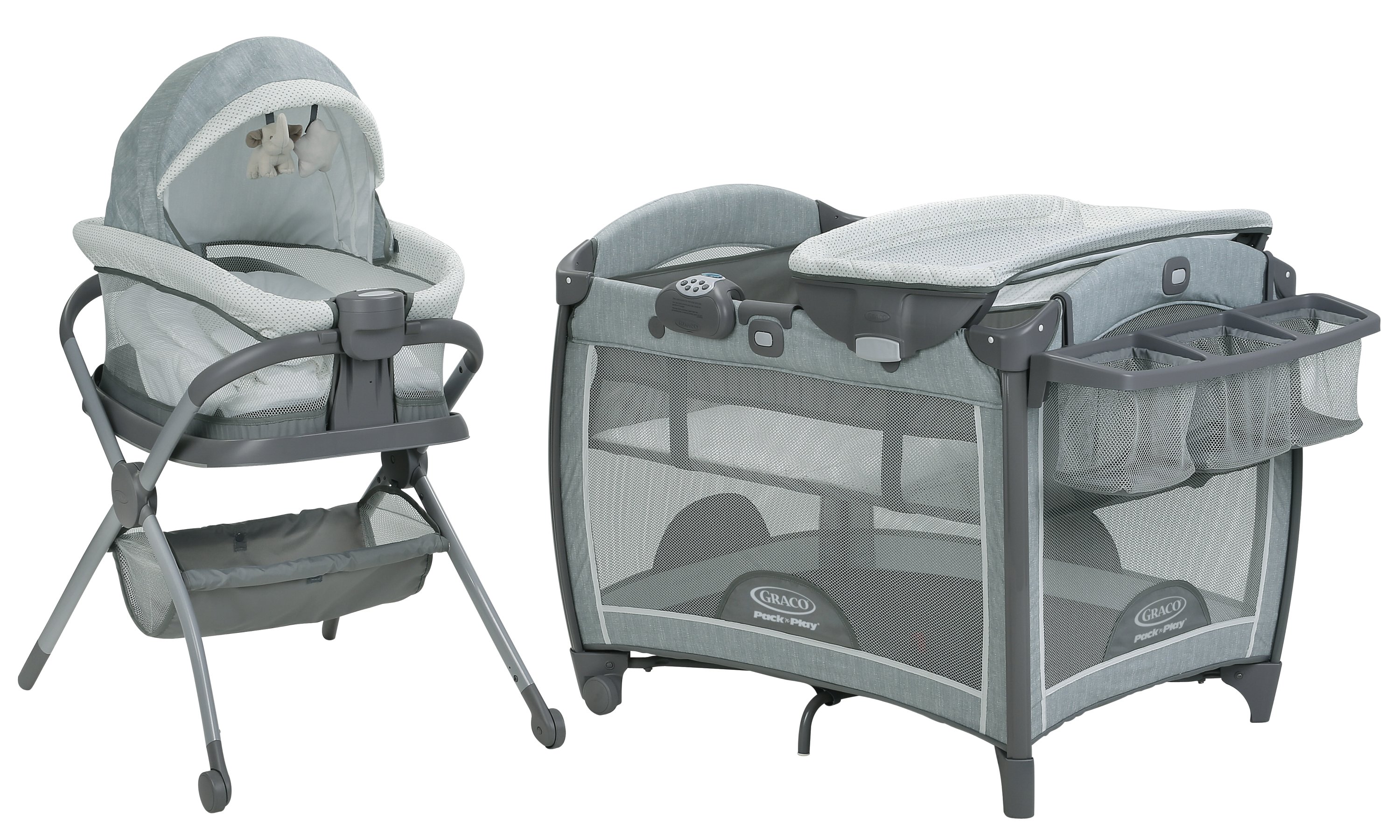 Pack 'n Play® Snuggle Seat Playard
Sale Price
$209.99
Strikethrough List Price

$299.99
Final Sale: may not be returned or exchanged
This item is currently not available
Selection will refresh the page with new results.
Sale Price
$209.99
Strikethrough List Price

$299.99
Final Sale: may not be returned or exchanged
This item is currently not available
---

Free standard shipping on orders of $40 or more! Details
---
Product Details
Description
The Graco® Snuggle Seat Playard features a complete solution to keep baby by yourside. The portable seat and included stand allows baby to play comfortably and always close by. The portable seat includes 3 recline positions and can be used attached to the playard, the included stand, or on the floor as a rocker. All components of the Snuggle Seat Playard work effortlessly together so that you can keep baby happy by your side.
Playard designed to grow with your child's varying stages from full-size infant bassinet to spacious toddler playard
Diaper changer features wipe-clean fabrics to make it quick and easy for clean up with baby
Changer quickly attaches and detaches to either the playard or the included stand for added convenience throughout the home
Integrated storage organizer keeps wipes, diapers and other changing essentials at your fingertips
Folding stand includes a basket for additional storage to keep baby's essentials close by
Care & Maintenance
Wipe clean changer and mattress with damp cloth. NO BLEACH
Machine wash seat and carry bag in cold water and drip-dry
If playard gets sandy, carefully remove sand from all surfaces before packing into bag as sand can damage top rail lock
Recommended Use
Changing Table: Infants up to 30 lbs.
Playard: Children up to 35" tall, unable to climb out
The display of photographs does not reflect Graco Children's Products Inc.'s ("Graco") specific approval or endorsement of the use of the products as portrayed in those photographs. Graco always recommends that the consumer consult the product's manuals, and abide by the instructions contained within those manuals.
Replacement Parts Graco
We at Graco care about safety and the only way we can make sure that the parts of your order are a perfect fit for your Graco product is to ask for the model number and manufacture date of the product you own.
Search by Model Number
All fields required unless marked optional.
Date formats may vary by model.
Manufacturing Date Formats
MMDDYY-011305
Y Y Y Y M M D D - 2 0 1 6 0 2 0 5
D D M M Y Y Y Y - 1 3 0 1 0 5
Replacement Parts Are Not Available.
Locating Your Product Information
Model Number
Most Model numbers can be found on the back of your Graco® product. In some Graco products, model numbers can be found on the top of a base unit.
Manufacturing Date
This date refers to the day, month, and year in which a Graco product was made, and can be found on the sticker along with the model number. Here are three examples manufactured date formats:
Model: 7777DEV
Manufactured in 011305
GRACO CHILDREN'S PRODUCTS INC. EXTON PA 1931 1-888-224-5649 Made in U.S.A.
M M D D Y Y
Model: 7777DEV
Manufactured in 20160205
EXTON PA 1931 1-888-224-5649 Made in U.S.A.
Y Y Y Y M M D D
Model: 7777DEV
Manufactured in 130105
GRACO CHILDREN'S PRODUCTS INC. EXTON PA 1931 1-888-224-5649 Made in U.S.A.
D D M M Y Y
Rated

5

out of

5
by
MommaDickinson
from
The snuggle seat is amazing!!
We have been using this play yard and snuggle seat for almost a month now with my 2.5 month old. The snuggle seat (with included base) is her favorite hang out, I love that the toys are connected with velcro! It's the perfect size to be in our living room full time. We've used the play yard with changing pad while outside enjoying the weather. The neutral gray colors make it great to save for our future children! Thanks to the Stellar product testing panel for gifting us this play yard for our honest review!
Date published: 2020-07-19
Rated

5

out of

5
by
Tsellers
from
Best buy
I received this as part of the Stellar Product Testing Panel, and I couldn't love it more! It came after the perfect time, as I was going o to of town for a week. The bassinet worked perfect for my 3 month old. I use it everyday multiple times a day. It was such a hit with family my sis in law bought it over other options she had for her baby due in sept. The quality is great, function is thoughtful and it's just a great product.
Date published: 2020-07-17
Rated

3

out of

5
by
MammaG
from
Great concept, but falls a bit short.
The Graco Snuggle Seat Playard is an awesome concept. There are many things to love about it, but unfortunately, there are a few key things that it fell short on and why I ended up giving it three stars. To start with a positive, it is very versatile. You can use the playard in bassinet mode for when baby is a newborn and up to 15 lbs. (or pushing up on hands and knees, whichever is first). My baby is just over 9 lbs., so we are currently in the bassinet mode. Once baby graduates from bassinet mode, you can remove it and place the mattress into the bottom of the playard to use as a safe play space or sleeping area until baby weighs 30 lbs., is 35 inches tall, or can climb out, whichever comes first. I do like the gray materials on the playard and the polka dots are a cute touch. I do not love that the mattress pad is white (with polka dots). I know that is a personal preference, but babies make messes and have blowouts and cleaning a white surface is tricky. The playard has wheel on one side to make it easier to move, however, I feel like the legs get in the way of being able to lift it much and it is not as easy to wheel around as you would think. Due to this, I do not move it much. Another positive is the attachable parent organizer. It has three spaces to put things in like diapers, wipes, lotion, etc. for easy diaper changes. My one complaint on that is the hooks used to attach it to the playard feel like a flimsy plastic and I fear they will break with general use. The playard also has an electronics accessory which can be easily snapped onto the side. This features a light, music and nature sounds, volume up and down, and a timer. The light is actually two lights: one pointing into the playard and the other pointing straight up. It has three settings; pushing the light button will rotate between the top light on, the top light and playard side light on, and finally, just the playard side light on. These options are nice if you just need some light to peek in on baby or for nighttime diaper changes and/or feedings. It makes for a decent night light and is not too bright. As for sounds, there are 5 songs and 5 nature sounds, but honestly, the speaker is super tinny and muffled sounding which is not that pleasant to listen to, so we do not use it. The light and sounds can be set with a timer in 5-minute increments up to 15 minutes. My favorite feature is the portable stand/changer. The baby seat and changer can attach to the playard, but they can also be put on a stand for portability. The portable option is an awesome idea, in theory. It is nice to have a changer nearby at night and since baby is in the bassinet, I did not want to have the changer over that or have to attach it when I needed it. So that makes the stand a nice option. The issue I have with the stand is that it does not feel very solid, so that makes me a little nervous. I would prefer a more solid feeling stand when using it with a wiggly baby. I do like that I can wheel it around, so that is helpful when I have the seat attached and I want to move my baby close by. I have taken it outside on occasion to keep my baby nearby while my other kiddos play. The seat seems nice and cozy, and the little elephant and star hanging toys are cute, but I hate that it is white. We have already had two blowouts in the seated position, and I had to scrub it twice before putting it through the wash to get it clean. Even after that, I still found a few spots near the stitching that did not come clean. The seat material is a little tricky to remove and replace, but not impossible. I do wish that the seat could be laid all the way flat like a small bassinet. The other issue with the seat is where the belt is located; my baby is only just over 9 lbs. and he's already hitting his feet against the mesh, so I'm not sure how long this seat will be good for. The vibrating electronic on the baby seat is ok, not something we will use but maybe it works for your baby. Also, installing the vibration electronic and feeding the plug through the bottom of the seat was incredibly frustrating, the directions were not quite clear, and it was a tight fit. The initial set up took me about an hour to put everything together out of the box. I have included pictures of the parts you will need to put together as well as the completed products. Set up and tear down of the playard is not too bad, it can be a little cumbersome, but I feel like that is common for these kinds of baby items. Overall, I would give this item 3.5 stars but there are not half stars, so I settled on 3. I wanted to love it but there were just too many things that made that impossible. I think you get a lot for the money compared to other brands, but the quality is a little lacking. Still, it seems to be a decent choice when it comes to playards, especially since you get the portable bonuses. Thanks to the Stellar Product Testing Panel for providing me with this playard.
Date published: 2020-07-17
Rated

4

out of

5
by
JackieCSM
from
Everything Needed for a Growing Child
This playard has everything I need for my new baby. The changing table is high enough for me to bend over and change her. The bassinet is comfortable for her to sleep long periods of time. She did not fuss at all laying in it. The baskets on the side was convenient for me to put her powder, pampers, and wipes. The playard itself will not be used until she is much older and can stand on her own, but it will be perfect in the future for when I need to run to do laundry or get something from the kitchen. The portable seat is not heavy at all. I can set it up when I am cooking, and she stays content most of the time. My favorite part of the playard is the bassinet. She is so happy and content when she lays in it. The setup of the playard and all its parts took about 30 minutes, which is good time for me. The color is kind of dull, I wish it had brighter colors. All the pieces put together at the same time takes up a bit of space. I wish they were just a little smaller. Other than the dull colors and space issues, this playard will definitely grow with my child. Thanks to the Stellar Product Testing Panel for providing me with this playard.
Date published: 2020-07-20
Rated

5

out of

5
by
gratefulmama
from
Just get it! Best Playard!
Can I make it 6 stars? I recently had the opportunity of trying this playard out, and let's just say, anything similar we had before is out of the house. This is the smartest playard, as it comes with the extra seat that has been a game changer, but also a Stand for it! So you can truly move it around the house, and when is time to sleep you can come back to the playard. The portable seat has 3 inclination levels, 2 vibration levels, toys, a stand but can also be placed on the floor or on the pack n' play itself. The changing station is sturdy, incredibly useful specially in a two story house, plus it comes with the basket to store diapers and more. The playard itself can be used in two levels, making it easy on your back when baby is still small. Overall is very easy to put together and take apart once you read the instructions and it brings the carrying case. I am in LOVE, specially because my baby stays in that extra seat for longer periods than any other... THANK YOU GRACO!! I tested this product as part of the Stellar Product Testing Panel. My opinions are 100% honest and pure of gratitude for getting hands free time while she uses it!!
Date published: 2020-07-17
Rated

5

out of

5
by
Wolterea1986
from
A great playard with wonderful features!
I love this product! It has a very sturdy diaper changing station with a wonderful area for diapers, wipes, and any other supplies. The bassinet seat plus stand offers and safe space for baby to hang out. This will serve our needs for the next few years! It was fairly easy to set up out of the box. Take down and set up of the playard is easy to do. Thank you to the Stellar Product Testing Panel for providing me with this playard!
Date published: 2020-07-15
Rated

4

out of

5
by
Kristy D
from
Great pack n play
I really loved using this pack n play during vacation for a little one. Loved the color and design, easy to wipe down, fold up, and take on the go! Plus the added soother, music, and light clip on piece was a great added feature. I did not use the portable seat because my kiddos are sitting up and rolling over and did not feel comfortable with them in it. I received this product as part of the stellar product testing panel.
Date published: 2020-07-20
Rated

5

out of

5
by
Kmesslindsey
from
Convenient and Versatile
We have been using this playard as a bassinet for our 3 month old. I really love how simple everything fits together. The portable seat is easily clicked into the stand and moves around the house. While on the floor, the seat even rocks a little which calms the baby and is a nice addition. I love how simple it is to take the portable seat off, put the changing table on the stand, and click either of them onto the playard. It's incredibly convenient how easy it is to move those around depending on what we need. The stand even folds together and can be quickly moved to a different room. Both the stand and the playard have wheels, which can be used to move them around, but the playard's wheels move more easily than the stand does, which can still be rolled, but not as smoothly. The noise machine and light attachment is easily moved around the edges of the playard and is so helpful to find baby's paci or give some light for late night feedings. The noise machine has lots of different sounds to choose from. I found the timer to be unhelpful as I couldn't tell what it was set to. The entire system was pretty easy to put together, except for the seat which I struggled to snap together, but also speaks to that it is definitely sturdy! I know this playard will be able to grow with my baby well and we will be able to use it as a playard because it moves around easily and we can wrap it up and take it on trips with us or just store it out of the way. My favorite parts of this playard are the versatility, strength, and accessories. I received this product as part of the Stellar Product Testing Panel.
Date published: 2020-07-19
bvseo_sdk, dw_cartridge, 18.2.0, p_sdk_3.2.0
CLOUD, getReviews, 0ms
reviews, product
product-detail-view
oos-pdp