Pack 'n Play® Day2Dream™ Bassinet Deluxe Playard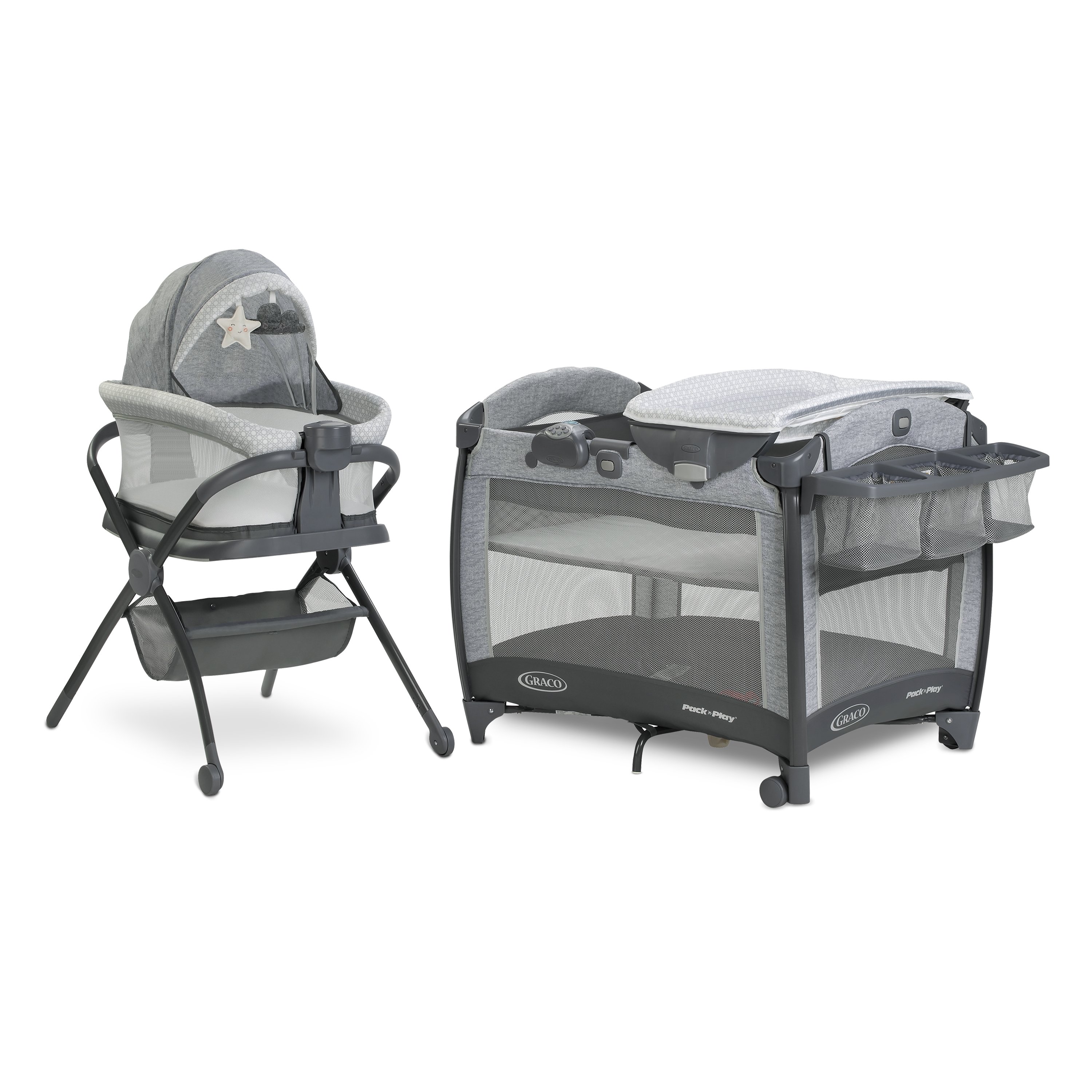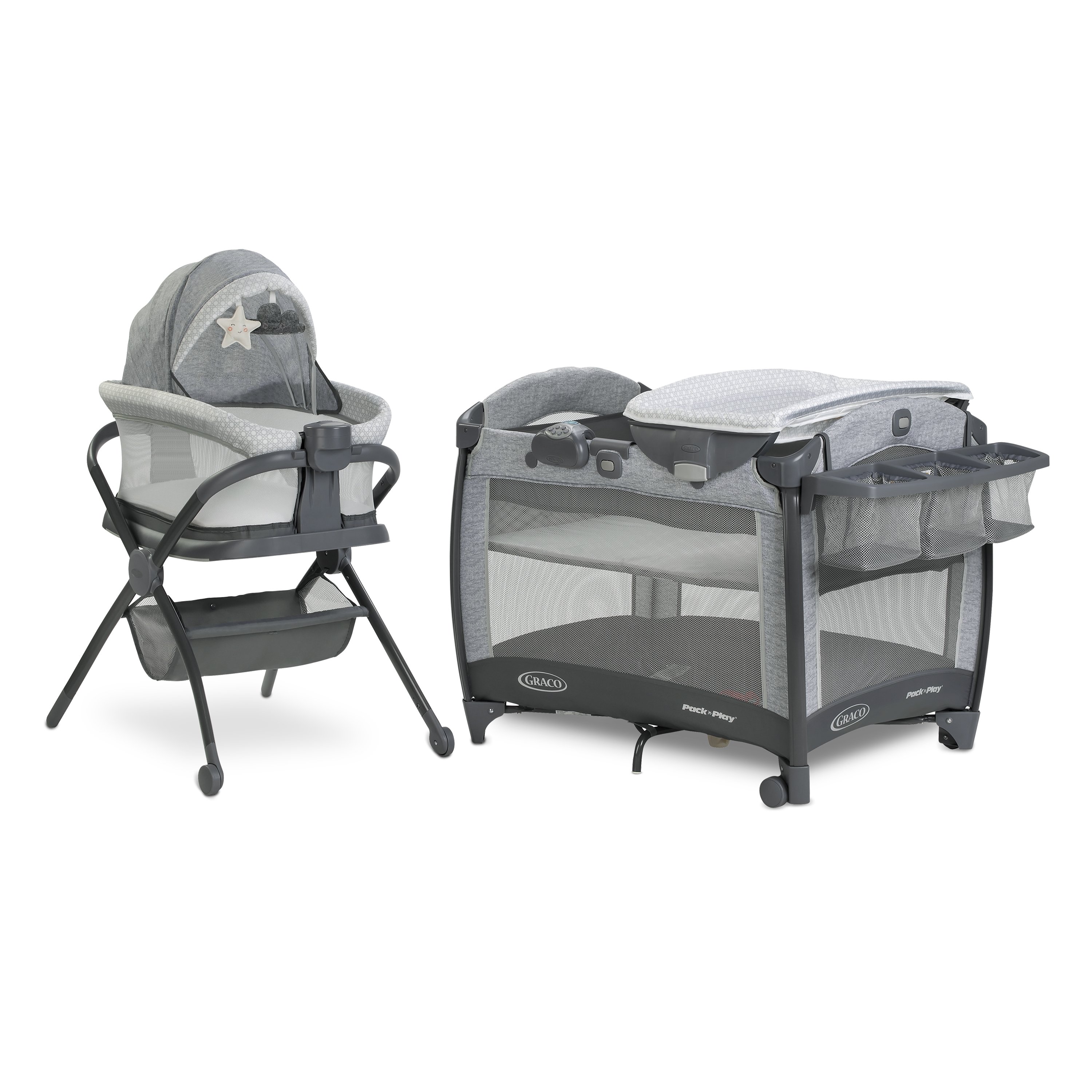 Pack 'n Play® Day2Dream™ Bassinet Deluxe Playard
Product Details
Description
The Graco Pack 'n Play Day2Dream Bassinet Deluxe Playard features a portable bassinet and included stand for baby to rest comfortably and always close by. The portable bassinet can be used attached to the playard, on the included stand, and can rock when used on the floor. The portable bassinet includes 2-speed vibration, a large machine-washable mattress cover, and a full-sized canopy. All components of the Day2Dream Bassinet Deluxe Playard work effortlessly together to create an all-in-one day and night sleep solution.
Changer features wipe-clean fabrics for easy clean up
The portable bassinet includes 2-speed vibration, a large machine-washable mattress cover, and a full sized canopy
Care & Maintenance
Clean playard with household soap and warm water/drip dry
Wipe clean changer and mattress with damp cloth
Machine wash portable bassinet mattress pad and carry bag in cold water and drip-dry
Product Instructions
Recommended Use
Portable Bassinet up to 20 lbs
Playard Bassinet: Infants up to 15 lbs
Changing Table: Infants up to 30 lbs
Playard: For use up to 35"
The display of photographs does not reflect Graco Children's Products Inc.'s ("Graco") specific approval or endorsement of the use of the products as portrayed in those photographs. Graco always recommends that the consumer consult the product's manuals, and abide by the instructions contained within those manuals.
Replacement Parts Graco
We at Graco care about safety and the only way we can make sure that the parts of your order are a perfect fit for your Graco product is to ask for the model number and manufacture date of the product you own.
Search by Model Number
All fields required unless marked optional.
Date formats may vary by model.
Manufacturing Date Formats
MMDDYY-011305
Y Y Y Y M M D D - 2 0 1 6 0 2 0 5
D D M M Y Y Y Y - 1 3 0 1 0 5
Replacement Parts Are Not Available.
Locating Your Product Information
Model Number
Most Model numbers can be found on the back of your Graco® product. In some Graco products, model numbers can be found on the top of a base unit.
Manufacturing Date
This date refers to the day, month, and year in which a Graco product was made, and can be found on the sticker along with the model number. Here are three examples manufactured date formats:
Model: 7777DEV
Manufactured in 011305
GRACO CHILDREN'S PRODUCTS INC. EXTON PA 1931 1-888-224-5649 Made in U.S.A.
M M D D Y Y
Model: 7777DEV
Manufactured in 20160205
EXTON PA 1931 1-888-224-5649 Made in U.S.A.
Y Y Y Y M M D D
Model: 7777DEV
Manufactured in 130105
GRACO CHILDREN'S PRODUCTS INC. EXTON PA 1931 1-888-224-5649 Made in U.S.A.
D D M M Y Y
Rated

5

out of

5
by
KZ22
from
So useful!
I'm so glad I added this model to my registry. I use the big part with the bassinet insert in my room at night and the little canopied part on the stand in the living room during the day. The changing table attachment was very useful at first but was a bad height for us (and our backs) so we stopped using it, but it's very easy to wipe clean and very sturdy. The side baskets are great for storing things I need in the middle of the night, plus changing supplies and even small board books! We're excited to use just the big part for travel for years to come and the whole set up for future babies
Date published: 2020-10-21
Rated

5

out of

5
by
shejorbla
from
Everything you need ALL IN ONE!
We bought this solely for the ability to have a space for the baby to sleep or sit throughout the house. The bassinet and it's ability to sand alone from the pack-n-play was perfect! It allowed us to make the one purchase instead of 2-3 to have multiple spots for her once she arrived! The Pack 'n Play Day2Dream Bassinet Deluxe Playard allowed me to have a changing space somewhere other than the nursery (WITH a place to have diapers and wipes stored), a place for baby to nap, AND a bassinet that is so easy to move throughout our home! If you're looking for a one-stop-shop, this is it!
Date published: 2020-10-23
Rated

5

out of

5
by
JackieD277
from
Great all in one nursery center
Changing station with plenty of pockets to stash all the supplies you need. Bassinet that is great for naps in the early days. After baby is too big for the removable bassinet, the raised layer is a great sleeping option. Love that you don't have to lower baby all the way down to the ground. Of course it also is easy to transport. We never went anywhere for the night without the pack n play until my son was almost 3 and too long for it. Cons: I wish the changing station was higher, it's an awkward height to bend over and change baby I'm not sure there's a way to clean the mattress/base. We have lots of spit up that I'm sure is soaking through the sheet. But the mattress isn't waterproof or washable.
Date published: 2020-10-21
Rated

5

out of

5
by
Mommy CC
from
Super awesome!
This is my 6th son and never have I bought one of these before! I'm so happy I did. This particular model has so many functions together and separate! The soothing sounds and vibration are a plus for sure! Instructions were a bit hard to interpret but I assembled it by myself in an hour and so can you! The mobile is a bit noisy but so are the sounds of the world so I'm pretty sure this sound will not be the one startling the little one awake! Overall I'm pleased with the design, the multifunctional, the sturdiness and all the extra features other pack and plays do not have.
Date published: 2020-10-21
Rated

5

out of

5
by
Geneva90
from
So convenient
I recieved this right after I had my son as a welcome baby home gift and I'm not disappointed at all with it.! I love that it has places to put diapering items and a place to change him also. Let's not forget about my favorite part which is the bassinet, it can be removed and used as just a bassinet or a rocker. Its amazing and I have recommended this product to many of my new mommy friends. It was easy to put together and stressful as alot of other pack and plays. My son sleeps so well in it. I would give it a 100 stars if I could.!! Thank you for such an amazing product!
Date published: 2020-10-21
Rated

5

out of

5
by
Bionca Hankins
from
Very handy!
I put this pack and play together for the first time yesterday, and it's been wonderful to have. The portable changing table is convenient to keep in the living room or bedroom for late night diaper changes. The pack and play itself is very sturdy. It is easy to put together and the wheels make it a breeze to move from room to room. The only complaint I have is that when we turn the mobile on it makes a loud buzzing noise like the motor is going out on it. We've changed the batteries and tried to take it apart and put it back together but it still makes that loud noise.
Date published: 2020-10-21
Rated

5

out of

5
by
puterland
from
I love the extra stand!
I have been using this pack and play for 7 months now. I really like that I was able to set up the changing table on the separate stand and this worked really well for where I wanted to put it. We used the snuggle seat some at the beginning and this worked out well too. That is a little bulky to store now that my baby is crawling all around and won't stay in it. The only thing I wished it had was a stages level like the travel lite. This has either the newborn basket and all the way down. I would have liked an in between stage for the main pack and play.
Date published: 2020-10-22
Rated

5

out of

5
by
LauraJennette
from
Sturdy and safe!
I bought this before having twins. The boys sleeping this during the day for nap time. I love the bassinets that it came with. We often use them around the house or when carrying them as it is a lot easier and having to squirmy babies in your arms! The bassinets themselves are cozy and of good quality. I would take the boys outside in them and cover with a thin blanket or with mesh screening. There was always great air flow since there's mesh on the bottom of the bassinet. I look forward to getting at least another year of use out of this product!
Date published: 2020-10-21
Rated

5

out of

5
by
Kfs0228
from
Amazing pack and play
We got this as a shower gift and it has been so awesome! I loved using the bassinet both by itself on the stand and on the bed frame. The changing table is so handy, especially with the little caddy that clips to the side for diaper supplies! And the pack and play itself has proven itself useful as a place to play and nap and has even been taken on vacation in place of a crib. My firstborn loves it and I know I will get a ton of use out of it with my next baby (pregnant now). This is definitely worth the extra money for the extras it comes with!
Date published: 2020-10-22
Rated

5

out of

5
by
Princessaly4
from
Versatile
This pack and play is the way to go! These are the best pack and plays. I love that it included a changing table and the bassinet that can go from room to room. The removable bassinet option works great for my baby. When he finally outgrows it, he can move right into the pack and play. I like that I can bring the bassinet with me into my bedroom where I keep the stand, and I keep the base pack and play in our living room. The little baskets on the side are a must have. I store diapers, wipes, extra onesies, and other baby necessities in those. The changing mat also cleans up easily, which for me is a must. I just love how this can easily grow with my kids. Thanks to the Stellar Product Testing Panel for providing me with this Pack and Play!
Date published: 2020-10-20
Rated

3

out of

5
by
ABirdie
from
Good quality material
I received this for a shower gift and have been using it for about 6 months. It's ok but I wish it was sturdier. The baby can stand and often falls over because the base is so wobbly. She also figured out that she can rock it back and forth because of the wheels. I wish they had locks on them. Despite this, it does a good job of keeping her occupied, in one spot, while I cook dinner, etc.
Date published: 2020-10-21
Rated

5

out of

5
by
Beckylovesblue
from
We love our Graco Pack n Play!
I registered for this item on out baby registry and my sister bought it for us. Since day one we have used it and loved it. We keep It in the living room which makes it convenient to change baby in the changing table side. We have her sleeping in the bassinet side when we are out in the living room. Super convenient to have which means we don't have to lug it from room to room. Its very compact and sturdy. Baby loves sleeping in it! I love the compartments it gas which holds diapers, wipes and even rash cream. I would highly recommend.
Date published: 2020-10-21
Rated

4

out of

5
by
inthetoaster
from
Great play yard--used primarily as changing table
The play yard is used primarily in our downstairs as a changing station. I'm actually really sad my kid is getting close to the weight limit on the infant level! We've traveled with it and used it as a crib on vacation. My only issue is that we didn't read the directions quite well at first and really struggled with getting the arms to snap in place when putting it up again after breaking it down. It turns out we were just doing it wrong and when we tried the way indicated in the directions, it worked like a charm.
Date published: 2020-10-21
Rated

5

out of

5
by
Haybay0224
from
Very sturdy! Great additions
My daughter is now six months old and has been sleeping in the pack n play in our room for about a month now since she out grew her other bassinet. Before it was in our room we had it in the living room. So nice to have easy storage for diapers and wipes plus the changing station. When she was a newborn we would place her in the portable rocker and se would lay in that while we took showers, did the dishes, did laundry. Just so she was always close to us. This has really been great. It's very steady and easy to set up.
Date published: 2020-10-21
Rated

4

out of

5
by
Awesome_Sized
from
Great for both small babies and traveling
We received this for our baby shower and we love it. The bassinet is great for a newborn, especially if you're breastfeeding and don't have room for a full crib if you room share and don't have space for a full crib or pack 'n play. Our almost 2 year old sleeps in wherever we travel and it fits when we pack up the vehicles. My only concerns are that out can be hard to unfold because it slides around until it's set up and if you have a child that likes to press buttons I'd keep the controls away once they can stand up.
Date published: 2020-10-21
Rated

5

out of

5
by
katiech
from
Absolute Must Have
The ease of set up and every day utilization make this a must have. The convenience cant be beat. You can easily view your sweet babe while they nap or play through the side netting. The changing table is easily cleaned and is great for frequent diaper changes. Our girl sleeps very well because of how comfortable it is and we sleep well because we can easily view her and access her without straining our backs! The wheels on it are a favorite of mine as it makes it easy to move with little effort when I need to vacuum.
Date published: 2020-10-23
Rated

5

out of

5
by
Kayla88
from
Super convenient
I received this as a baby shower gift and I'm so glad this was the pack n play I got! Love the extra stand that comes with it, it's super convenient when you are working with a small space and you just need the little bassinet part next to wherever you are. The mesh sides are also a plus as I'm a worry wort and gives me a little extra reassurance that if he were to roll, at least it would be into the mesh. And the recline feature was nice when my son seemed to have bad acid reflux. Over all I think it's great, wish my son would have hit into it a little longer but he grew pretty quick and I was only able to use this for about the first 2ish months. The playard part is great though, he naps comfortably in that and it's convenient for when we take trips to visit family.
Date published: 2020-10-21
Rated

5

out of

5
by
Moohy
from
The single most useful accessory we bought
Our son is 5 months old now and we use every piece of this throughout the day. He loves to hang out in the bassinet and look at the toys which we attached separately while dad is working. We use the changing table with stand daily during bath time along with an infant tub on the counter and we don't have to constantly bend down and allows us to save our backs that strain at least for now The playard itself is so easy to open up and breakdown. It is compact but does the trick. We use it constantly in the backyard so I can get some gardening done. We've also taken it to grandmas house and baby has a safe and comfortable place to sleep. The playard folds up so nicely so that it doesn't take up much space in the nursery for storage or in the car if we're making a road trip
Date published: 2020-10-21
Rated

5

out of

5
by
DReso0922
from
Has everything you need! One stop shop
I received this from my registry. I've gotten so much use from every piece. My daughter slept in the bassinet part for 4 months until she transitioned to her crib. I used the changing table piece in my downstairs part of my home for when I didn't want to bring her upstairs to the changing top of her dresser. Made it super easy for my mom as well when she watched her. The play pen and upper bassinet of the play pen were both used when she grew out of the portable bassinet. This was my most used gift!
Date published: 2020-10-21
Rated

5

out of

5
by
soccer14js
from
Easy to Use and worked great!
I like the pack n play because it was easy to set up and also easy to break down. The changing table was useful so we could have it in our living room instead of always taking a newborn up stairs to the nursery. We did not use the bassinet very often as our child wasn't interested in it. The storage on the side was useful as we kept diapers, wipes and coconut oil for changing. This made it easier for two changing stations in our house. So many pack n play options, but this worked great for us!
Date published: 2020-10-21
Rated

5

out of

5
by
Bsg27
from
Peace of mind
We bought this for our little girl to have downstairs in our home. It came in handy because I didn't have to carry hey upstairs just to change her diaper or have her nap. The first one I bought was years ago for my first kid. Then 5 years later I bought this one. I only buy Graco for my kiddos there no other brand I would trust. I like how Graco comes up with modern and safe products. I'm not going to pay an arm and a leg for a modern looking stroller that honestly looks like it won't last me long.
Date published: 2020-10-21
Rated

5

out of

5
by
Anonymous
from
This is a New Parents Must-Have!
This product is a new parents must-have —it functions as a pack and play, bassinet and changing station! I've set up the bassinet and stand in my living room so when my baby boy falls asleep during the day instead of bringing him upstairs to the bedroom. It is a wonderful grey color that goes perfect with the rest of my room and my little guy loves to stare up at the star and moon that hangs from the canopy. It's s great, compact and aesthetically pleasing safe sleep space. It took about an hour for me to put it together once it arrived. Once all set up it was very easy to add and remove the bassinet and changing station from the playard. I've kept the playard in my bedroom flit use for diaper changes in the middle of the night with my newborn. My favorite feature of this playard is the electronic module with songs, sounds and light and I'm excited to let my little guy hang out and play in the playard once he's a little bigger (he's only 8 weeks). I received this awesome product as part of the Stellar Product Testing Panel and truly love it.
Date published: 2020-10-15
Rated

5

out of

5
by
Ricateurn
from
Convenience
I bought this for my son instead of buying a bassinet and crib. As a newborn, he slept in the portable/detachable bassinet and when he was older he slept in the play pen. The changing table was convenient as well. I didn't have to buy a separate changing table. It comes with the removable shelf like cubbies for organization. We live in a very small home and were on a budget. Honestly if we had another baby, I'd likely buy this again. We took it with us to visit family and setting up took seconds.
Date published: 2020-10-21
Rated

4

out of

5
by
Tabatha O
from
Great features
My baby is 4 months old now. We use the changing pad everyday. I like that it is portable. We keep it in the living room during the day and take it into the kitchen at night for bath time in the sink. It's great being able to take him right from the sink and lay him on the changing pad to dry, diaper and dress him. I would say be cautious though our changing pad already has a small tear in it and I have no idea how it happened because we don't wear rings or anything on our hands that could have cut it. The bassinet was also an amazing feature. We used that daily as well and the vibration and white noise features really came in handy!! The only complaint I have is when we were putting the pack n play together for the first time, the bottom ripped. But definitely a great purchase for our little guy!
Date published: 2020-10-21
Rated

4

out of

5
by
Monie
from
Great accessories !
This pack and play has it all! I use the bassinet all the time to put my baby down, it's portable and easily detached from the pack and play! The changing pad is a great addition to keep around as an extra area where I can change my baby. The sounds and music are just the right tone and keep my baby entertained. And the night light comes in so handy! The only thing I would have like for this pack and play to have would be a full set of wheels for easier portability and not just two.
Date published: 2020-10-21
Rated

5

out of

5
by
JS7721
from
Multifunctional
We received this as a shower gift. We use the playard for my daughter's naps still and for when we travel. She also goes in it if we need to set her down and keep her in a contained environment. She is very happy and comfortable. The bassinet feature was wonderful and we wished we utilized it sooner. She loved being in it for naps and also with the recline feature, she liked to be propped up in it to watch everything going on around her. The stand was great also. I preferred this over using the boppy. It was very comfortable also. The changing table function was great even though it was slightly bulky when traveling. She has outgrown both the changing table, bassinet, and infant insert functions, but they served her well and we will continue to use the playard and other Graco products in the future.
Date published: 2020-10-21
Rated

5

out of

5
by
adzimmerman
from
Awesome playard/bassinet combo
I really like this bassinet/playard! I've enclosed some pictures as well. I would definitely recommend this for someone that wants an "all in 1" packaged option. You don't have to buy a playard, bassinet separately which is really convenient! PROS: -The color is gray—which I love because its not too bold and distracting in my home. Its pleasing to the eye. -It was easy to put together. Took less than 1 hour to put the entire thing together. -It can be 1 unit or broken down into 2 main pieces. -The bassinet can be placed at bedside which is nice (there is a separate base/stand or it can be left on the playard itself). The sides are a soft mesh so I can always see the baby while she is sleeping. The bassinet fits safe sleeping practices- flat surface. There is a vibration feature on the bassinet which is nice if your baby enjoys that. No music or rocking with this bassinet. There is a portable little sound unit that comes with the item. You can attach it to the bassinet if you do want music. More on that below. There are wheels on one half of the base so it helps to move it around the room if you need to do that. We don't have a ton of space in our bedroom and this doesn't take up much which is nice. -We also have the playard in our room with the changing system on it. This is super convenient for those middle of the night changes. There storage system on the side is also nice- I can store diapers, wipes, creams and change of clothes and they are easy to reach. The changing pad is also a flat surface with easy wipe covering. The sides are raised so less chance of rolling. -there is a bassinet attachment on the playard as well (similar to other playards-that have a bassinet attachments that goes on the top of the playard). This is also a nice feature. -I haven't used the playard at it's lowest setting (the "normal" set up for a playard) because my daughter is still so little, but I know it will come in use soon! -the units individually are not heavy. Together the combination of all three (playard, changing station, and bassinet) can be a little heavy. -The playard doesn't take up a ton of space either. I have another brand of playard from my first child. The footprint to that one is HUGE compared to this. So this was VERY nice that this item was so multi use in a small footprint. -Light/sound box. There is a moveable sound/light box that can be placed on the rail of the changing station, the bassinet or the playard. It has a few sounds and lights. Right now we have the unit on the changing station because of the lights. They aren't super bright that they would wake up someone else in your room (partner, child etc) but they are bright enough you could change a poopy diaper without needing more lights -The playard is portable and it breaks down into a small bag which is nice for travel. -For the price point- this is a great combo unit! CONS: -The playard does take a bit longer to put together (several moving parts/pieces) but is not inconvenient I wouldn't use it. -So far I haven't found any others. I haven't been able to travel with it because of COVID19. I was given this bassinet to try as part of the Stellar Product Testing Panel. I would definitely recommend this to any friends/family having a baby. The fact that the bassinet can be moved onto a base rather than just staying on the playard is a major selling point for me! I really love and appreciate this feature. I feel so much better at night that I can keep my baby in a bassinet next to me and I didn't have to spend a lot of money for a bedside bassinet, plus I also got a playard out of the item!
Date published: 2020-10-18
Rated

4

out of

5
by
Happy housewife
from
Happy with purchase
I received the Pack N Play Day2Dream Deluxe Playard for my first baby and I'm glad I got it. Instead of getting a bassinet for home, a playard for travel, we received this all in one for multi-purpose use and more simple storage. I like that I don't have to bring all the pieces when we travel and he just sleeps in the players portion. The bassinet portion was great for the first month, we just brought it right in the room and could do the night-time changes all in the same spot.
Date published: 2020-10-21
Rated

5

out of

5
by
ham10
from
Love the Stand!
I bought this in May for our first child. The stand made it easy to move his bassinet anywhere in the house. The rocker bottom and vibration settings on the bassinet were just what he needed some nights! We are using the Pack n' Play higher bed now, and it is perfect for this transitional time (after bassinet before crib). The changing table is easy to wipe down and keep clean. We have also traveled with it. It's super easy to set up and portable! Definitely a must have!
Date published: 2020-10-21
Rated

5

out of

5
by
Bkyblustar
from
Best Purchase Ever!
I LOVE this! This is truly handy to have out as a changing table, to hold supplies such as diapers and wipes and to set baby down for a moment. The seat comes out and can be placed on the floor wherever I am and baby loves it. It is super easy to set up and take down. Packs up nicely for travel. Easy to wipe down and remove covers to wash. This has been one of my favorite baby items, definitely the most useful. Would recommend this one and would purchase again!
Date published: 2020-10-21
bvseo_sdk, dw_cartridge, 18.2.0, p_sdk_3.2.0
CLOUD, getReviews, 0ms
reviews, product
product-detail-view
oos-pdp