Pack 'n Play® On the Go™ Playard with Bassinet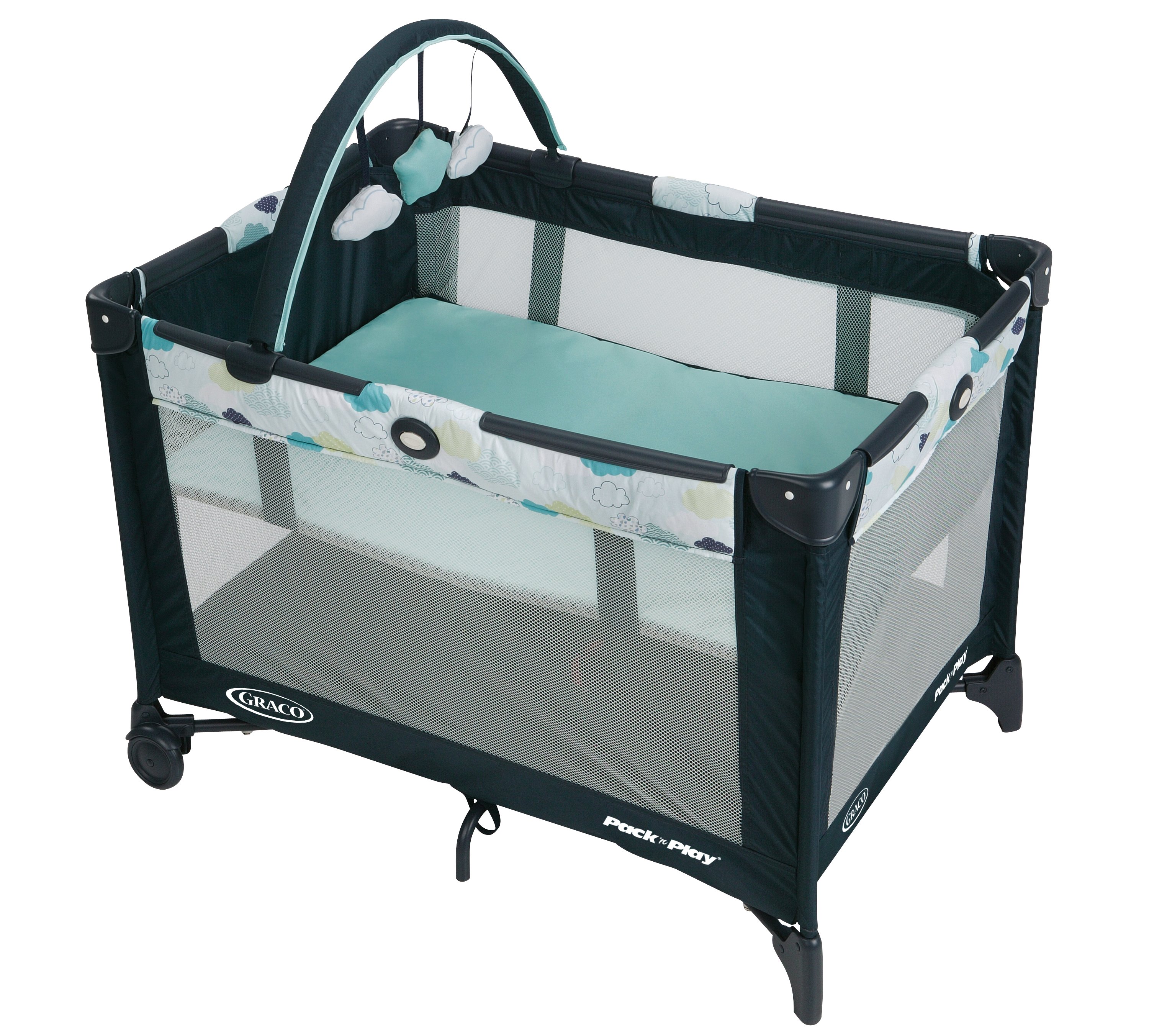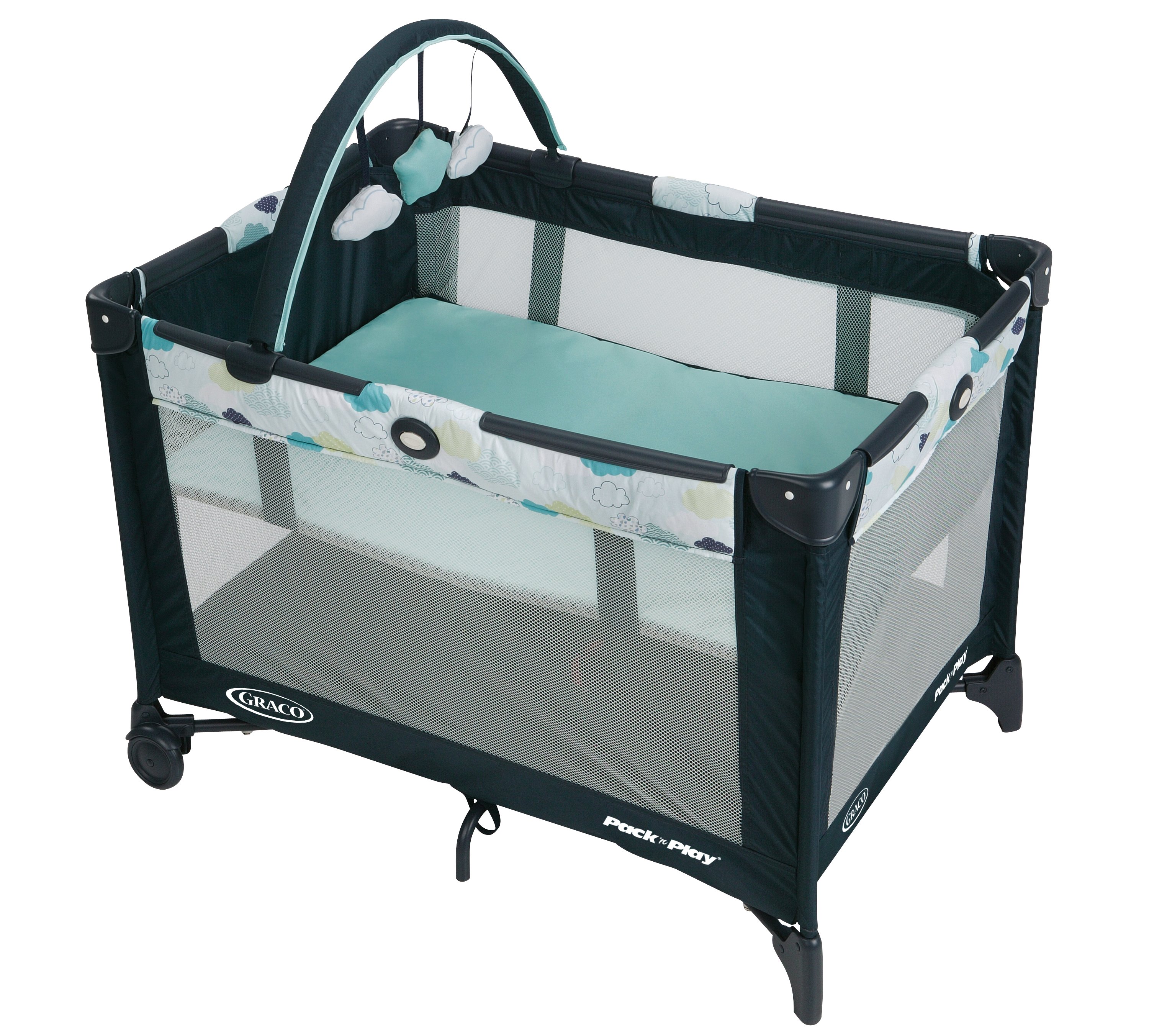 Product Details
Description
You want your little one to be comfortable no matter where you go and we want to make that easier for you. With our Pack 'n Play® Playard you have a removable full size bassinet that provides the perfect spot for baby to catch a nap, as well as automatic folding feet and wheels which make it perfect for travel. The play yard's signature Graco® push-button fold allows you to break it down quickly & hassle-free. At home or away, baby will be kept comfy and cozy.
Convenient carrying bag for no-fuss travel and storage
Convenient carrying bag for no-fuss travel and storage
Care & Maintenance
Clean with household soap and warm water/drip dry
No bleach
Machine wash carry bag in lukewarm water/drip dry
If playard gets sandy, carefully remove sand from all surfaces before packing into bag as sand can damage top rail lock
Product Instructions
The display of photographs does not reflect Graco Children's Products Inc.'s ("Graco") specific approval or endorsement of the use of the products as portrayed in those photographs. Graco always recommends that the consumer consult the product's manuals, and abide by the instructions contained within those manuals.
Replacement Parts Graco
We at Graco care about safety and the only way we can make sure that the parts of your order are a perfect fit for your Graco product is to ask for the model number and manufacture date of the product you own.
Search by Model Number
All fields required unless marked optional.
Date formats may vary by model.
Manufacturing Date Formats
MMDDYY-011305
Y Y Y Y M M D D - 2 0 1 6 0 2 0 5
D D M M Y Y Y Y - 1 3 0 1 0 5
Replacement Parts Are Not Available.
Locating Your Product Information
Model Number
Most Model numbers can be found on the back of your Graco® product. In some Graco products, model numbers can be found on the top of a base unit.
Manufacturing Date
This date refers to the day, month, and year in which a Graco product was made, and can be found on the sticker along with the model number. Here are three examples manufactured date formats:
Model: 7777DEV
Manufactured in 011305
GRACO CHILDREN'S PRODUCTS INC. EXTON PA 1931 1-888-224-5649 Made in U.S.A.
M M D D Y Y
Model: 7777DEV
Manufactured in 20160205
EXTON PA 1931 1-888-224-5649 Made in U.S.A.
Y Y Y Y M M D D
Model: 7777DEV
Manufactured in 130105
GRACO CHILDREN'S PRODUCTS INC. EXTON PA 1931 1-888-224-5649 Made in U.S.A.
D D M M Y Y
Rated

5

out of

5
by
Kat W
from
Well worth the money!
Not my favorite pattern, but it was on sale. This is the second one we've bought. Exact same model and pattern. The first one is 3.5 year old, but we needed a second. The one that is 3.5 years old is in great shape still! This product functions exactly as I need. Instead of spending $100+ on a bassinet, we spent $50-ish on this and just use the bassinet part for the baby. Then when they're too big for that, we have a Pack 'n Play for regular use. Great purchase! The only downside is that if can be difficult to find a mattress cover/sheet that fits tightly enough so that it is a safe, smooth, flat surface. We eventually found one. Other than that, this product is great!
Date published: 2021-10-27
Rated

5

out of

5
by
Genn22
from
Perfect pack n play
This product has worked very well for me! It is so simple and easy to put together and took less then ten minutes to assemble. I like the bassinet because it is perfect height and sturdy. The only thing I did not like was the large tags attached to every piece, including the little toys that hang down. They are very scratchy and do not look very appealing. But they do provide safety information and were easily cut off after reading. Overall no serious issues, and it has everything I wanted and expected from this product.
Date published: 2015-05-07
Rated

5

out of

5
by
mommabear1020
from
Just What We Were Looking For
When creating our baby registry I was overwhelmed with the amount of playard options there were. In the end we decided to go with this one and I'm so glad we did. While the other models with the changing stations are convenient for some we realized that we would be using ours for travel and to send with little one to grandparents' houses. We didn't need the $180 model. This basic model is perfect! It sets up and folds up easily! I set ours up for the first time when I was 8 months pregnant and I had no troubles at all. You can keep the bassinet feature set up, you don't have to take it down before you fold the Pack 'n Play up which is convenient! I'm a huge fan of Graco in general and I wasn't considering any other brands for a playard but I'm very happy with this product!
Date published: 2015-09-17
Rated

5

out of

5
by
Lmoon3
from
Good pack n play and easy to fold/unfold!
Easy to fold and unfold. She is 8 months and has gotten alot of use out of it. This is our third child and I wanted to try to do without alot of baby stuff this go around. Well, I ended up caving because of a trip coming up, and after some research we chose this one. I have had 2 others, and they did not fold nearly as easily as this one does. Our daughter enjoys sitting in there while I'm making supper, and it's fairly easy to pack up. The bag gives me trouble sometimes but that's it. Oh, and it's a bonus that it has wheels. That has helped us move it around the house with ease.
Date published: 2020-04-22
Rated

5

out of

5
by
Sherida Harris
from
A Most Modern Convenience
I had a son 9 years ago at 48 and purchased a very similar Graco playard. It served every purpose for which we bought it. As an infant, I put my son in it wherever I was--dining room, living room, kitchen, since our son's room was upstairs. As my son got older, we took road trips and used this for our son to sleep and play in. We put a lot of mileage on this playard and so this was a must have gift for my 30 year old daughter who is now pregnant with her first child.
Date published: 2021-11-05
Rated

5

out of

5
by
redda777
from
Best Playard Out There
I purchased this shortly after the birth of my son. It is an excellent product with very sturdy construction. My little one slept in the bassinet until he outgrew it without any problem. He is now almost one and loves taking his naps in it. It is very portable so we take it to grandmas and outside for gatherings and he plays peacefully in there. I don't know where I would be without it.
Date published: 2013-08-15
Rated

5

out of

5
by
Rylnn 2420
from
Great all around product!!
This was bought to be a bed away from home but ended up being my great grandsons bed for the first 9 months of his life. With limited space available for a bed, it was a perfect bed with the bassinet attachment used for the first 4 months and then the regular setup for the next 5 months. Great product is still in excellent shape even with continued daily use!!
Date published: 2021-05-23
Rated

5

out of

5
by
leebabyok
from
Great for Grandmas house
Every grandma with little grandbabies needs a pack n play. They're easily set up and fold up quickly making storage a snap. I've even taken mine camping with my grandbabies, used it outside, at the park. They're espcially great if you have pets, it keeps them seperate from the little ones while you're doing something else. Works great for naps also.
Date published: 2013-01-18
Rated

4

out of

5
by
Jaclyn T
from
Good deal but smallish
Looks very cute, nice easy set up and breakdown, fairly easy to put in bag. Would have given a 5 star rating but for the really small size of it. We were not expecting how small it was, we thought it was a regular sized pack n play. Still a really good deal and nice, but it may not last as long as we were hoping for him before he outgrows it.
Date published: 2021-03-26
Rated

2

out of

5
by
Sad momma
from
Disappointing mattress
We received this Pack 'n Play for our bedroom because we didn't want to move the crib into our room. Upon opening the mattress is disfigured. There are dips and grooves in the mattress pad where you can feel the bars through the pad. Very disappointing and uncomfortable for our little one.
Date published: 2020-09-08
Rated

4

out of

5
by
MomFran
from
Very convenient, durable
I have had several of these, but was given one with a bassinet for the first time with my third. It was a great place to put her for the first few months after her birth because she was close (in our room) and I didn't have to bend over as much to pick her up. She slept either in it or on me until I finally got her to sleep in her crib. Now, as a toddler, she still sleeps in it sometimes (by choice) and when we're out visiting. Would absolutely use another one for the new baby until rolling over starts!
Date published: 2015-05-08
Rated

5

out of

5
by
Sean D
from
Great product, totally exceeds my expectations!
My wife and I purchased this a month or so ago for our new arrival, I was totally clueless when it came to opening this thing, but as soon as I put it on the floor, it pretty much assembled itself, with a few clicks it was done. I was very impressed with the bassinet/changing area, I was skeptical of the support system, but it works flawlessly and feels very secure. We are very happy with the product, and would definitely buy again, and/or recommended to all of our friends and family. Thanks you Graco
Date published: 2016-02-24
Rated

5

out of

5
by
shindii
from
Easy to fold and set up!
I received this pack n' play as a gift and when I went to set it up. It was so easy! Tear down was just as simple and everything (bassinet attachment and soft toys) fits within the confines of the mat that goes around it. It secures quickly with just two straps and is easy to fit into the bag without a problem. Just make sure you put the handle side on the correct side! Other than that, I think it's a little heavier than I'd like but it is very sturdy, which is what I was going for!
Date published: 2017-04-10
Rated

5

out of

5
by
BMerry1
from
Glad I have it!
I've had our pack n play for 3 out of my 4 children. I never realized how much I was missing out on by not having this for our first born. It is so slick to use! The set up and take down are so quick and easy. It cleans up very well and is durable. I have not been disappointed with this purchase at all. I would recommend this product to anyone whether for inside or outside use, it is a fantastic, easy to set up or store, and effective product for infants to young toddler to use.
Date published: 2016-06-13
Rated

4

out of

5
by
Jenny1484
from
Needs a bigger travel bag
It's easy to set up but it doesn't seem to fit back into the travel bag. It would be better if it was a little bigger.
Date published: 2021-06-15
Rated

5

out of

5
by
Kateon
from
Size fits through regular doors
If you want to move the pack and play, this model will work through normal doors. Measure! Many models are too wide.
Date published: 2021-10-04
Rated

5

out of

5
by
Florida Gammie
from
Excellent value
Great buy the perfect price and size for a grandparents home. Really happy we made this purchase.
Date published: 2021-06-16
Rated

5

out of

5
by
Tresitos nana
from
I love it!
So easy to assemble and my grandson loves it!! I bought it for my 3 month old grandson
Date published: 2021-06-29
Rated

4

out of

5
by
Chels30
from
Good product
Good purchase. Light and compact for travelling and easy to set up!
Date published: 2016-11-12
Rated

5

out of

5
by
MomInSC
from
Love this product!
I got this at my baby shower. We LOVE ours. I loved using the changing pad when she was still small enough to use it. She's grown out of using the bassinet part now but did well in it when she was a little smaller. Now that she's mobile (8 mos), she plays and naps in it at it's lowest level. And it's easy to pick up and fold to take to family outings and such. Thanks Graco! We love the Priscilla print. We have the travel system as well.
Date published: 2014-07-03
Rated

4

out of

5
by
Rebecca37
from
new Pack 'n Play
I just purchased this. It is very nice. Only thing I am worried about is how the toys detach. They have Velcro on them and that's the only way they hang. I'm am concern on how the bar that holds them on is very thin and easily comes apart. Probably not the best idea and I might not even use this because of the way it was made, but the rest of the pack n play is beautiful. Love the colors and the reach through lining the bassanet has.
Date published: 2014-11-06
Rated

5

out of

5
by
totrod
from
Easy to use
Having my last child 17 years ago, I am "out of the loop" on baby items. I had a pack n play when my kids were infants and figured I would go back with what I had success with many years ago. Although I am a few years older and weaker, this is still as easy to set up and collapse as I remember. It is made of soft material that still feels sturdy and safe for baby. It is lighter weight and easy to move around once set up as well.
Date published: 2016-10-07
Rated

4

out of

5
by
mommyDW
from
Overall Great!
It is pretty awesome, especially for the price on sale at WalMart! I love that the sides are mesh, so you can see baby pretty well without having to get up. It is also the perfect height for a woman between 5'1 and 5'5! I dont have to reach down to much, and Im not reaching upward uncomfortably either. It is also sturdy! My ONLY complaint is that the mattress is not waterproof. My baby is squirmy and sleeps wild at night, so sometimes her diaper moves around and is almost useless by morning lol! The mattress still smells of urine. I cut it open and it is literally a piece of regular foam and a link of board (kinda like clip boards) underneath. The top material is a thicker mesh, so liquid goes right through. But I guess if you put a waterproof cover over it, you should be fine! Overall, I like it though. Easy to set up. Easy to break down. Easy on the eyes!
Date published: 2016-03-17
Rated

5

out of

5
by
Jen J
from
Awesome pack and play!
We love this pack and play with the bassinet insert. Since she does sleep in it often we did purchase a mattress but that's really not needed. The little stars are velcro and sometimes we use them, other times we just take them off and put her spiral car seat toy around the arch. When she's able to grab things and pull them we will most likely keep the stars on since the arch is sturdy but maybe not enough for a hard pull.
Date published: 2021-06-09
Rated

5

out of

5
by
Queeny
from
Best products you can buy
My first playard I received as a gift. It was given to me 18 years ago.i am still using it and I bought 7 more. I have 9 children and lots of grandchildren.my 4 daughters got a playard when they had their first baby.i had to buy my self an other three because one wasn't enough.My home is full of Graco products.There prices are good and their service is amazing.You are the best company!!!GRACO!!!
Date published: 2013-01-19
Rated

4

out of

5
by
JJEG
from
Great for taking baby outdoors
We just purchased our second pack n play for our second child. We used the first one all over the house and outdoors. It was a safe place for our child to sleep and play. We also used when we took vacation. It was an easy way to keep our son safe and in somewhat familiar surroundings. Great quality. The only reason we purchased a second one is because we sold the first one to friends!
Date published: 2015-06-01
Rated

4

out of

5
by
Gotdiesel2007
from
Great until the matress snapped
Was a great little playard until the mattress snapped. I am not sure when this occurred but it was used for my 1 yr old when we moved from CA to HI then put into storage. I pulled it out last night to clean it up because I will be watching a newborn and noticed the plastic or whatever is inside of it was snapped off and moving through the mattress part. So now it's a piece of garbage.
Date published: 2013-07-28
Rated

5

out of

5
by
amiej18
from
A Must Buy
Got this as a gift with my first baby girl, loved it it was easy to assemble and disassemble for traveling, folds up nicely and easy to carry. As a newborn i loved she was so high and close to me and then when she got bigger I could remove the top part. It held up through a total of 3 girls and is still very usable, would recommend it to anyone who is having a little girl.
Date published: 2013-01-18
Rated

5

out of

5
by
kittycat3
from
good investment
This is the second pack and play I own of this type. I loved the first one so much as the primary place for my infant to sleep while we spent time in the living area of our home. I love that with the bassinet addition I can easily reach my small baby- and use the same unit when he is older. And even swap it back and forth for babysitting visiting relative's children.
Date published: 2016-12-28
Rated

4

out of

5
by
momof3+twins
from
I love this PNP
I purchased this pack 'n play because I feel in love with the brown/ green dots pattern. It's compact, easy to set up and I have yet to be let down by a Graco PNP. I have twins so I got two PNP's instead of 2 cribs to save money and space. Good sturdy product. The only thing I don't like is that everything doesn't go back into the storage bag that came out, blah.
Date published: 2011-03-02
bvseo_sdk, dw_cartridge, 18.2.0, p_sdk_3.2.0
CLOUD, getReviews, 0ms
reviews, product
product-detail-view
oos-pdp