NasalClear® Battery Operated Nasal Aspirator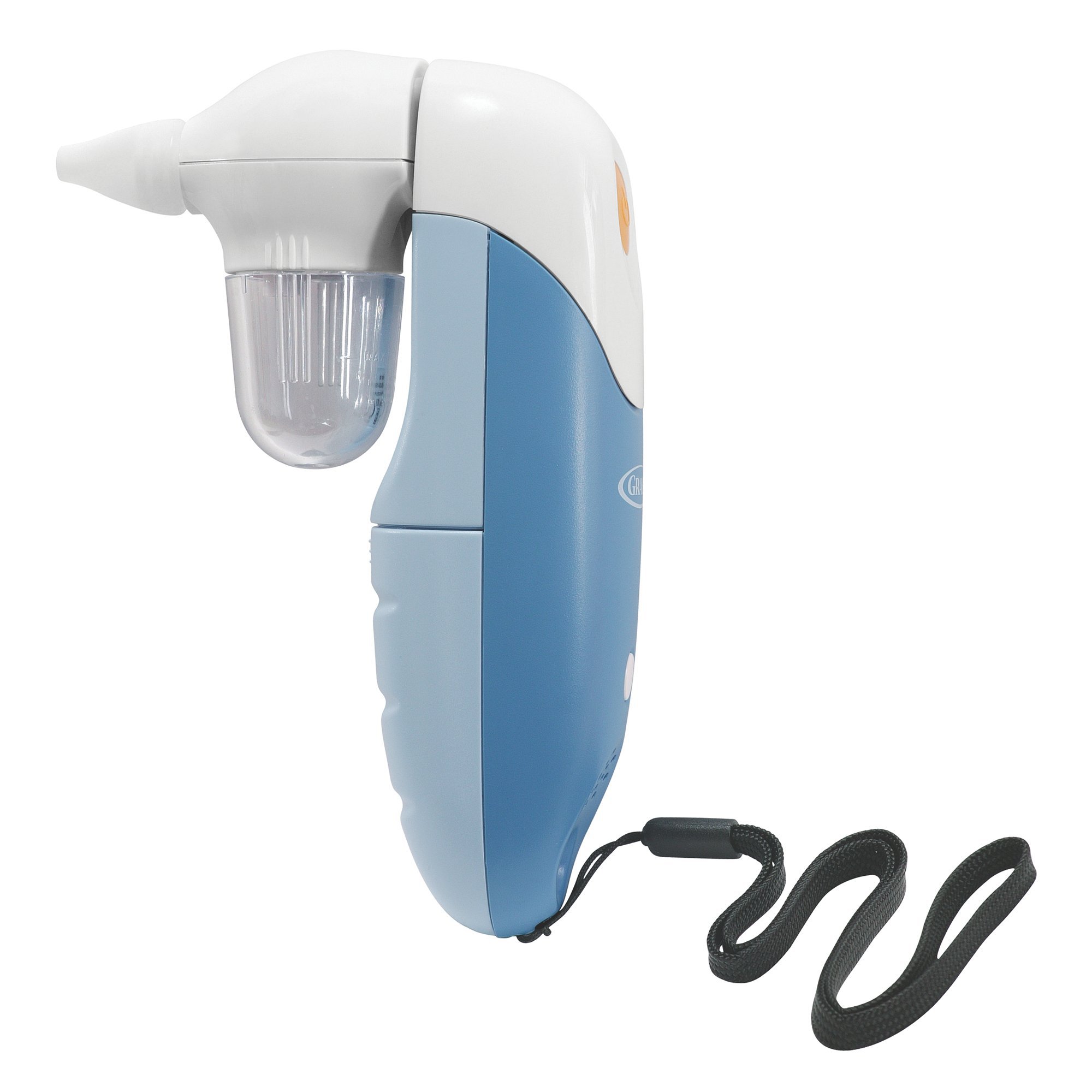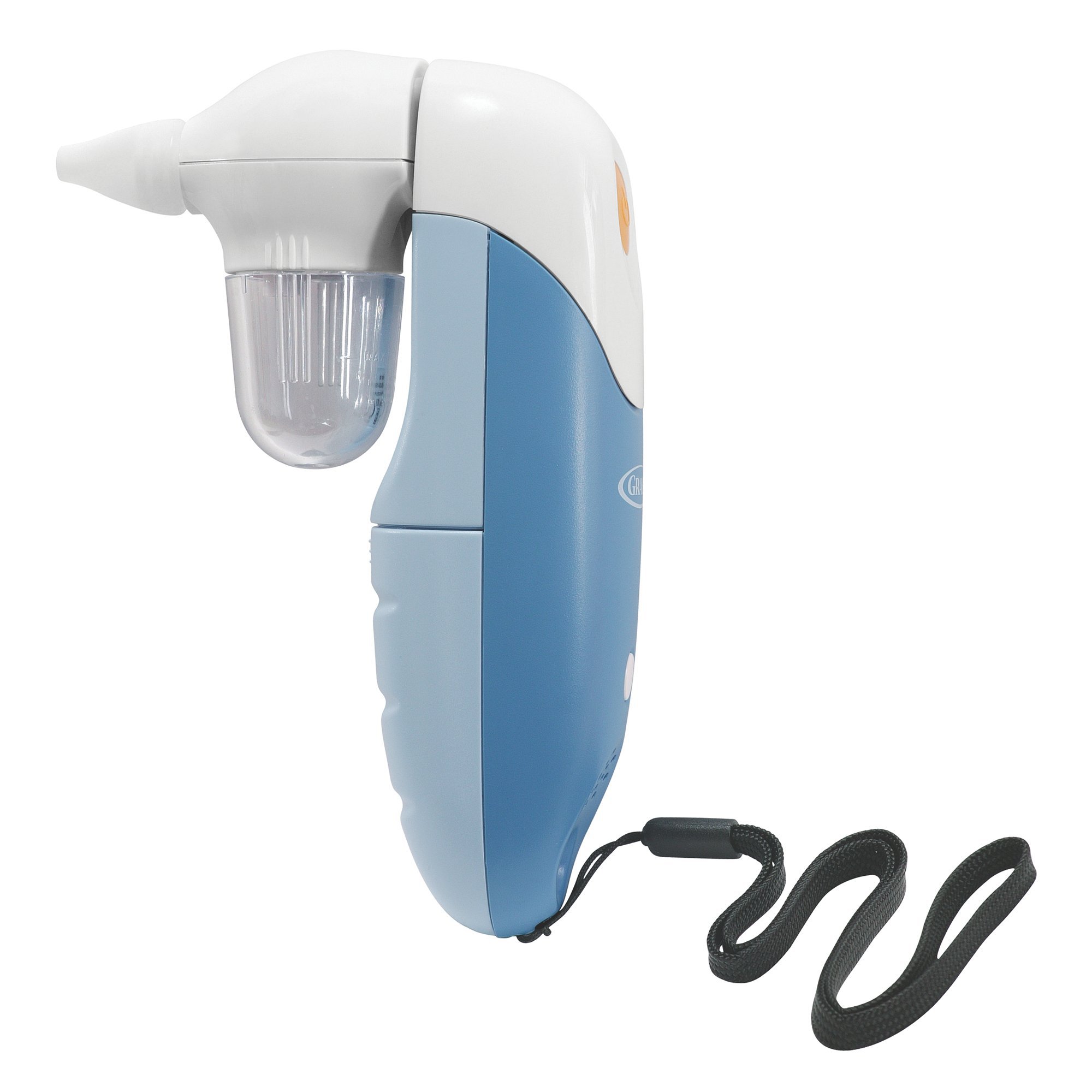 Product Details
Description
When baby is stuffed up, no one is happy. For parents who want a quick, safe way to clear baby's blocked nasal passages, our NasalClear™ Battery Operated Nasal Aspirator is a real lifesaver. Because it's battery operated, NasalClear offers a continuous su
Plays 12 different children's tunes to help distract baby while you try to clear nasal passages
Uses 2 AA batteries, not included
The display of photographs does not reflect Graco Children's Products Inc.'s ("Graco") specific approval or endorsement of the use of the products as portrayed in those photographs. Graco always recommends that the consumer consult the product's manuals, and abide by the instructions contained within those manuals.
Replacement Parts Graco
We at Graco care about safety and the only way we can make sure that the parts of your order are a perfect fit for your Graco product is to ask for the model number and manufacture date of the product you own.
Search by Model Number
All fields required unless marked optional.
Date formats may vary by model.
Manufacturing Date Formats
MMDDYY-011305
Y Y Y Y M M D D - 2 0 1 6 0 2 0 5
D D M M Y Y Y Y - 1 3 0 1 0 5
Replacement Parts Are Not Available.
Locating Your Product Information
Model Number
Most Model numbers can be found on the back of your Graco® product. In some Graco products, model numbers can be found on the top of a base unit.
Manufacturing Date
This date refers to the day, month, and year in which a Graco product was made, and can be found on the sticker along with the model number. Here are three examples manufactured date formats:
Model: 7777DEV
Manufactured in 011305
GRACO CHILDREN'S PRODUCTS INC. EXTON PA 1931 1-888-224-5649 Made in U.S.A.
M M D D Y Y
Model: 7777DEV
Manufactured in 20160205
EXTON PA 1931 1-888-224-5649 Made in U.S.A.
Y Y Y Y M M D D
Model: 7777DEV
Manufactured in 130105
GRACO CHILDREN'S PRODUCTS INC. EXTON PA 1931 1-888-224-5649 Made in U.S.A.
D D M M Y Y
Rated

2

out of

5
by
sburns
from
Too expensive for what you get.
Should have come with extra rings. They are small and easy to lose. It works good but I have only had this product for three days and it is already broke. For $20 that is an expensive break. The holding cup is held on by flimsy plastic pieces that break easily and a replacement head does not seem to be an option. My daughter did not mind me using this product on her as opposed to a normal bulb syringe. Sure wish it had not broken. I will not spend the money on another.
Date published: 2010-02-21
Rated

5

out of

5
by
austen & aidens mommy
from
loved it, best purchase ever
i absolutely LOVE this product. my boys both get awful runny noses when teething, and they both HATE the bulb suction -- and so dont i!!! the doctor suggested getting an electric aspirator, and seeing that this one was only 20$ i figured why not. best purchase ive ever made! the batteries run down a little fast, but to me its worth it, it gets my boys' noses clear in seconds and with the collection cup you can see how much mucous youre dealing with. and to the other reviewer i lost the white ring to mine as well -- called graco and they sent me a replacement for free :). its not hard to figure something like that out. i dont know how you could say the product is expensive, it was 20 dollars when some of them are 50 60 or 70 and this one gets the job done just as well. i LOVE this product 5 stars!!
Date published: 2010-12-16
Rated

5

out of

5
by
MamaFitForLife
from
Used for all Three of my kids.
I recommend this to all moms. It's battery operated so suction dose lessen when batteries are dying. I love that it has a music butting to distract the kids as well. I did also purchase extra nose suction tips. The smaller ones are easier with infants. Reading the negative reviews - it believe the gray ring may have fallen out the keeps the suction seal. Highly recommend cleaning and setting aside out of reach of anyone. It's easier to lose the pieces. I have 3 of them because I've had to buy one when I lost the first one. Then a third while traveling due to an unexpected allergy issue. Highly recommend. The music on mine stopped because we dropped it a few times.
Date published: 2020-11-22
Rated

1

out of

5
by
MJWA
from
Loses Suction
I bought this because my son had a stuffy and runny nose. The clear plastic cup where the mucus is collected became loose somehow. Before when you screwed it back onto the device you could feel the tension and as a result it had a better seal and sucked more mucus out. Now after having it for a month and using it no more than 10 times, there is so much air passing through where the cup is supposed to be screwed on that it doesn't suck at all. What a waste of $20.00 I'm going to call the company and maybe they can replace it.
Date published: 2013-04-21
Rated

5

out of

5
by
KYmomof3
from
Love this
After my first had RSV I was so scared my next two would get it, and sure enough my fears came back to haunt me! My second got it and after spending over 10 hours in the ER we realized other then a breathing treatment they charged us over $800 to suck his nose out... I was browsing through Walgreens and found the battery operated nasal aspirator and quickly bought it. As soon as my kids had a yucky nose I pulled this thing out and got to work. It's quick, painless and easy plus it has soothing music for the little ones. I've had this for a few years and once again my worst fear came back to haunt me and my baby just recently got diagnosed with RSV luckily I still had this. I also should mention it is super easy to clean as well!
Date published: 2013-01-19
Rated

2

out of

5
by
Anonymous
from
Dissapointment
My child suffered from upper respitory infections EARLY (she ws born early and seemed to catch EVERYONE'S colds). I saw this and thought it would be a WONDERFUL addiditon. Anyone who has had to use a nasal aspirator, only to get the mucous you have ALMOST gotten completly out of your childs nose, sucked RIGHT back in, can understand my frustation. I thought, oh awesome, this wiil continue to suck so the little bit of mucous I am able to get, won't get sucked back into her head before I can fully remove it. WRONG..... I don't know if maybe the suction just wasn't strong enough, but unless the mucouse it runny, I mean REALLY runny, it really doesn't work anywhere near as well as the regualr old manual nasal aspirator they gave me at the hospital.
Date published: 2010-02-24
Rated

1

out of

5
by
KinSanJose
from
Complete Waste of Money!
I received Graco NasalClear for my Baby Shower. I specifically asked for Graco because of all of the reviews & brand name. I actually have ALL Graco products (including stroller, 2 pack n plays, high chair, etc). However, I opened up the NasalClear last night to clear out my son's nose & while the music works it does NOT get / extract anything out (I tried different batteries as well just to make sure). The Power Button simply does NOT work! This is the worst contraption that I have EVER received. I would NOT waste money on this product!
Date published: 2017-05-11
Rated

1

out of

5
by
zoeyzoey
from
when it works is the best!
I bought one of those 3 times. It works really well but all of the sudden it stops sucking. there is a rubber ring inside that it is easy to lose. I did once but nothing is missing and it stopped sucking. it is frustrating because it happened three time. I hope Gracco have a Solution. I just sent them my complain.
Date published: 2015-04-27
Rated

5

out of

5
by
CMichelle
from
Best Boogie Sucker!!
I used the old fashion rubber bulb syringe for my baby. And I would always wash it, squeeze all the water out, then leave it tip down to drip-dry. Well, about 7 months into having it (and using it about 3 times a month) it broke open. Thank God it did though!! In that thing was black and green mold! MOLD!! I cannot believe I was putting this thing in my baby's nose! So I threw out all four I owned and purchased Graco's nasal aspirator. I love it!! I can see inside where the boogies go and I know that when I wash it, it's CLEAN!
Date published: 2013-03-21
Rated

1

out of

5
by
golfmik
from
dont buy
plastic part that holds the cup on to aspirator has two very small clips which break very easyly and you cant replace the cup. you have to buy the whole thing
Date published: 2012-11-14
Rated

5

out of

5
by
AlexOLH
from
Great Product
We bought this product since our daughter got sick several times during the year and it was difficult to clean her nose with an convectional nasal aspirator (manual). We loved it since the first time we used it, but we also learned that we need to clean very well after use or inclusive that we need to clean it because after some times it was blocked and do not suction as well as the start since some times mucus is dense and block internal conduts causing problem with suction. One more think we learned is that we need to take care of each part when it is cleaned. If you take care of it and review that mucus do not block internal conduts, that seal ring be on its place, you and your child will love it.
Date published: 2014-08-22
Rated

5

out of

5
by
toddlermom
from
Money well spent
My son is 3 years old and does not know how to blow his nose yet. This product is $20 worth spending. My son hate the noise that comes from the suction, but it is worth it.
Date published: 2012-10-08
Rated

1

out of

5
by
twinmom2
from
Great for the 5 minutes it worked
We bought one of these because my 6 month old twins are always congested. It was recommended by a nurse at the pediatric unit. The babies like it much more than the suction bulb but it stopped working after a week because the ring inside the attachment that you clean, broke after the fourth wash :( Not worth the $20 to break so easily.
Date published: 2012-12-06
Rated

2

out of

5
by
My Princess is My Life
from
Little Disappointing, not a lot of suction.
I have had this about a year, the suction was alright when my baby was less than 6 months old and it was just for a little booger here or there. However, the loud suction sound freaked her out until she was about 5 months old and actually enjoyed the music it plays. When my baby had a cold, this thing was not helpful with the heavy mucus. It did ok with the first little bit of snot, but once it was thick, it wouldn't even suck anything out. The music is nice, and the button is easy to hit. The clear cup is easy to clean and the soft tips for the nose are non-irritating.
Date published: 2016-02-25
Rated

1

out of

5
by
DadInCT12
from
Defective Product
I purchased this product from a local big box store when my kids had terrible head colds. Used it once and it worked well. Emptied the cup, cleaned, dried and reinstalled per the included directions. Pushed the button and heard a small pop and the motor running excessively loud. Put my finger over the tip, no suction. Opened up the unit and the suction drum inside had ripped at a seam, after 1 use! Until this design flaw is addressed, this should not be sold.
Date published: 2014-11-29
Rated

4

out of

5
by
Pam53
from
Best Nasal Clearer ever
This Nasal Clearer is god sent. To try and suck a baby's nose is mission impossible. With NasalClear it makes it so much easier. Turn on the tunes which distracts the baby and in seconds his nose is done. I would recommend this product to friends and family hands down.
Date published: 2011-03-02
Rated

5

out of

5
by
Zbaby
from
Best Baby Purchase Yet!
We purchased this two months ago when our 3 month old had her first cold/ear infection. We were told to purchase a NoseFrida but were unable to find one. We ended up purchasing this and we are so glad we did! It is truly the best baby item we have purchased so far. It is so easy to use and the music soothes and distracts our baby while we try to clear her congestion. It is very easy to clean. We like the clear cup that shows how badly your child is congested. I have recommended this to all of my mommy friends. Our child goes to daycare and the teachers LOVE it.
Date published: 2014-01-22
Rated

2

out of

5
by
mrsmom
from
great thought, poor design
I wanted to love this product, I really did. Unfortunately I can't say I do. The melodies are nice, but when it is in suction mode out freaks my baby out. The noise it makes is loud. The suction is poor, I've had more luck getting snot out with just a bulb. It is incredibly hard to clean, too. I did like how well the nasal piece fits into my baby's nose, which I can't say about other snot suckers we use. Overall, I wouldn't recommend this product.
Date published: 2015-04-30
Rated

1

out of

5
by
ntash8925
from
waste of money.
I bought this super excited, after seeing moldy nose bulbs online I knew there had to be something out there more sanitary. So I went on a wing to try this. Yeah biggest waste of money ever. It will not suck anything. I have tried new batteries different brands of batteries the music will play but it will not pick up anything. I tried contacting the company I sent it back to them and no response. Really unhappy first time mom
Date published: 2013-04-30
Rated

1

out of

5
by
ConsumerMom
from
Great idea but poor quality
I bought this because my baby has allergies and keeps a runny nose, and she is a fighter when it comes to cleaning her nose. I have bought this product several times and have had to return it because it was defective. I wish there was more work put into the durability of this product because it really works well when it works for the first day you purchase it. Really disappointed.
Date published: 2013-08-08
Rated

3

out of

5
by
aksli
from
Good for hygene but not tough enough
My wife was constantly getting sick from suctioning the kids noses when they got ill with regular nasal vacuum pumps so I got her this and it really helped. she was sick less often so in turn the whole family was healthier.. Problem is the pump stopped working after a few months. Seems like the motor just gave up. music still placed so I know it is not a power problem and the pump unit is still ok. I wish they made it tougher and more durable. a lighter version would be nice too.
Date published: 2013-05-08
Rated

5

out of

5
by
Anonymous
from
Most helpful thing
Both my children has seasonal allergies since infants. The manual aspirators took too long and I had to put up a fight just to clear their little noses during allergy season and cold season. After getting the Nasal Clear, the war was over! My children allowed me to suck out all the "Yucky" without a fight, plus it worked fast and efficient, no more stuffy noses.
Date published: 2010-03-05
Rated

2

out of

5
by
Alma A
from
A tad bit disappointed
I had high expectations for this product because of the price and convenience, and I was super disappointed. The first time I tried it, I got nowhere. I then tried saline spray followed by another try and nothing. I then used a different product, one try and two minutes later my baby was no longer congested. Although all babies experience with products are different I wasn't to happy with our experience with this product so I can't recommend. I will say the reaction from my baby was nice though because of the music and soft tip.
Date published: 2019-12-30
Rated

5

out of

5
by
Cat0890
from
Amazing product
Bought this a month and a half ago for my newborn son as he was/is constantly congested, it has been amazing! On a couple occasions he was extremely fussy and would not go to sleep because he was so congested, used the nasal aspirator And he passed out WHILE I was cleaning his nose out. Definitely need to use breastmilk or saline with it for best results.
Date published: 2017-03-18
Rated

5

out of

5
by
Leo
from
Great, easier than using a suction bulb
Works great to help clear congestion out of sinuses - both with babies and toddlers. My wife and I have been using the Nasalclear aspirator for about 8 months and it works great for both the 8 month old and the 3 year old child. We find it important to use saline spray first to loosen up the congestion and then suction it all away with the aspirator.
Date published: 2010-04-28
Rated

5

out of

5
by
goddesspp
from
It works!
I have used this nose/mucus aspirator for both my children. I love it. Other brands have not worked for me. I will say that I have bought 3, since they brake or stop working. Regardless of the fact that they do break, I still recommend this product to everyone. When your child won't sleep due to mucus and congestion the money means nothing.
Date published: 2013-11-01
Rated

1

out of

5
by
MrDogSmith
from
excellent when its working!!!
this is my third one i have purchased,the first 2 worked when they wanted to until they just completly stopped working....do any other companies that make a similiar, but better product??? i still have one of the previous aspirators im goin to try to send back and get a refund if possible...i will see how that goes!!! keep yall posted
Date published: 2014-12-23
Rated

5

out of

5
by
Anonymous
from
Best Purchase Ever
I have two boys ages 2 and 1. Right now they are teething and have runny noses because of it. They might not like me using this product but its better than wiping their noses every 2 seconds and them getting raw noses because of it. Cleans their noses so clean that they can breath again!! Very EXCELLENT product! Worth the price!!
Date published: 2012-04-26
Rated

5

out of

5
by
Wife0Sam
from
This is for You
This aspirator you will lovingly use on your darling babe... Well really it's for you. I found myself blurry eyed and with a headache taking care of my colicy two month old. Then- she got a cold. This aspirator saved me. It's easy to use, quick to clean and in general, a huge saver when my new addition got her first cae of the sniffles. Now, six years later, I still have and use this product as my current little one just got the case of the sniffles too. Great product, long lasting, with a big deal in parent confidence.
Date published: 2015-09-17
Rated

1

out of

5
by
DisappointedDad
from
Horrible!
I bought this yesterday, within one day this item lost its suction. It was great at first, but how do you design any item that provides suction and not have orings at every joint? The handheld part still has suction, but the bulb is now lose after one day and does not have a good seal, in turn the unit loses all suction...
Date published: 2013-09-14
bvseo_sdk, dw_cartridge, 18.2.0, p_sdk_3.2.0
CLOUD, getReviews, 0ms
reviews, product
product-detail-view
oos-pdp