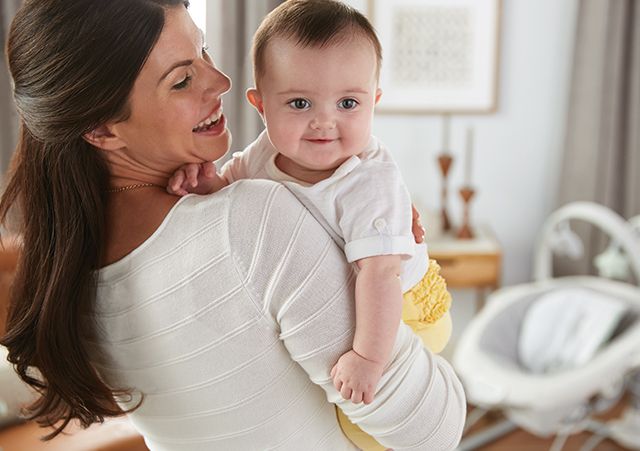 Baby Proofing Basics: A Room-by-Room Guide for Your Home
In the first few months of baby's life, you've had time to bond and develop a routine. As she nears the midpoint of her first year, signs of mobility will start to emerge. Before baby goes fully mobile, you'll need to have a plan for baby-proofing your home.


"My one-year-old and three-year-old are all over the house," says Krista G., mom of two. "Thank goodness for all of the safety gear out there and advice from books like What to Expect in the First Year. They've helped keep my babies safe and give me peace of mind."


You don't need to do everything at once—if you have time to prep your home before your baby is born, that's even better. "My sister-in-law suggested that I register for a few baby-proofing items when I was pregnant," Krista G. adds. "I'm so glad I took her advice."


Even if you're a little more last minute, don't panic. "Do your best to prepare, but know that you're going to figure out a lot along the way," says mom of three-year-old twins Kate T. "By watching your babies, you'll figure out additional things you need to do that you hadn't considered. Pay attention, and just do your best."


Take a cue from our room-to-room guide, and get advice from friends and your pediatrician. You'll be able to transform your home into baby safe zone in no time.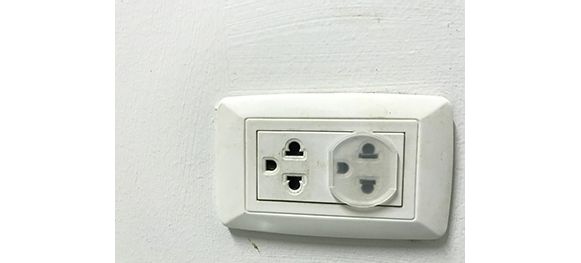 Housewide
Use covers or plastic plugs to prevent little fingers from touching exposed outlets.

Hide wires by tucking them away, securing them to the floor with electrical tape or by using a cord organizer. Curious little ones are prone to tugging on wires at eye level and can knock lamps or small appliances over.

Install window guards on windows to prevent your child from opening it.

If your windows have corded blinds, make sure they are out of reach by using a cord cleat (it winds up excess cord so your child can't get to it). Alternately, if you're thinking of installing blinds, look for the cordless kind.

Keep small items that could be choking hazards (coins, tiny toys, candy) picked up and secured in a locked drawer, cabinet or out-of-reach location.

Use doorknob covers on doors to rooms you don't want your little one to access.

Install pinch guards on doors to prevent door slams and pinched fingers.

Use baby gates to block off stairways. "My one-year-old always beelines for the stairs. Thankfully, I have a baby gate which keeps my little mountain-climber safe," says Krista G.
Kitchen
Use your stove's back burners and turn the handles of pots and pans toward the backsplash—so they're less likely to tip.

Purchase a baby lock for any potentially hazardous kitchen cleaners you store under the sink or relocate them to an out-of-reach location.

Keep all appliances out of reach, since it can be easy for grabbing hands to pull cords.

Install baby-proof locks on drawers and lower cabinets.

Store glassware, china and sharp items (like graters and knives) in a high spot or in a baby-lock-secured drawer or cabinet.

Lock your dishwasher door.

Remove the knobs of your stove when not in use.

Secure your oven with a baby lock.

For an extra level of security, block off the room with a baby gate, so your toddler will only access the kitchen with you.

Make sure baby's safe and secure from infant to toddler while you're cooking and at meal time with a product like the Graco® Sous Chef™ Seating System. Your little one will enjoy having a view of your kitchen prep!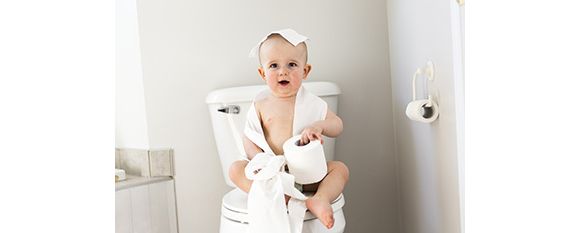 Bathroom
Secure the toilet lid with a toilet lock.

Place all medications, scissors and razors in a location that an infant can't reach (like the top shelf of a medicine cabinet, or in a cabinet that has been secured with a baby lock).

Lock up hair-styling products and appliances that a baby could ingest, drop or turn on.

Install a spout cover to prevent your baby from bumping her head in the bath tub and to alert you when the water has reached a safe temperature.

Place a door handle cover on the door to prevent your baby from wandering into the bathroom without you.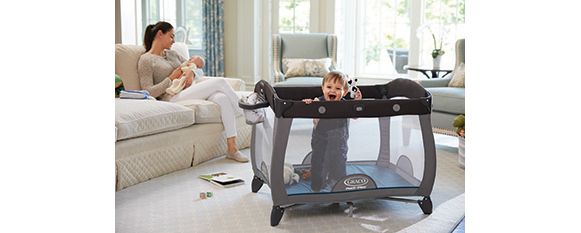 Living Room + Dining Room
Ensure that heavy furniture like cabinets, entertainment centers, and televisions are securely anchored so they can't be tipped over.

Move all picture frames off of low surfaces and onto hard-to-reach shelves or cabinets.

Pad sharp corners of tables (like your coffee table) with corner guards.

Place lamps or any other breakable items away from an infant's reach.

Secure matches and candles in out-of-reach locations—like a closet, locked drawer or cabinet.

Put a secure screen or surround barrier around your fireplace.

Keep a close eye on your child while the family relaxes by placing her in a playard like Graco® Quick Connect™ Portable Napper Playard. It's a roomy, secure spot all her own.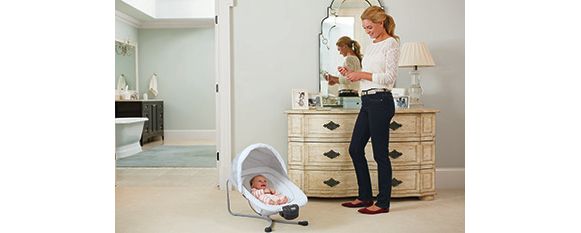 Bedrooms
Secure any furniture that could potentially topple over—like a nightstand, dresser, or bookcase—to the wall with furniture anchors, wall straps or brackets.

Mount TVs to the wall or move them to a location inaccessible to a little one (make sure to hide/secure any wiring).

Utilize safety latches on drawers to keep your baby from opening and closing drawers on her fingers—or from pulling small items from drawers that could be potential choking hazards.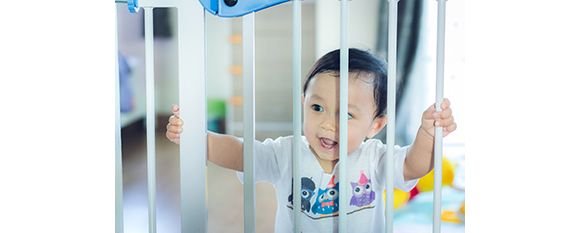 Remember, growing little ones are curious and faster than you might imagine, so staying vigilant with active supervision is key. You've got this!

BABY-PROOFINGING SHOPPING LIST

❏ Baby gates
❏ Door knob covers
❏ Finger pinch guards
❏ Window guards
❏ Outlet covers
❏ Furniture anchors, wall straps or brackets
❏ Baby locks
❏ Toilet locks
❏ Spout covers
❏ Corner guards
❏ Safety latches
❏ Electric cord organizer
❏ Cord cleat for window blinds