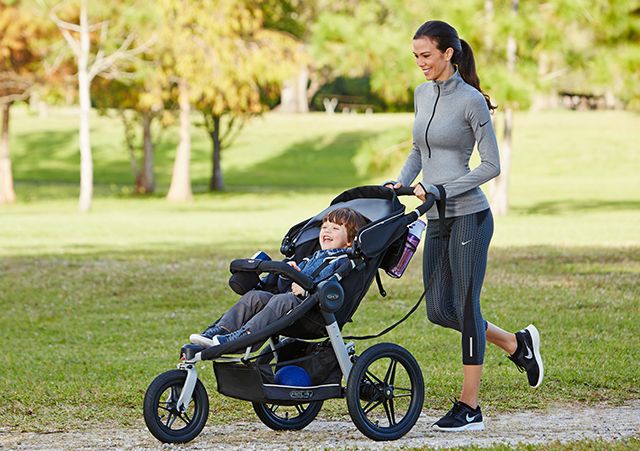 5 Stroller Solutions & Safety Tips You Never Knew You Needed
You've done your research and chosen the stroller—or strollers—you'll use to get out and about with your new bundle of joy. While loading baby up and rolling out is one of parenthood's simple pleasures, there are a few solutions and stroller safety tips you may not have considered. That's why we're here! Use them and you'll be traveling in style—and safety—in no time.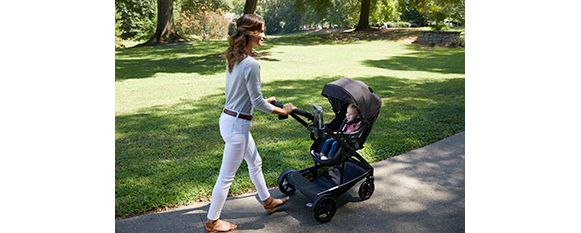 A Ride For Baby, Not a Hanger for Bags
Skim online articles, and you're likely to see a bunch of "stroller hacks" and clips for using your baby stroller to carry all kinds of things. While almost all strollers are built with some element of under-the-seat storage for diaper bags and other necessities, stroller handles are not meant to serve as bag hangers. Think about it: If totes are just a bit too heavy, the stroller could tip backwards. That doesn't mean you have to actually carry everything you pick up on outings with your child. The Graco® Uno2Duo™ Stroller, for instance, has ample storage. That's because this particular piece of gear has a genius design that converts to accommodate one child or two and the storage basket actually extends 5 inches for extra room. It's great for bringing baby's favorite stuffed animal, a diaper bag and even something you might pick up on an excursion together.
Full Coverage
If your only destinations are indoors, you probably won't worry about a stroller's ability to shade or shield. But chances are you'll use your chosen baby stroller to explore outdoors. Some innovative strollers, like the Graco® TrailRider™ Jogger, come with UV50 protection built into the super-large, extendable canopy. It also features window flaps, side pockets and a visor. Another great option for full-coverage is the Graco® Aire4™ Platinum Stroller, with its deluxe canopy. For extra protection, be sure to pack your baby-safe natural bug spray and sunscreen so you'll be ready to enjoy nature.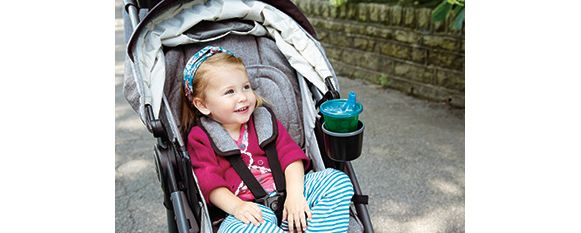 Your Ray of Sunshine
During the hottest months or in really sunny weather, don't let your stroller sit in the sun for an extended period of time, which can heat the fabric and hardware. If you're out soaking up the rays, just to be safe, give the stroller a quick feel before buckling baby in for your next adventure.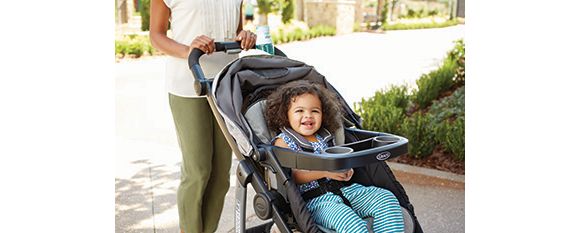 Age- & Stage-Appropriate
To the unfamiliar, all stroller seats look pretty much the same. Once your little one arrives, though, it'll become clear that strollers have different positions that accommodate baby's developmental stages. The Graco® Modes™ Click Connect™, for instance, has 10 riding options that let you easily convert from an infant car seat carrier to an infant stroller seat and finally to a toddler stroller. As an infant car seat carrier, you can click in your compatible infant car seat into the frame for a lightweight way to get baby from point A to point B. As baby grows, you can use the reclining infant carriage, which includes head and body support. When you've got a toddler on your hands, you can switch from the 5-point to the 3-point harness and use the forward-facing toddler seat. It's like having three customizable strollers in one. Easy-peasy!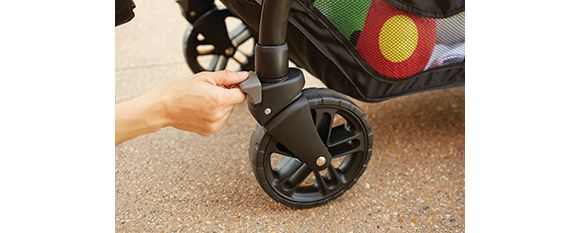 Load Up Safely
It may take a few times getting baby in and out of the stroller for you to feel 100% comfortable. You've got this and you'll be a pro in no time! Some simple precautions to remember: Always use the wheel locks so your stroller stays in one place while you're buckling baby in, find a flat surface (not a hill) to get baby settled into the stroller seat, and always use the included development-appropriate 3- or 5-point harness to secure your child.
All content here, including advice, should be considered opinion. Always seek the counsel of your own doctor regarding any questions or concerns you have.