4Ever® Extend2Fit® Platinum Convertible Car Seat 4-in-1 Car Seat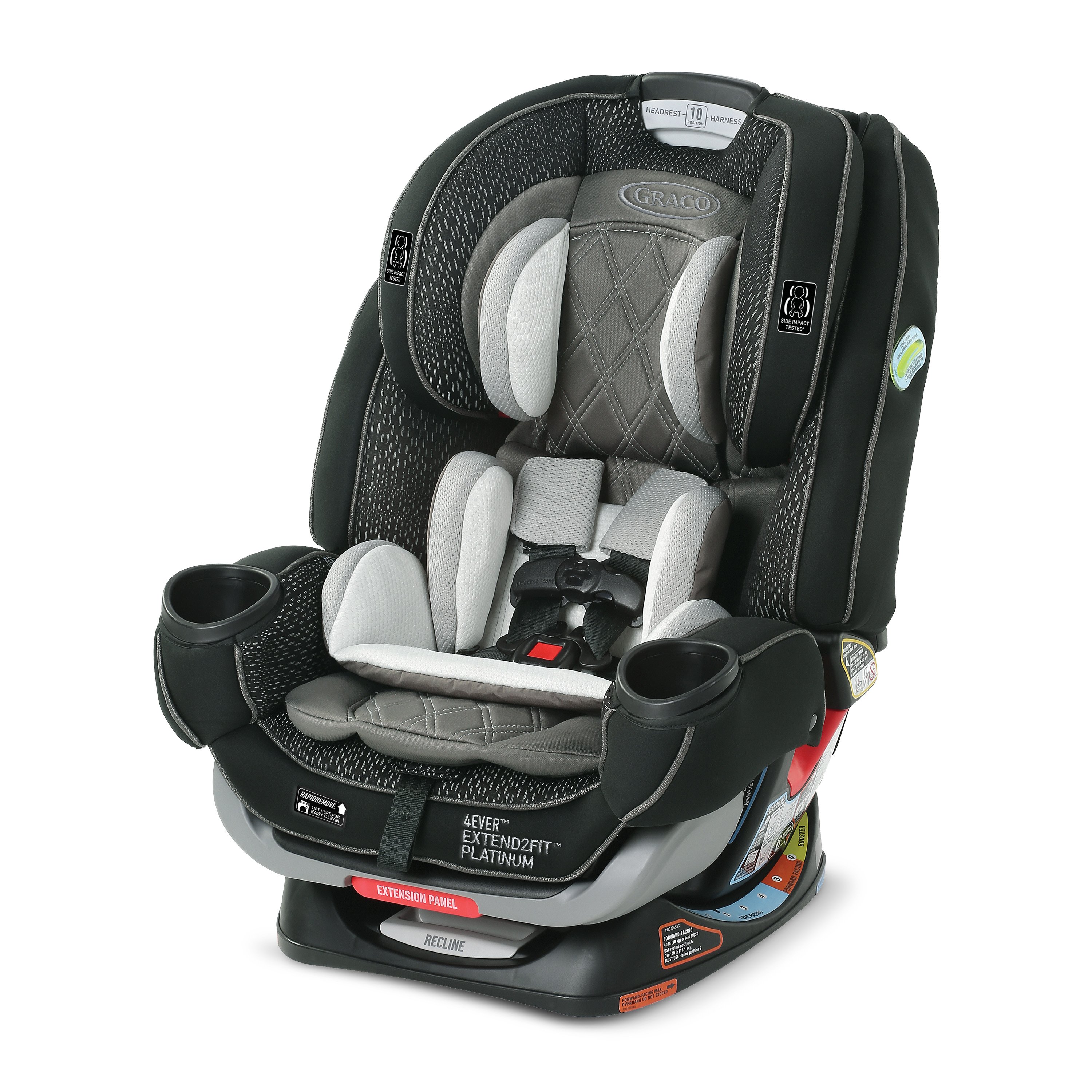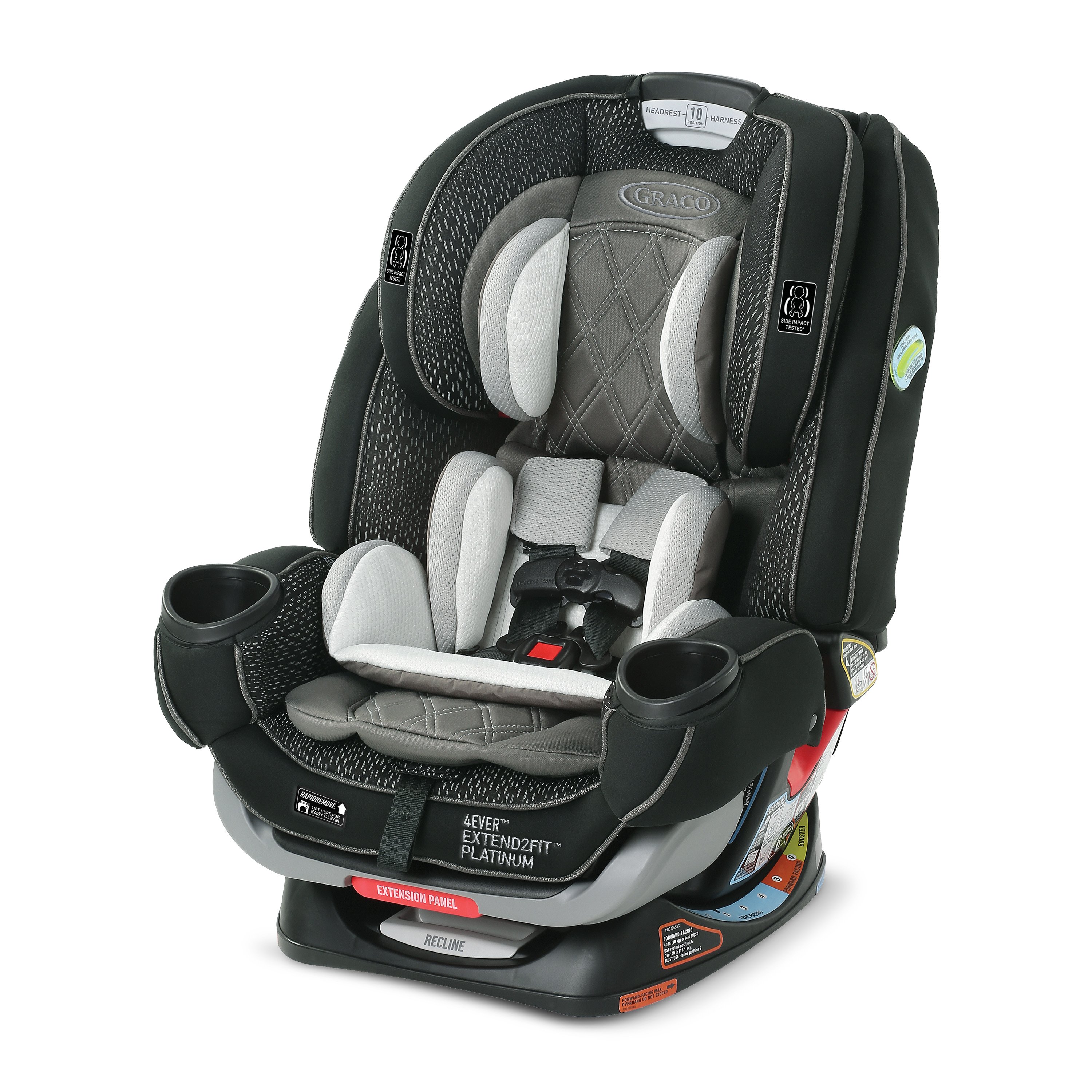 4Ever® Extend2Fit® Platinum Convertible Car Seat 4-in-1 Car Seat
Final Sale: may not be returned or exchanged
This item is currently not available
Selection will refresh the page with new results.
Final Sale: may not be returned or exchanged
This item is currently not available
---

Free standard shipping on orders of $40 or more! Details
---
Product Details
Description
The Graco® 4Ever® Extend2Fit® Platinum 4-in-1 convertible car seat gives you 10 years with one car seat featuring EZ Tight™ LATCH, for a secure and simple installation with 3 easy steps. It's comfortable for your child and convenient for you as it transitions from rear-facing infant car seat (4–50 lb) to forward-facing 5-point harness seat (22–65 lb) to high-back belt-positioning booster seat (40–100 lb) to backless belt-positioning booster seat (40–120 lb). With the addition of the 4-position extension panel, 4Ever® Extend2Fit® provides 5" of extra legroom allowing your child to safely ride rear-facing longer. For a proper fit, the Simply Safe Adjust™ Harness System and 10-position headrest lets you adjust the harness and headrest together, with no rethreading. The 6-position recline keeps your child comfortable, while the InRight™ LATCH system with one-second attachment makes installation easy. It's the only seat that truly goes from baby to booster!
Simply Safe Adjust™ Harness System adjusts the height of your harness and headrest, in one motion, to help ensure that your child is always properly secured
One-hand, 10-position adjustable headrest is easy to use and grows to properly fit your growing child
Integrated belt lock-off for easier vehicle seat belt installation versus using the locking clip
Washable seat cover is easy to remove without removing the harness
Steel-reinforced frame provides strength and durability for years of smart utility
Integrated harness storage compartment holds the harness straps that are not in use while in the belt positioning booster mode for a simple transition back to harness mode
2 integrated cupholders keeps your child's drinks or snacks close at hand
Plush inserts keep your child comfortable on your many journeys together
Easy-to-read level indicator helps eliminate guesswork from the installation process, so you can feel confident it's installed correctly rear-facing
Side Impact Tested; New Car Assessment Program (NCAP) – peak crash force approximately 2X car seat standard; Extreme Car Interior Temperatures. In addition to meeting or exceeding all applicable US safety standards, the 4Ever™ Extend2Fit® Platinum 4-in-1 car seat has been side impact tested for occupant retention solely with the built-in 5-point harness system and belt positioning modes.
Rigorously crash tested to meet or exceed U.S. safety standards
In addition to meeting or exceeding all applicable US safety standards, the Graco® 4Ever® Extend2Fit® Platinum has been side impact tested for occupant retention solely with the built-in 5-point harness system and belt positioning modes.
EPS, energy absorbing foam for effective impact energy management
Care & Maintenance
CLEANING SEAT PAD: Machine wash pad & canopy in cold water with gentle soap on delicate cycle & drip dry. Do not use bleach
CLEANING BUCKLE: Place in a cup of warm water and gently agitate the buckle. Press red button several times while in the water. Do not submerge the buckle strap. Do not use soap, detergents or lubricants
CLEANING HARNESS: Surface wash only with mild soap & damp cloth or wipes. Do not immerse harness straps or latch strap in water. For full instructions see here
CLEANING HARDGOODS: Metal and plastic parts may be cleaned with mild soap & cool water For full cleaning instructions, please refer to your user manual or contact Customer Service at www.gracobaby.com or 1-800-345-4109
Product Instructions
Recommended Use
Rear-Facing Harness: 4-50 lb, head must be at least 1" below handle; Forward-Facing Harness: 22-65 lb, up to 49"; Highback Booster: 40-100 lb, 43-57", at least 4 years old; Backless Booster: 40-120 lb, 43-57", at least 4 years old
STOP using this child restraint and throw it away 10 years after the date of manufacture.
Children are safer riding rear-facing and should ride rear-facing as long as possible, until they reach the maximum rear-facing height or weight rating for their car seat. Then children should ride forward-facing, using the built-in harness system for as long as possible until they reach the maximum forward-facing weight or height for their car seat. At that point, children should ride in a belt-positioning booster seat. A booster is no longer needed once the vehicle seat belt fits properly, typically when they reach 4 feet 9 inches tall and are between ages 8-12. Be sure to check your local and state laws, as well as AAP and NHTSA recommendations, for car seat usage.*
*Graco Supports the American Academy of Pediatrics and National Highway Traffic Safety Administration's Car Seat Guidelines. Visit our safety page for information on car seat usage recommendations.
The display of photographs does not reflect Graco Children's Products Inc.'s ("Graco") specific approval or endorsement of the use of the products as portrayed in those photographs. Graco always recommends that the consumer consult the product's manuals, and abide by the instructions contained within those manuals.
Replacement Parts Graco
We at Graco care about safety and the only way we can make sure that the parts of your order are a perfect fit for your Graco product is to ask for the model number and manufacture date of the product you own.
Search by Model Number
All fields required unless marked optional.
Date formats may vary by model.
Manufacturing Date Formats
MMDDYY-011305
Y Y Y Y M M D D - 2 0 1 6 0 2 0 5
D D M M Y Y Y Y - 1 3 0 1 0 5
Replacement Parts Are Not Available.
Locating Your Product Information
Model Number
Most Model numbers can be found on the back of your Graco® product. In some Graco products, model numbers can be found on the top of a base unit.
Manufacturing Date
This date refers to the day, month, and year in which a Graco product was made, and can be found on the sticker along with the model number. Here are three examples manufactured date formats:
Model: 7777DEV
Manufactured in 011305
GRACO CHILDREN'S PRODUCTS INC. EXTON PA 1931 1-888-224-5649 Made in U.S.A.
M M D D Y Y
Model: 7777DEV
Manufactured in 20160205
EXTON PA 1931 1-888-224-5649 Made in U.S.A.
Y Y Y Y M M D D
Model: 7777DEV
Manufactured in 130105
GRACO CHILDREN'S PRODUCTS INC. EXTON PA 1931 1-888-224-5649 Made in U.S.A.
D D M M Y Y
Rated

5

out of

5
by
LMontgom
from
Super Comfortable
We bought three of these car seats for our little one about a month ago and we LOVE them! They were super quick and easy to install. Since they sit higher than the infant car seat, my little one can look out the window which she loves. There's also a lot of comfy padding which she seems to enjoy. She always hated getting into her infant car seat (also a Graco which we love) but now smiles and gets excited when we put her in this seat. I love that it will be able to grow with her and we won't have to buy anything else. My only complaint is that when we put our little one in the seat, it seems that her chin is always tucked to her chest and we can't figure out how to adjust her so this doesn't happen.
Date published: 2018-07-09
Rated

5

out of

5
by
Xnomedx
from
Comfortable for baby
I love the car seat. I have only used it in rear facing position but it is great ! my daughter seems much more comfortable in it & I love the recline options. Very heavy car seat. I love that it has TWO cup holders. One thing.. if you don't have a 2005 or newer vehicle and have to use the seatbelt option instead of the latches it is a little more complicated... that being said the latches are awesome and I love how you can clip them up inside so they are out of the way. I have not been able to see all the awesome features of this car seat fully because my daughter is not big enough to use them yet.
Date published: 2018-04-21
Rated

3

out of

5
by
MamaBear1517
from
Very disappointed
I bought this over the weekend for my son and just received today. Opened it up and brought it out put my son in it, who is 3 1/2 years old and only 40 some pounds, sat him in there and the crotch buckle is incredibly short!! He was basically sitting on it because it doesn't come out far enough. And yes, it was on the farthest buckle slit. The straps and buckle constrict his legs so bad it's rediculous. No way a toddler can even fit into this! I dont know how you expect a older child to either! Needless to say I'm very upset, and now all the weekend deals are finished and I'm back to square one looking for a good carseat without breaking the bank. Wish I could post pictures for people to see.
Date published: 2018-12-01
Rated

5

out of

5
by
lacamat
from
Great Seat For Your Kid(s) Regardless of Age
We received this seat about two weeks ago for free to try out. After having my 8 month old son use it for that period of time, we are more than pleased and would've paid more than full price for this seat. It took (literally) 60 seconds to install and set up, and it allows him a bit more freedom than the carrier seat he was using. He's "talking" a lot more so I believe he's getting some social interaction with his sister that he wasn't beforehand. We would highly recommend this seat for anyone looking to do a one-time investment for a seat from newborn all the way up to Old Enough To Never Use A Car Seat Ever Again And Thank God They Are Old Enough Finally So I Can Reclaim My Backseat.
Date published: 2017-08-22
Rated

1

out of

5
by
Rachel421
from
I want to love it but....
I really want to love this car seat but the rattling noise is about to make me lose my mind. I cannot figure out how to stop it and I have tried everything. The headrest is what is rattling in the rear facing. I have a brand new car and even took my car in to make sure it wasn't my car and it isn't, it is the seat. I had the install checked twice by the experts and it is not that so I do not know what else to do. Since we just bought the seat less than 2 weeks ago I guess we are going to have to return it. I really want to love it. My other issue is that the buckle digs into my chubby little 7 month olds thighs with the additional cushion but it states that the cushion is required till 25#s and she is only 20#s. Like I said I love the idea of the 4 in 1 and the extending to fit but the rattling and tight fit is concerning me. I have 2 more weeks till I have to return it and I am not sure what to do.
Date published: 2017-03-07
Rated

4

out of

5
by
TiggyWill
from
Customizable, comfy and sturdy
I bought this convertible car seat for my one year old since she grew out of her snugride 35 infant seat. Although I was sad that I can no longer click her into a base quickly, it is fairly easy to get her into and out of this new seat! I chose this seat because it grows with your child and because after a ton of research it had the highest ratings even over more expensive brands. I bought a purple color and I already love that the seat insert can be removed for easy cleaning. The only thing about this seat that I don't like is that her wide water bottles don't fit in the cup holder (lol). I would definitely recommend this seat!
Date published: 2019-03-28
Rated

1

out of

5
by
TPerry
from
To bulky and my daughter hates it!
I have to agree with some of the previous comments. the extend to fit in the rear facing configuration pushes the seat too far forward, eliminating the use of the front seat. But with the non extend2fit, my daughters legs have to be pulled in because there is not enough legroom, She hates the seat! Even with the seat reclined to the #2 setting her head seems top be pushed forward towards her chest, and that is with all the extra padding removed. What's worse is I bought two of them!
Date published: 2017-10-10
Rated

5

out of

5
by
Brickson33
from
Best car seat we've ever owned!
We have been through 3 different car seat brands and after getting the 4Ever Extend 2Fit Graco Platinum 4 in 1 car seat, we will never need to purchase another one again. It is very comfortable for our 2 month old and we also adjust it to fit our 3 year old when going on longer drives. He loves the reclining options and the straps are very comfortable. The cover is very easy to remove and clean which is a huge plus. We plan on having this car seat until they both grow out of it in 8 -10 years. We are very excited about this product! In exchange for my honest review, I was provided this product for free.
Date published: 2017-08-15
Rated

4

out of

5
by
Dave86
from
Good seat with just a couple minor issues
A great seat with fantastic flexibility and comfort. The only two problems I faced are that the child seat anchors (EZ click) are super hard to fix because of their short length when forward facing. And the other is the really bad, quite annoying rattle from the top part of the seat (Height extender) when the seat is empty. So I have stuffed a piece of folded paper on the side and it seems to do the job. Other than these this is a fantastic seat and super comfy especially with the foot rest!
Date published: 2018-12-19
Rated

5

out of

5
by
Brandimarie7
from
Perfect seat and perfect size!
When this seat came out on the market I just knew I had to have it for my youngest. We switched to Graco from another brand because of this seat! I LOVE the padding because it makes me feel that my baby is safe and protected. I'm very firm with having a seat that has adjustable straps for as they grow and the ease of these makes this seat 10x better. My favorite part of this seat is it is actually MUCH more compact than any other brand of convertible car seat I have used in the past which is a huge factor for my family of 6, I have a lot of kids to fit in the car! The perfection of this seat outweighs the price ten fold.
Date published: 2020-04-21
Rated

4

out of

5
by
dirkk
from
Great Car Seat, but NOISY
The carseat is great, and appears very comfortable. The range selection is good and allows for exact height positioning. We've only used it in rear facing mode thus far. However, this car seat rattles NON STOP. It appears the noise is internal to the upper section, and I have tried to stop it with no success. It drives me absolutely crazy, and for that reason we may be looking at a different car seat moving forward.
Date published: 2018-09-09
Rated

1

out of

5
by
StephA23
from
Don't waste money on the Extend2Fit Version
I have three Graco 4Ever Carseats (my car, my husband's and my mom's). I loved my first two 4Evers, so I just purchased the Extend2Fit thinking it would be great to keep my 15month old backward facing longer. (I have her front facing in both my husband and my mother's cars because there isn't enough room between back seat and front seats to have her rear facing). I purposefully bought the extend2fit to help keep her legs comfortable. I wish I would have thought of the physics of the seat before just purchasing it. There is NO WAY to use the extension panel in the rear facing position- the seat base will not fit on the actual seat. It is impossible to install with the extension panel pulled out. Again, had I thought of the physics I would have realized that by adding 5 inches, the seat would be too long to fit on any car seat. Why Graco even made this seat is beyond me. It's too bad because the concept is good but the execution is terrible. So now she is front facing and I paid an extra $50 for nothing. Definitely invest in the 4Ever, just don't waste your money on the Extend2Fit option!
Date published: 2017-05-01
Rated

5

out of

5
by
Luci
from
I'm surprised
I'm really surprised by the negative comments on this seat. I got this seat in purple and gray, it looks amazing, and this is the seat I've been using for my daughter since the day she came home. I got mine June 21st 2017 (the day she was born) and there's no rattle, no noises. I love how easy it is to use. The fabric is amazing, no issues, and it washes well and still looks amazing. It didn't fit in my 88 Chrysler LeBaron, but the back seat in that thing barely fell it my nieces carrier seat so I knew I would need a new car. My sister got the 4ever and it's the same size, the only difference is that mine has the leg extender thing... lol. I recommend this seat to everyone! I LOVE IT
Date published: 2018-05-21
Rated

2

out of

5
by
HistoryDoc
from
Maddening rattle!
I just bought this seat for my 8 month old daughter based on the top safety ratings and the fact that it can better accommodate tall babies and toddlers in the rear facing position. I immediately had it installed by certified car seat techs at the local NJ State Police station and they fitted my daughter to it during the install so I know the seat is in the car and being used correctly. The seat solid and is much roomier than the infant carrier, making it's easy to get my daughter in/out. There is, however, a major issue - the rattle from the head rest as it vibrates in its track. It is so loud it's maddening. There is nothing visibly wrong with the seat, there is nothing loose, but nothing will stop it either. It's there regardless of whether or not the baby is in it and it's just intolerable for me and for her. At this price point, design flaws like this are not acceptable. I cannot fathom ten years of this over the lifetime of the seat. I've reached out to Graco customer service and have heard no reply.
Date published: 2019-01-02
Rated

3

out of

5
by
jak14
from
Safe carseat ... but
Great carseat. I feel like my son is super comfortable in it and really safe. BUT ... I feel like you have to reach under the seat pretty far to release the straps. And the cup holders are beyond horrible (they are pretty narrow - hello, toddler cups come in all shapes and sizes). They come out every time we pull my sons favorite cup out which is SUPER annoying!
Date published: 2017-10-19
Rated

5

out of

5
by
Erica2
from
Very happy repeat customer
We first bought this car seat for our daughter back in 2019 when she outgrew her infant car seat. This car seat caught our eye for many reasons - looks (great color, sleek design so it wasn't too bulky), safety features, easy to install and remove (for cleaning or switching cars), great reviews from other parents and the flexibility for long term use (eventually the kids can use it as booster when older). We loved it so much we just got a second one for our son who has outgrown his infant car seat! We have enjoyed Graco so much all of our products are Graco and now we have a 2 year old and 1 year old comfortably and safely riding in their own Graco convertible car seats.
Date published: 2020-04-25
Rated

5

out of

5
by
GAJM
from
The Best
I seriously love this car seat. My son had a Graco Click Connect at first but he outgrew it quickly because he is in the 99th percentile for height and weight. I'm a certified car seat technician and it is very important to me to have him rear facing as long as possible. After researching my options, I chose this seat and I'm so glad I did. It fits really well in my husbands Silverado and my son sits very comfortably in it. The money spent is well worth it knowing the seat will last for years and that my son can be rear facing up to 50lbs. It is also easy to install and get in the right positioning. Love it!!
Date published: 2019-08-22
Rated

5

out of

5
by
Moe Maw
from
You have to have a 4Ever Extend2Fit 4-1
I just don't know why they didn't have this type of car seat whenever I started having children 25 years ago. I am really proud that I paid a little more than normal for this car seat because we were in a very bad accident and I have to say that my grandson didn't have a scratch. He was sleeping and I guess because it's really fitting to the child's body and has the extra cushion and protection is the reason why he didn't even cry he woke up and didn't cry or anything and then he closed his eyes and went back to sleep. We will always be thankful that we bought this car seat. It's way durable and built strong enough to protect your precious cargo from getting a scratch on them.
Date published: 2020-12-19
Rated

1

out of

5
by
Bailey31
from
Pushes my son's head forward and won't fit in
I bought this during the black Friday sale online and was so excited to get this for my son. He hates it. The headrest portion, even with infant pads removed, pushes his head forward pinning his chin to his chest, also this fits in my Jeep Grand Cherokee, but only when seated upright, when trying to place in the reclined positions it no longer fits. Really wish the reclined dimensions were listed on the product to avoid this issue. Overall we are returning the product.
Date published: 2018-12-21
Rated

5

out of

5
by
Mommaslittlereviews
from
The last car seat I will ever need to purchase!
I am completely blown away by the Graco 4Ever Extend2Fit convertible car seat! It is literally the last car seat we will ever need to purchase since it is a 4-in-1 that can go up to 120 pounds! I originally thought this seat would be perfect for my nephew who is currently rear facing, but turns out it is perfect for my front facing daughter as well! This seat can go up to 50 pounds rear facing which allows us to keep my nephew rear facing longer. There is even a 4-position extension panel that provides 5" additional leg room so he is extra comfortable. I am far from a car seat expert, but I was really blown away by all of this seat's features. Not only is there an InRight™ LATCH system for easy instillation, but there is also an integrated belt lock-off for basic seat belt installation. The level indicator on the side of the seat allowed me to easily see whether the car seat was leveled correctly. All in all, it only took me about five minutes to make sure this seat was installed tightly and securely! The Simply Safe Adjust™ Harness System allowed me to easily transition the car seat to fit my forward facing daughter. There is a position adjust button on the top of the headrest which allowed me to easily move the headrest and harness up and down to the correct height. Since there are 10 possible height positions, I had to look at the user guide for a little bit of help. The user guide was extremely easy to read, and allowed me to find the perfect harness height as well as recline position for my daughter's age and weight. There was absolutely no guesswork while installing this seat, and I felt extremely confident that my daughter was 100% protected. My daughter was extremely comfortable, and loved the fact that she had two cup holders. I am so glad we had a chance to test out this seat. From rear facing 4-50 pounds, forward facing 22-65 pounds, high back booster 40-100 pounds, and booster 40-120 pounds…..I am super excited to continue using this! I was provided this product gratis to help facilitate my personal review.
Date published: 2017-01-23
Rated

4

out of

5
by
KassMcK
from
This is a great first car seat!
We bought two of these car seats for my husbands car and mine when our baby turned 5 months old. We love all of the features and that it gives her more room while remaining rear facing! (She's very tall) She enjoys it as well because it gives her more room and allows her to sit up more (she's never likes to lay down or be cradled)! The only thing that both my husband and myself don't enjoy would be how hard it is to use the tightener to bring the harness tighter to fit the baby. You have to really pull hard on that sucker! But other than that we don't have any other problems with it! Would recommend!
Date published: 2019-12-30
Rated

5

out of

5
by
carrie03
from
So easy to use for different size kids
I received this product for free in exchange for my honest review. As the mom of three kids under five, we have already been through 6 car seats and the Graco 4Ever Extend2Fit is by far my favorite. The seat is easy to install securely and comfortable for my kids. We've installed it using both LATCH and the seatbelt and both were pretty quick and easy. The seat lining is very soft and thick and my kids love the dual cup holders. My favorite feature is how easy it is to adjust the headrest and harness straps to fit different kids. My 2 year old and 4.5 year old have both used this seat and it was super easy to adjust the seat to fit them each appropriately without having to rethread any straps. I also love that this solves the problem of having to buy a bunch of new car seats as your child grows. Our 7 week old already has an infant bucket seat but as soon as he outgrows it, I plan to buy another one of these for him to last him the rest of his car seat time.
Date published: 2017-08-22
Rated

5

out of

5
by
Brooke14
from
Great!!
I bought this about a month ago for my 7 month old son and he loves it. He used to cry in the car everytime and he just sit in this chair so comfortably. It has the different recline positions which is amazing and super accessible should straps with a handle at the top of the seat to adjust the shoulder strap position rather than unhooking the straps and reweaving them to another height. It also has 2 removable cup holders for easy cleaning, that i know i will love when my son gets a little older. Minus all the great features it just looks awesome! I would highly recommend this seat to anyone!
Date published: 2019-11-15
Rated

5

out of

5
by
ErikaH106
from
Confident my baby is SAFE!
I switched my now 21 month old son out of the infant car seat to the extend2fit at 6 months. He is so comfortable in this seat even now at 21 months. I instantly felt more safe with him in this seat. It is SO easy to use, the latch system is a great feature as well as the easy rise seat back. I love that it can grow with him so i can keep him rear facing longer than with other seats. I recommend this seat to literally every mom I know and will absolutely buy a second when i have another baby. Hands down best car seat around!
Date published: 2019-02-12
Rated

1

out of

5
by
Jerryac
from
Frustrated!
Purchased 2 of these , one for each car. The concept is great however the persistent rattling noises coming from the headrest are extremely annoying. We have contacted customer service and went through the cumbersome process of having both seats replaced only to receive replacements that rattle just as bad as the originals. Clearly a defect of some sort as I have read countless complaints online from others who have purchased this seat. Graco should offer an advanced replacement as it is not practical to have someone send in the defective seat and then wait 2 + weeks (without a car seat) for the replacement to arrive. Luckily we have one for each vehicle so were able to do one at a time, even though that still caused logistical issues. And of course, the replacements we received have the same defect. What can we do to resolve this?
Date published: 2017-12-05
Rated

2

out of

5
by
roger1927
from
Good but rattles a lot
Bought this about a month ago to replace an uppababy car seat that our son hated. Although he seems to like this one better, there's a constant rattling noise. Seems to be a common complaint. Surprising nothing has been done to remedy it.
Date published: 2018-09-19
Rated

5

out of

5
by
littlebitsofall1
from
Love the features
I love this carseat. It is great for so many years. It has a 10 year life that that allows me to purchase for one child and they can use until they are out of seats. I like that it is easy to install with the LATCH system. The rear facing weight limit is also amazing. My year old is only 34 lbs and so this allows him to keep riding backwards. I do like the small things like the double added in cup holders. Now they can use the cup holder and not loose it at all. With one on both side, I can have another kid use it as well. Then they all have a spot to put their cups. I did receive a seat for my honest thoughts and review. Please note that all things said here are of my own words.
Date published: 2017-08-30
Rated

3

out of

5
by
HAD1982
from
Nice seat BUT it rattles
I purchased this seat about 2 weeks ago and initially loved it - it's very stylish, the baby seems to find it comfortable, and it was easy to install. The first time I drove with the seat in the car I heard this weird rattle noise. After investigating I've learned it's the headrest part of the seat! It rattles constantly. Even when the baby is in the seat. I am SO freaking disappointed. I have a ton of Graco stuff, including an old Graco bucket seat, and haven't had an issue. The kicker for me is that this seat is expected to be used for YEARS now, so I am stuck with a rattling seat.
Date published: 2018-03-14
Rated

5

out of

5
by
Mommabear98
from
Very comfortable car seat!!
My daughter behaved night and day between the carrier and her current car seat. While i miss the convenience of having her in a simple click base seat for her car seat, this one has surpassedmy expectations for comfort and features..My daughter loves her leg extenders and looks at me with a "are you forgetting something " facial expression if her extenders arent out before we take off lol. Loves her cupholders and side impact features. It is very durable and although a bit wide, works perfectly for my daughter and passengers can still fit in the back. Going to purchase another.
Date published: 2020-04-21
Rated

5

out of

5
by
mtjmomma
from
The last car seat you'll ever need!
I purchased this seat for my 2 year old to allow him to RF longer and I absolutely love it. We got the Passport gray and it looks great. Not too big, not too small. My son is a big kid and this seat allows him to stretch out without taking up my entire backseat. Some pilling from his shoes as others have stated but it's not too bad. I had an issue with the stickers peeling after cleaning the seat per the manual instructions and contacted Graco to let them know, they've sent a brand new car seat for us to swap out our old one with. Customer service is amazing, quality is great.
Date published: 2019-07-18
bvseo_sdk, dw_cartridge, 18.2.0, p_sdk_3.2.0
CLOUD, getReviews, 0ms
reviews, product
product-detail-view
oos-pdp