TurboBooster® Highback Booster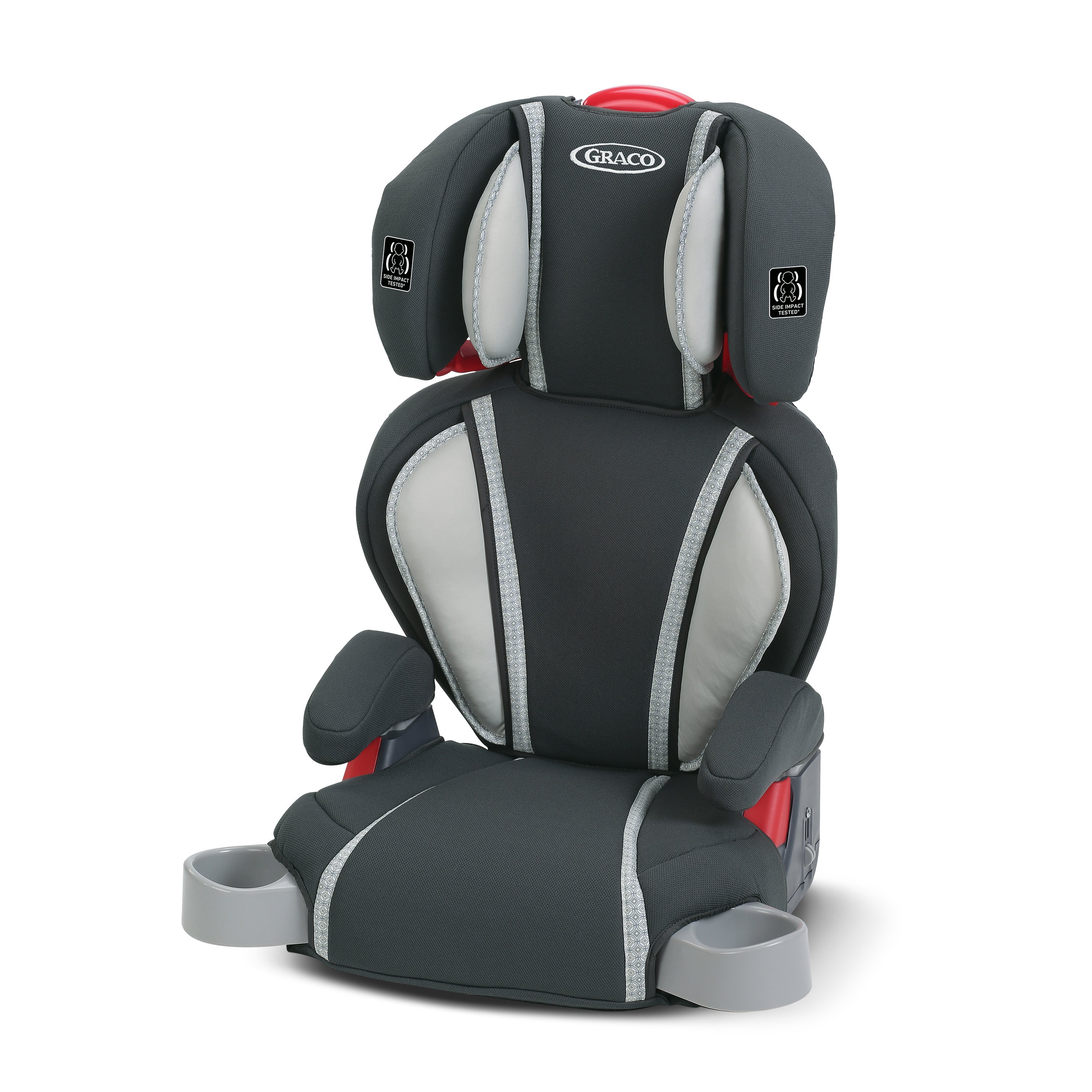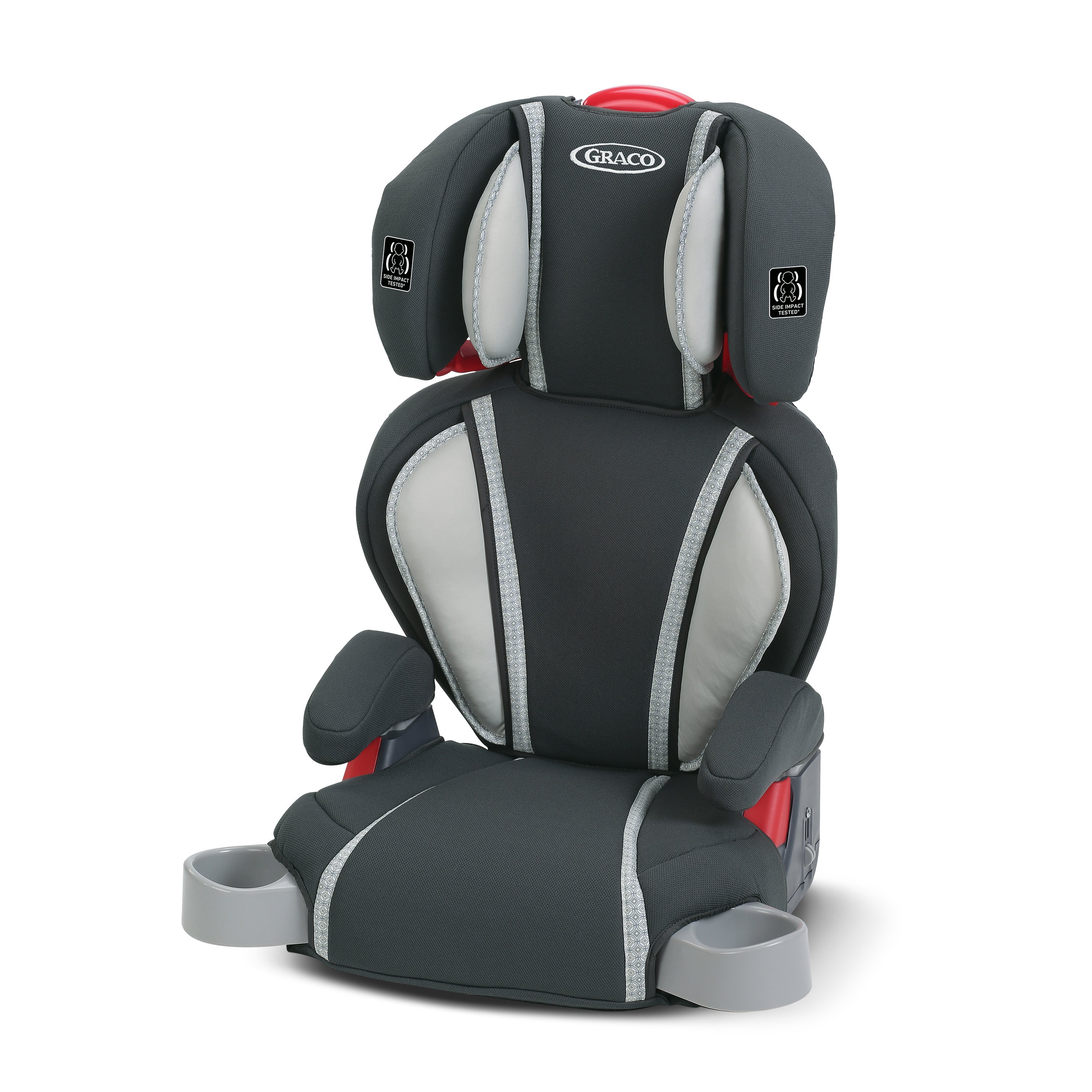 TurboBooster® Highback Booster
Product Details
Description
Give your big kid a boost. Loaded with comfort features for kids, the Graco TurboBooster® Highback Booster Seat helps protect your growing child, from 40-100 lb.* This 2-in-1 seat converts from a highback to a backless booster as your big kid grows. Kids love cool perks like the hideaway cup holders and comfort features, especially the height-adjustable head support and padded, height-adjustable armrests. Parents love that it helps protect their child by raising them up to the proper height for the seat belt. Open-loop belt guides help properly position the vehicle seat belt to allow for independent self-buckling. This seat is Graco ProtectPlus Engineered to help protect your child in frontal, side, rear & rollover crashes. *To continue to meet industry standards, we have increased the weight minimum from 30 to 40 lb
Hideaway cup holders keep drinks and snacks within reach
Graco® ProtectPlus Engineered™: a combination of the most rigorous crash tests that helps to protect your little one in frontal, side, rear & rollover crashes, and additional testing based on the New Car Assessment Program and for extreme car interior temperatures
Engineered & crash tested to meet or exceed US standard FMVSS 213
Rigorously crash tested to meet or exceed US safety standards
Be sure to check your local and state laws, as well as AAP and NHTSA recommendations, for car seat usage
*To continue to meet industry standards, we have increased the weight minimum from 30 to 40 lb
Open-loop belt guides help you correctly position your vehicle's seat belt
Padded, height-adjustable armrests and hide-away cup holders will help keep your child content on the road
Specifications
Car Seat Weight Without Base:

9 lb
Care & Maintenance
Machine-washable seat cushion
Metal and plastic parts may be cleaned with mild soap and cool water
Product Instructions
Recommended Use
Highback Booster: 40-100 lb, 43-57", at least 4 years old; Backless Booster: 40-100 lb, 43-57", at least 4 years old
STOP using this child restraint and throw it away 10 years after the date of manufacture
When forward-facing, children should use a car seat with a built-in harness system for as long as possible until they reach the maximum forward-facing weight or height for their car seat. At that point, children should ride in a belt-positioning booster seat. A booster is no longer needed once the vehicle seat belt fits properly, typically when they reach 4 feet 9 inches tall and are between ages 8-12. Be sure to check your local and state laws, as well as AAP and NHTSA recommendations, for car seat usage.*
*Graco Supports the American Academy of Pediatrics and National Highway Traffic Safety Administration's Car Seat Guidelines. Visit our safety page for information on car seat usage recommendations.
The display of photographs does not reflect Graco Children's Products Inc.'s ("Graco") specific approval or endorsement of the use of the products as portrayed in those photographs. Graco always recommends that the consumer consult the product's manuals, and abide by the instructions contained within those manuals.
Replacement Parts Graco
We at Graco care about safety and the only way we can make sure that the parts of your order are a perfect fit for your Graco product is to ask for the model number and manufacture date of the product you own.
Search by Model Number
All fields required unless marked optional.
Date formats may vary by model.
Manufacturing Date Formats
MMDDYY-011305
Y Y Y Y M M D D - 2 0 1 6 0 2 0 5
D D M M Y Y Y Y - 1 3 0 1 0 5
Replacement Parts Are Not Available.
Locating Your Product Information
Model Number
Most Model numbers can be found on the back of your Graco® product. In some Graco products, model numbers can be found on the top of a base unit.
Manufacturing Date
This date refers to the day, month, and year in which a Graco product was made, and can be found on the sticker along with the model number. Here are three examples manufactured date formats:
Model: 7777DEV
Manufactured in 011305
GRACO CHILDREN'S PRODUCTS INC. EXTON PA 1931 1-888-224-5649 Made in U.S.A.
M M D D Y Y
Model: 7777DEV
Manufactured in 20160205
EXTON PA 1931 1-888-224-5649 Made in U.S.A.
Y Y Y Y M M D D
Model: 7777DEV
Manufactured in 130105
GRACO CHILDREN'S PRODUCTS INC. EXTON PA 1931 1-888-224-5649 Made in U.S.A.
D D M M Y Y
Rated

5

out of

5
by
BreckMom424
from
Love this booster!
I just bought this highback booster for my daughter. She loves it! It comes with removable pads in the headrest and back for extra cushion and support, plus a better fit, until she gets bigger. The reclining position and cup holders are both essential features for us. The seat is lightweight, easy to assemble, and easy to fit to my daughter. It does not have the latches to attach it to the car, but it provides a great fit and positions the seat belt correctly across my daughter. I'd recommend it to anyone looking for a great booster (one last car seat!) for their child.
Date published: 2017-02-28
Rated

5

out of

5
by
ashleyjones83
from
Excellent Car Seat!!
I bought this car seat for my 4 year old who had outgrown the one we were using. I love that this car seat will grow with her and can be used with or without a back. My little girl loves the pattern and comfort of the seat. She also likes that it has two cup holders. So glad I made this purchase!
Date published: 2016-06-17
Rated

5

out of

5
by
Southside Mama
from
Great purchase!
I ordered 3 of these seats from Target on sale last week, one for each of our cars and one for grandparents (not this color... Couldn't find the colors we ordered here). My 4 year old loves his new seat and says it's very comfortable. He's even been using the spare one as his seat in the living room today. They're easy to assemble (5-7 minutes with children interrupting) and installation is a breeze. I like the versatility of this seat (highback and backless). It's easy to clean. It has enough cushion and support to be comfortable and protective without being bulky and taking up too much space in the backseat. My son and I also like that it has 2 cup holders. Be sure to read the owners manual on proper installation and usage. I know this seems like an obvious point, but I found it informative and helpful with issues I hadn't considered.
Date published: 2017-03-31
Rated

4

out of

5
by
CelesteBois
from
SO easy & comfortable!
I received this product through the Stellar Product Testing Panel. I automatically loved this car seat during the assembly. There were 3 pieces total (4 if you count the cupholder) and they were extremely easy to snap together and took less than 5 mins total. My son still uses the high back mode and even with all the parts, my husband and I were both impressed with how lightweight it is. While my son has only used it a few times, he said it is very comfortable. I'm looking forward to continue using it and to see how it wears compared to our other seats.
Date published: 2020-07-17
Rated

4

out of

5
by
ElleQ
from
Luxury car feel in a booster seat
I received the Graco Turboboost Stretch from the Stellar Product Panel for review. Right out of the box I noticed the material is really nice. It has a luxury car feel to the sleek design. I love that it's not an eyesore in my back seat. It was really easy to adjust the back and headrest for my super tall 5 year old. It's narrow and fits well next to another toddler seat, the slimness of the seat design makes it super easy for her to buckle and unbuckle the seatbelt herself. The seat is so light that moving it from one car to another is much easier than other seats. She and I loved this seat the only minor inconvenience is the lack of padding in the headrest. Overall, we'd definitely recommend this seat to our friends and family.
Date published: 2020-07-15
Rated

5

out of

5
by
Steve L
from
For the Price, Winner-Winner!!!
Just received for my Granddaughter. Very well constructed. Very easy to install. Like how you have options to use. And for the price, you can't beat it. Buying a 2nd seat for my other vehicle.
Date published: 2020-09-06
Rated

4

out of

5
by
gracerides
from
Nice booster
Thank you to the Wee Spring Parent Panel for sending me the Graco Turbobooster Stretch to try! The seat went together quickly and was easy to assemble. However, I immediately noticed it just doesn't feel as substantial as our other car seats - the plastic isn't as sturdy and the seat doesn't have as much cushion. No complaints from my 5-year-old on comfort, though. He was just disappointed in only one cupholder. He likes to keep a water bottle in one cupholder and small toys in the second cupholder on his other seat. I was really pleased with the ease of installation with the latch. The belt positioning clip was a little flimsy. Overall, we're grateful to have this is a second car seat for Dad's car but it wouldn't be our first choice.
Date published: 2020-07-22
Rated

5

out of

5
by
MBens23
from
Safe, comfortable, and versatile!
I received this booster seat as part of the Stellar Product Testing Panel and ended up really loving it and I plan on buying an additional one. This booster is really good. Not only does it seem super safe, it's also the only one I've ever seen that is able to adjust to your child. This is nice because it means we will be able to use it longer as my daughter grows, but I also found that it helps keep her head from flopping forward when she sleeps. The only thing I didn't love was the "secret" compartment on the side. In theory, it seems like it would be good, but for us, there's not enough room to open it/use it when others are in the backseat and it was just a crumb collector when it was opened. Overall, though, I'd say it's a great choice!
Date published: 2020-07-21
Rated

4

out of

5
by
Mchan0807
from
Lightweight!
I received the Graco Turbobooster Carseat through the Stellar Product Testing Panel. It's a very lightweight car seat and very easy to assemble. This will most likely be my go to car seat to travel since it's so lightweight. My son is not the height / weight where I feel comfortable having him in the backless mode so we had It in the highback mode which is great since it adjusted to fit his height. It was very easy for him to put his own seatbelt on and latch it to the open loops. The fabric was soft. I really like the secret hideaway storage. My son loves to stuff things everywhere in his car seat so this hideway is perfect spot to store and close so it does not take up space and fall out. Overall, great carseat. Light weight and easy to assemble.
Date published: 2020-07-17
Rated

5

out of

5
by
Megan2020
from
Excellent Booster
I was given this booster seat to try as part of the Stellar Product Testing Panel. My daughter was excited to try out her big girl high back booster seat and she was not disappointed. Neither were mom and dad! My favorite feature is the adjustable backrest and headrest which allowed us to get the perfect fit for now and continue to fit as she grows. The built in cup holder and fold out storage area are her favorite parts of the new seat. Overall, we are very happy to have this new booster as part of our Graco car seat collection.
Date published: 2020-07-20
Rated

5

out of

5
by
Coberry725
from
Love it!
Thanks to Stellar Product Testing Panel, I was able to test out the Graco TurboBooster Stretch free in exchange for my honest review. My 4 year old son graduated from his convertible car seat, which saddened me because he is so young, but he is quite large both in height and weight, so I was quite happy to try this booster seat. We used it with the high back booster and I was quite happy with how adjustable everything was. My son enjoyed riding with it and was comfortable with just the seatbelt. The seat allowed it to be in a safe place across his chest without causing discomfort to him. He is not allowed to unbuckle himself, but would be able to with ease, If needed. This seat holds up to the normal high standards of the Graco name and I would highly recommend it to all!
Date published: 2020-07-19
Rated

5

out of

5
by
Etowle30
from
Great booster for kids and parents!
My oldest just grew big enough to use a booster, and I was lucky enough to receive a Graco(R) TurboBooster(R) Stretch from the Stellar Product Testing Panel as her first stand alone booster. Because she's still smaller, I kept the booster as a high back booster, but I really like that I can easily change the height on it and transform it to a backless booster when she's big enough. The seat itself is light weight, and it took me less than a couple minutes to install the first time. We'll be able to move this seat between cars as needed, which is really convenient for us! My daughter easily got herself into the seat and could buckle the belt by herself. The belt positions were lined up right so she looked safe and secure in the seat. She said she was very comfortable. Ultimately this booster is going to make our lives easier. My daughter is able to buckle and unbuckle herself while staying safe. I love that it's a easy seat to install and adjust as she gets bigger or if we have another child riding with us.
Date published: 2020-07-18
Rated

4

out of

5
by
Logan012911
from
We ended up buying TWO in the same week.
We bought two about 3 weeks ago, back to back, one for myself and the other for my boyfriends car. My kid actually likes it, he can fall asleep in it. It's easy to maneuver and light to carry if needed. I enjoy the two cup holder feature.
Date published: 2016-05-25
Rated

5

out of

5
by
Emilymu154
from
Great beginner booster that grows with your kid!
I am very impressed with the Graco TurboBooster Stretch. My 5 year old who is 48 lbs and 46 inches tall fits perfectly. It is very lightweight and easy to install. The easily adjustable height headrest makes finding the perfect fit so easy. After I initially threaded the seatbelt through the top of the backrest he is able to buckle and unbuckle with no issue. I really liked the side airflow channels and do think it helps keep the seat cool when the temperatures are hot. The smaller footprint of the seat allows for extra room in the backseat of our car if we need to use the middle seat. I would say my son's favorite part of the seat (besides being free of the 5-point harness) is the side sliding hideaway storage compartment for all his treasures! I received this booster seat from the Stellar Product Testing Panel.
Date published: 2020-07-17
Rated

5

out of

5
by
cwilk
from
Awesome big kid booster!
The Graco Turbo Booster Stretch Booster Seat is a great high back and backless booster seat (I love that it converts to both!). It was very easy to assemble and install. It is also so easy to adjust the height! My son loves being able to finally use a seatbelt to buckle himself in. He was very comfortable in his new booster during our recent 3 hour road trip. He was very excited about the cup holder and compartment. For now we are using the booster with the back, but I love that we have the option to use it as a backless booster as well. As a parent, I appreciate the ease of assembly and installation as well as the easily removable seat cover (makes washing the cover painless!). This is an awesome booster seat! Thank you to the Stellar Product Testing Panel for providing me with this seat in exchange for my review.
Date published: 2020-07-18
Rated

5

out of

5
by
nanny123
from
Perfect Booster
I had purchased this booster in the past for my granddaughter, at the time my grandson wasn't quite ready for a booster. He always wanted to sit in sissy's seat. The back broke on hers and I contacted Graco and they replaced it. Now that he is big enough, I purchased one for him also. He was so excited when he saw it. It's truly the perfect booster. It arrived fast and was very easy to assemble and install.
Date published: 2021-05-07
Rated

5

out of

5
by
TwinMamaRN
from
Great booster!
I have used the Graco TurboBooster Stretch as a high back booster. It has been very easy to adjust, and easy to find a great fit for my son since the headrest and backrest adjust separately. It feels secure since it uses the Latch system. My son loves the snack and drink holders too and he is getting used to hooking a seatbelt himself. I have received this product through the Stellar Product Testing Panel.
Date published: 2020-07-20
Rated

5

out of

5
by
Shanon
from
Peace of mind is a wonderful thing.
I really feel better about this car seat for my grandsons. My 7 yr old grandson was using one similar to this one but was only fastened by the seatbelt itself. My 4 yr old grandson was in a regular car seat the was fastened into the truck by an anchor. This booster-car seat is anchored on to brackets at the base of the truck seat. I have better peace of mind knowing the seats are anchored in place.
Date published: 2021-07-06
Rated

5

out of

5
by
LaurenMMny
from
Incredibly easy yet safe booster seat
As our six-year old daughter ages out of her bulky convertible seat, we loved putting her into the Graco TurboBooster Stretch seat. Getting this from the Stellar Product Testing Panel was perfect timing - we needed something for both cars in the suburbs and moving her other bulky seat back and forth was back-breaking work. This seat unclips rather easily and is very light weight. As she continues to grow, we know we will be able to easily adjust the head and back rest for her. In the meantime, she can buckle herself in (versus other models with a five-point harness), allowing us to drop her off seamlessly at school (whenever that happens again). As you can see in the picture, it has a well-placed cupholder and a sleak design that doesn't take up too much space in our back seat (in case an aunt wants to squeeze in between our girls). I'll have to get a second when the 3-year old is big enough!
Date published: 2020-07-15
Rated

4

out of

5
by
Mama Cass
from
Super Lightweight & Easily Adjusted
As soon as the Graco TurboBooster Stretch arrived, my husband was eager to get it installed for our growing almost 7 year old. She has been getting longer by the minute and her little sister is following suit. My professional booster installer, aka my husband, could not believe how light the booster was nor how incredibly easy it was to adjust and install. From opening the box to fully installed took about 15 minutes. Normally, I'd think that lightweight wasn't a plus for a booster for safety reasons, but about 95% of our car seats from infant to booster have been Graco which is a name I trust when it comes to safety. My oldest couldn't wait for the maiden voyage and commented on how she doesn't feel squished in and that she likes both the headrest and arm rests. She's looking forward to a long road trip for sure! Thanks to the Stellar Product Testing Panel for providing me with this booster seat.
Date published: 2020-07-20
Rated

3

out of

5
by
Thelms
from
Not secure at 40lbs
I got this because it was the booster seat I saw all my kindergarten students all had and I was ready to be done with a 5-point harness once my son was heavy enough. My husband feels like it's not secure enough, and it makes him really nervous. It slides around a bit, despite my son being 40lbs. He can easily lean out of the shoulder strap, and I feel like it would have been better to wait on this until he's more mature and can be responsible enough to sit correctly. I tried to return it, but the seat doesn't come apart to fit back into the box and customer service doesn't answer the emails when you contact them. The backless booster that uses a little leash thing to hook onto the shoulder strap doesn't work well. I tried to buy metal clips instead and it didn't help around the arms of the booster. Overall a disappointment for us and I will still probably try to return it. I won't buy it again, even when my son is heavier.
Date published: 2021-10-08
Rated

5

out of

5
by
Anonymous
from
Needed a seat for a growing child
The granddaughter had outgrown her original Graco car seat that we'd used for her since she was born. We let her go to the Graco website and pick out the model and color. She absolutely loves the new seat with the disappearing cup holders and the extra room on the sides for her to stretch her every growing arms. Great seat for our needs.
Date published: 2020-09-19
Rated

5

out of

5
by
Anonymous
from
Good for growing!
I was nervous about moving my child out of a 5 point harness, but my kiddo is growing and will be too big for a 5 point soon. After a few rides in this booster, I feel very comfortable with my purchase. I love that it has great head protection. My kiddo loves the hiding cup holders! I guess it's the small things when you're 5.
Date published: 2020-10-20
Rated

5

out of

5
by
YiaYia
from
Hot Pink!
I bought this a month ago and I am so happy that I did. I am the grandparent of the 6 yr old girl that was very excited to choose the pink color. This booster is lightweight making it easy to transfer is needed. I liked the fact that this model had a highback and seems to mold around her body. I recommend this product.
Date published: 2016-06-21
Rated

5

out of

5
by
EliseAmom5
from
Easy install
Super easy to install and lightweight so quick to change from one car to the next. My kids love their new seats and say they are very comfortable and I love that they have cup holders that actually fit most cup sizes and keep the cups in the holders without spilling out. Easy to clean the fabric as well
Date published: 2021-03-10
Rated

4

out of

5
by
Mommacassie
from
Great seat once you know how to work it
Thank you, Stellar Product Testing Panel, for letting my little one try this seat! I love the design and the fact that the back adjusts in 2 ways - at the shoulders and the back. My husband would say I am a pro at car seats, but this one took me a few minutes to understand how it works, which is why I only gave it 4 stars. When adjusting, it doesn't go from the shoulders first, instead the back part goes up first, then you adjust from the shoulders. I thought this would be uncomfortable for my little one, but she was fine with it. Installing it in the car was SUPER easy and she was excited that she could easily buckle the seat belt without any issues. Overall this is a user friendly seat - I was probably trying to make it more complicated than it was. Love the dedicated snack tray and separate cup holder. Just for fun, we tried it backless with my older son - he said that is was comfy and asked if he could steal this one from his sister - I say that is a win on both positions!
Date published: 2020-07-17
Rated

5

out of

5
by
Anonymous
from
Great, but wish you made a harness highback booste
So far so good! But I really with you guys made a harness seat for a child weighing more than 65 lbs. My so has special needs and is 4 years old needing a booster now due to weight and height. I don't feel great about him only having a seatbelt even though our local police department says it's ok.
Date published: 2020-09-23
Rated

5

out of

5
by
DCFRLA
from
Simple, Smart and Safe
This would be our second TurboBooster LX. Simple to put together and installed in car in seconds. The latch ensures the car seat stays in place. Even with no kids in the car, you don't want an unlatched seat moving around the car in case of an accident. Bed, Bath & Befyond had best deal
Date published: 2021-01-21
Rated

5

out of

5
by
Mamma722
from
Amazing booster!
I looked everywhere for a booster that would suit my 4 year old and then I found this. I LOVE how it locks into the seat so it doesn't slide like most boosters. That was definitely my main concern. My son sits perfectly in this product. Graco has been my go to product since he was born!
Date published: 2021-01-06
Rated

5

out of

5
by
wagma
from
Comfortable & Functional
Great booster seat, easy to install and love the latch system as it keeps the seat in place. My granddaughter says its very comfortable. The shoulder harness part the belt slides thru is adjustable as your child grows. I also like that when it comes time, we can just use the seat part.
Date published: 2021-07-04
bvseo_sdk, dw_cartridge, 18.2.0, p_sdk_3.2.0
CLOUD, getReviews, 0ms
reviews, product
product-detail-view
oos-pdp