Car Seats
2016 ComfortSport/Ready Ride/Classic Ride Recall
Potential Problem:

Over the past 60 years, safety has been and will continue to be the priority at Graco. As part of our internal review process, Graco has discovered that, due to an inadvertent error, a small amount of Graco ComfortSport, Ready Ride and Classic Ride car seats did not include a statement on the labels identifying the location of the printed instruction manual and to follow the instructions in the printed manual and on the car seat. Approximately less than one percent of total Graco car seats, which were primarily sold through specialty and online retailers in the United States, are missing this information which should have been included on the product labels. While this information does not affect the dynamic performance of the affected car seats if used in a safe manner in accordance with the owner's manual, it is required by the National Highway Traffic Safety Administration (NHTSA) standard.
Injuries Reported: 0
Number of Units Affected: 31,838
Dates Produced: Sold between March 2014 - February 2015
MSRP: $85 - $120
Models Affected: 1794333, 1813040, 1812930, 1924519, 1924520
Solution:

Graco is recalling these affected car seats and providing owners with the free replacement labels (one in English and one in Spanish) pictured below that can be applied directly to the car seat. While waiting for the replacement labels, caregivers can continue to use their car seat without hesitation and should store their owner's manual in the compartment located on the back of their car seat as indicated on the last page of the manual.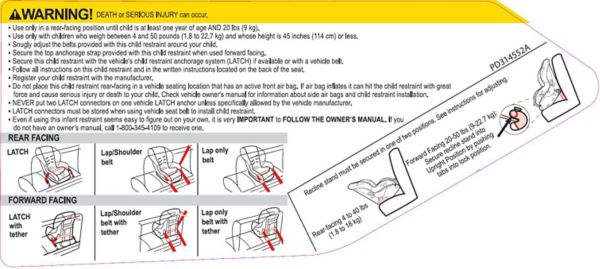 Click here
to order the free replacement labels, or contact Graco toll-free at
800-345-4109
Monday - Friday from 8 am to 5 pm EST. The model number and date of manufacture can be found on the white label located on the bottom of the car seat.