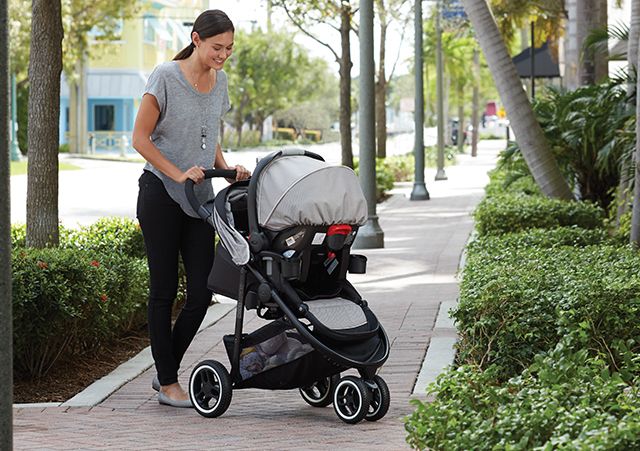 Roll Out: Find The Stroller That Matches Your Personality
First comes love, then comes marriage, then comes baby in a… well, you know. The song may only reference one "baby carriage," but the average U.S. family has more than one stroller. "Though many first-time moms only plan to purchase one stroller initially, we've found that most parents end up using more," says Carolyn Paine, Graco® Senior Manager of Brand Marketing for Strollers & Travel Systems. Still deciding which is your must-have? Find your personality below and choose the best baby stroller for you.

Minimalist Mom
Babies seem to have a lot of (absolutely) necessary stuff, like an infant car seat and diapers, but if you're trying to keep baby's gear as slim and small as possible, consider the ultra-compact Graco® Jetsetter™ Stroller. Ideal for minimalists, it weighs only 14 lbs., yet it's packed with features you'd expect on a full-sized stroller. It includes a padded carry handle, shoulder strap and storage bag for when you're not using it. Additionally, the SnugRider® Elite Stroller is a smart way to use your infant car seat with stroller frame. Think of it as an infant car seat with wheels, a great option for on-the-go-convenience if baby is most comfortable in his car seat. Both are excellent to keep in your trunk, without sacrificing a lot of space.

Everyday Excursions
When you want a traditional, full-sized stroller for your everyday excursions, like a walk, shopping or errands, the Modes™ Stroller is a good choice. The name "modes" means "modular" so you can customize how your child rides, to the tune of 10 different riding options. It's really like having three strollers in one, since it goes from infant stroller to baby stroller to baby stroller with toddler seat.

Active Parent
Whether you're part of a sporty family or want to set a healthy lifestyle example, a stroller designed for jogging is a must for active parents. Joggers have larger tires for a smooth ride over varied terrain, safety tether to keep the stroller connected to you, and locking front wheels for safety. As with all Graco® strollers, the RoadMaster™ Jogger and the Modes™ Jogger, comes with everything you need to enjoy it to the fullest, right out of the box. "You'll never have to buy a car seat adapter, cup holder, safety tether or snack tray," Paine explains. Note: Though the Modes™ Jogger does accept Graco® Click Connect™ infant car seats for walking around, it's recommended to only jog with baby in the stroller seat, after six months of age, when he can support his own head.

Mom of Multiple
Whether you're expecting twins or have an older, but still stroller-sized child, having something to comfortably hold two little ones is a lifesaver. The Modes™ Duo Stroller has a whopping 27 riding options, making it the most versatile double stroller available. You can configure it for two Graco® Click Connect™ Infant Car Seats or one infant car seat with double stroller, so that your older child can ride along too. It has a standing platform, bench seat, and two reclining, removable seats that can face forward or backward. Both seats hold a child up to 50 lbs., so it grows right along with your family.

City-Bound Moms
When you live in the city, you may go from sidewalk to grass to asphalt and into tight spaces. For the compact, lightweight maneuverability city moms need, the Modes™ 3 Lite Travel System is an easy choice. The sporty 3-wheel stroller has five ways to ride (including with a compatible infant car seat and forward- and rear-facing with a reclining seat) and enough added features, like a handy cup holder, to keep your growing child happy. Sold as a travel system, it comes with a SnugRide® Click Connect™ 35 Infant Car Seat you can use up to 35 lbs. The stroller has a convenient one-second fold, so you can store it in a flash.

Back to Basics for Baby's Other Caregivers
With any luck, your baby will have plenty of people who love her and are ready to step in as additional caregivers. In that case, you might find it easier to have an extra, more basic model like the Verb™ Stroller or LiteRider® LX Stroller to leave at a grandmother or aunt's home. Both weigh less than 20 lbs., can be folded with one hand, and you can pair either four-wheeled baby stroller with car seat.
Now all you have to do is imagine all the different adventures you'll have with baby and choose a baby stroller to meet your needs.